What Mary's Pence Donors are Doing
Help raise funds for Mary's Pence while doing what you love with the people you love. Host a tea party, sell your artwork, or start a giving circle.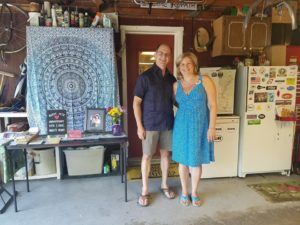 30 Years of Marriage and 30 Years of Mary's Pence
Rita Lampe, Mary's Pence Board Member and Compañera
Mary's Pence board member Rita Lampe and her husband Dave celebrated their 30th anniversary the same year that Mary's Pence celebrated 30 years of funding women, changing lives! They hosted a celebration/fundraiser by asking all of their friends and family to give to Mary's Pence in their honor.
A "Soul-ution" for Superfluous Stuff
Consilia Karli, Mary's Pence Legacy Circle Member
Like most folks in the USA, my siblings and I have been fortunate and complicit in having surplus and superfluous stuff in our homes. We have each begun to notice a lack of storage for all that stuff we have accumulated. As a "soul-ution" to our problem we made a pact a few years ago. My sister, my brother and his wife, and I have been giving donations to Mary's Pence on gifting occasions, rather than spending/wasting money and our precious/diminishing lifetime on this earth searching for material gifts that we don't need or want.
Because Mary's Pence gives grants toward multiple justice issues and limits its focus on the Americas, it was a cause we could each agree on. My sister still makes something for me in her crappy crafts group, and my brother and his wife are good for a bottle of my favorite cheap wine. And the world is a bit better for it.
Fiber Art for Mary's Pence
Chris Thomas, Mary's Pence Donor
I became aware of Mary's Pence through a friend many years ago. The idea of empowering women appealed to me since they are so often the powerless in their families and communities. Young girls who see their mothers achieving some financial autonomy are more likely to receive an education and grow into strong and resourceful women themselves.
Since my retirement I've begun dabbling in fiber art. It is my pleasure to donate any money I make from my work to Mary's Pence. I love it when I am also able to pass along information about Mary's Pence. One couple who purchased a piece of art as an encouragement for their adult son told me that he would be so delighted to read the brochure and know that his parents' purchase would also benefit someone else who needed a bit of encouragement.