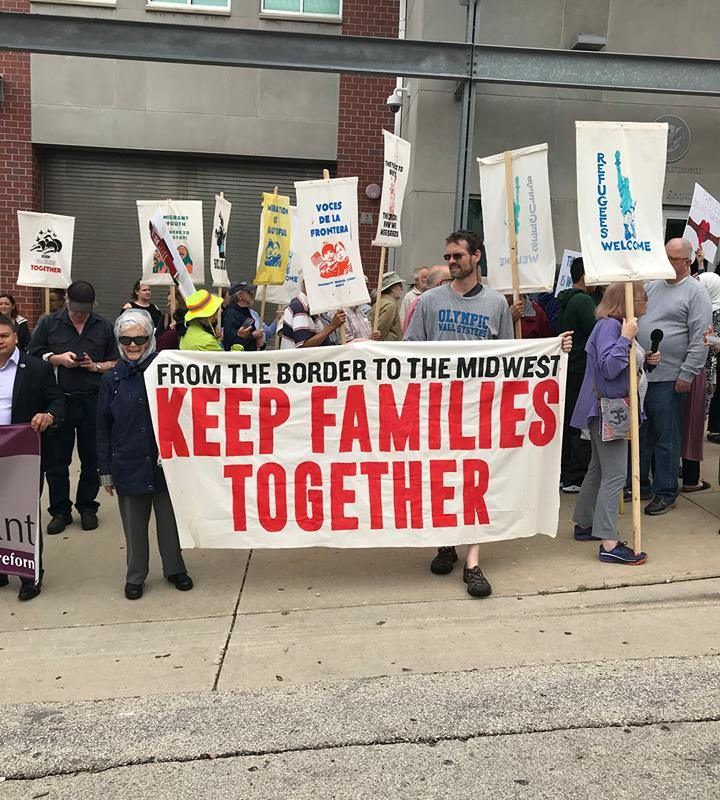 About the featured image:
Milwaukee New Sanctuary Movement (MNSM)
Mujeres Lideres 
Milwaukee, WI
MNSM organizes immigrants and allied faith communities to create just and humane treatment of immigrants in the US. Because immigrant men are most frequent targets of the Department of Homeland Security for incarceration or deportation, women and children are often left behind to cope without their husbands or fathers. 
In addition to supporting undocumented immigrant women and their children with the basic needs and legal assistance, MNSM offers a leadership curriculum called Mujeres Lideres. Through participation in Mujeres Lideres immigrant woman build skills to become agents of systematic change and advocates for immigrant justice. Throughout the program, women learn about the role of past Latina leaders and practice community organizing in real situations.
Calendar of Women – August
1 | Henrietta Lacks    
(b.8/1/1920 d.10/4/1951)
Henrietta Lacks was a black woman whose cancer cells were the source of the HeLa cell line, the first immortalized cell line and one of the most important cell lines in medical research. An immortalized cell line will reproduce indefinitely under specific conditions, and the HeLa cell line continues to be a source of invaluable medical data event today.
After Henrietta was diagnosed with cancer. Tissue samples from her tumors were taken without consent during treatment and these samples were then subsequently cultured into the HeLa cell line.
Though some information about the origins of HeLa's immortalized cell lines was known to researchers after 1970, the Lacks family was not made aware of the line's existence until 1975. With knowledge of the cell line's genetic provenance becoming public, its use for medical research and for commercial purposes continues to raise concerns about privacy and patients' rights.
2 | Jewell Jackson McCabe
(b.8/2/1945)
Jewell Jackson McCabe is an American feminist, business executive, and social and political activist. She was a leader of, and spokesperson for, the National Coalition of 100 Black Women into the 1990s. In 1993 she became the first woman in 84 years to be in serious contention for the presidency of the civil rights organizations NAACP.
3 | Flannery O'Connor
(b.3/25/1925 d.8/3/1964)
Flannery O'Connor was born in Savannah, Georgia but moved to her mother's family estate after her father died when she was 15. She attended college in Georgia but moved north to become a writer. Several of her short stories and a novel were soon published. At the age of 26 she was diagnosed with lupus, a slowly progressing degenerative disease. She returned home to be cared for by her mother until she died at the age of 39. During her illness she wrote daily and produced some of her best known short stories and a novel Wise Blood. Her correspondence reveals a devout Catholic intellect. At root, she saw being Catholic as about action, not intellect. She writes, "You will have found Christ when you are concerned with other people's sufferings and not your own."
4 | Isabel Allende
(b.8/2/1942)
Isabel Allende was born in Peru and raised in Chile, Bolivia, Europe, and the Middle East. The daughter of a diplomat, Allende became accustomed to constant traveling and attended numerous American schools overseas. After completing her secondary education in Chile, Allende worked with the United Nations' Food and Agriculture Organization in Santiago, and later in Belgium. Allende worked as a journalist in Chile until a military coup led her to flee to Venezuela, where she discovered her grandfather was close to death. Upon hearing the news, Allende began writing a long letter reassuring him that he would always live on through her memories. This work eventually grew into Allende's internationally acclaimed novel The House of the Spirits, which went on to be produced as a motion picture in 1993. Since the success of her first novel, Allende has moved to San Rafael, California, where she obtained United States citizenship in 2003. She has published at least twenty books to date.
5 | St. Mary McKilop
(b.1/15/1842 d.8/8/1909)
Mary Helen MacKillop RSJ, Was born in Melbourne, Australian, but was best known for her activities in South Australia. Together with the Reverend Julian Tenison Woods, she founded the Sisters of St Joseph of the Sacred Heart (the Josephites), a congregation of religious sisters that established a number of schools and welfare institutions throughout Australasia with an emphasis on education for the rural poor.
6 | Susie King Taylor
(b.8/6/1848 d.10/6/1912)
Susie King Taylor was the first Black Army nurse. She tended to a Black army troop, the 1st South Carolina Volunteers (Union), later re-designated the 33rd United States Colored Infantry Regiment. As the author of Reminiscences of My Life in Camp with the 33d United States Colored Troops, Late 1st S.C. Volunteers, she was the only Black woman to publish a memoir of her wartime experiences. She was also the first Black person to teach openly in a school for former slaves in Georgia, instructing children during the day and adults at night.
7 | Lydia Vila-Komaroff
(b.8/7/1947)
Lydia Villa-Komaroff is a molecular and cellular biologist who has been an academic laboratory scientist, a university administrator, and a business woman. She was the third Mexican American woman in the United States to receive a doctorate degree in the sciences (1975) and is a co-founding member of The Society for the Advancement of Chicanos/Hispanics and Native Americans in Science (SACNAS). She was part of a team that discovered how bacterial cells could be used to generate insulin.
8 | Maureen Gallagher
Maureen Gallagher is the founder of Mary's Pence (1987). The idea was born a prayer meeting in the Chicago home of Patricia Crowley, where the discussion turned to the extraordinary contributions of Catholic women doing the work of the church among the forgotten poor of the Americas.Two women who were present shared frustration about not getting a grant they requested from the diocese to fund their active and successful prison ministry, while a priest had received a substantial amount to start a new program for men. Judge Sheila Murphy stated, "What we need is a Mary's Pence," a play on Peter's Pence, the Pope's annual church collection.
9 | St. Edith Stein
(b.10/12/1891 d.8/9/1942)
Edith Stein, also known as St. Teresa Benedicta of the Cross, OCD, was a German Jewish philosopher who converted to Catholicism and became a Discalced Carmelite nun. She is canonized as a martyr and saint of the Catholic Church. She died in Auschwitz.
10 | Geraldine Ferraro
(b.8/26/1935 d.3/36/2011)
Geraldine Anne "Gerry" Ferraro was an attorney, a Democratic Party politician and a member of the United States House of Representatives. In 1984, she was the first female vice presidential candidate representing a major American political party.
Ferraro grew up in New York City and worked as a public school teacher before training as a lawyer. She joined the Queens County District Attorney's Office in 1974, heading the new Special Victims Bureau that dealt with sex crimes, child abuse and domestic violence. In 1978 she was elected to the U.S. House of Representatives, where she rose rapidly in the party hierarchy while focusing on legislation to bring equity for women in the areas of wages, pensions and retirement plans.
In 1984, former vice president and presidential candidate Walter Mondale, seen as an underdog, selected Ferraro to be his running mate in the upcoming election. Ferraro became the only Italian American to be a major-party national nominee in addition to being the first woman.
11 | St. Clare
(b.7/16/1194 d.8/11/1253)
St. Clare of Assisi is one of the first followers of Saint Francis of Assisi. She founded the Order of Poor Ladies, a monastic religious order for women in the Franciscan tradition, and wrote their Rule of Life, the first set of monastic guidelines known to have been written by a woman. Following her death, the order she founded was renamed in her honor as the Order of Saint Clare, commonly referred to today as the Poor Clares.
12 | Dr. Alexa Canady
(b.11/7/1950)
Dr. Alexa Canady was the first female black neurosurgeon. She is now retired from being the chief of neurosurgery at the Children's Hospital of Michigan in Detroit. In addition to contributing time and research to medical areas from pediatric neurosurgery to spinal cord tumors she has assisted in the development of neurosurgery equipment. Dr. Canady also advocates to shift negative perceptions held against black patients and practitioners.
13 | Sr. Maude Dominica Mary Petre
(b.8/4/1863 d.12/16/1942)
Maude Dominica Mary Petre was an English Roman Catholic nun, writer and critic involved in the Modernist controversy. Her book, Catholicism and Independence: Being Studies in Spiritual Liberty by Petre lead to her being refused the sacraments. Her writings were put on the index of forbidden books by the Vatican. She was highly critical of the anti-modernist movement prevalent in the Catholic Church at the time.
14 | Sr. Irene Fitzgibbon
(b.5/12/1823 d.8/14/1896)
Sister Irene Fitzgibbon was born Catherine Fitzgibbon in London, and died in New York City. She founded the New York Foundling Hospital in 1869. Sister Irene and Sister Teresa Vincent McCrystal opened the "foundling asylum" with a cradle at its door. The Sisters started with five dollars to their name. They ate their first meal on the floor using old newspapers for a table cloth.
Placing a white cradle in the foyer of the Home, while leaving the front door unlocked, word was sent out that a desperate mother could enter the Home and leave her child in the cradle with no questions asked. All the Sisters asked was that when leaving, the mother ring the bell by the front door so that the Sisters would know that there was a new little one to be gathered up and brought upstairs with the other babies. On the evening of the same day it received its first infant, and forty-four others followed before the end of the month. Within a year a larger house had to be purchased. The New York World wrote: "The infants were not merely abject numbers to her, but precious individuals who deserved complete dignity and loving care."
15 | Edna Ferber
(b.8/15/1885 d.4/16/1968)
Edna Ferber was an American novelist, short story writer and playwright. Her novels were especially popular and included the Pulitzer Prize-winning So Big, Show Boat, Cimarron, and Giant.
16 | Marilyn Waring
(b.10/7/1952)
Marilyn Joy Waring, is a New Zealand feminist, a politician, an activist for women's rights and environmental issues, a development consultant and United Nations expert, an author and an academic, known as a principal founder of the discipline of feminist economics.
17 | Raissa Maritan
(b.12/12/1883 d.11/4/1960)
Raissa Maritain was born into a modest but pious Jewish family in Russia. When she was just two, her father moved the family to Ukraine. As a child she was deeply influenced by the Jewish religion and especially by her grandfather who promoted his faith in a loving and joyous manner. When she was ten, the family moved again to France in order to avoid religious persecution. The exile, however, resulted in a loss of faith. Maritain studied at the Sorbonne, where she met another young philosopher, Jacques Maritain, whom she married in 1904. Distressed by their professors' inability to find truth, the couple eventually converted to Roman Catholicism in 1906.
18 | Sojourner Truth
(b.1797 d.11/26/1883)
Sojourner Truth, born Isabella ("Bell") Baumfree, was an African-American abolitionist and women's' rights activist. Truth was born into slavery in Swartekill, Ulster County, New York, but escaped with her infant daughter to freedom in 1826. After going to court to recover her son, in 1828 she became the first black woman to win such a case against a white man. She gave herself the name Sojourner Truth in 1843 after she became convinced that God has called her to leave the city and go into the countryside "testifying the hope that was in her". Her best-known speech was delivered extemporaneously, in 1851, at the Ohio Women's Rights Convention in Akron, Ohio. The speech became widely known during the Civil Was by the title "Ain't I a Woman?"
19 | Simone Weil
(b.2/3/1909 d.8/24/1943)
Simone Weil was a French philosopher, mystic, political activist, teacher and labor activist. She worked in factories in order to become more familiar with the lives of common people. She became more religious and inclined towards mysticism as her life progressed. Weil wrote throughout her life, though most of her writings did not attract much attention until after her death. In the 1950s and 1960s, her work became famous in continental Europe and throughout the English-speaking world. Simone Weil's works include: Gravity and Grace, Waiting on God and The Need for Roots.           
20 | Carolee Schneemann
(b.10/12/1939)
Carolee Schneemann is an American visual artist, known for her discourses on the body, sexuality and gender. She received a B.A. from Bard College and a Master of Fine Arts from the University of Illinois
21 | Alice Garg
(b.1942)
Alice Garg was born into a wealthy family in India and has made a mission of working to eradicate the caste system and gender discrimination. She has set up an orphanage and is a prominent figure in her community as a crusader against the abortion of female fetuses and the practice of sati, in which women burn themselves alive on their husband's funeral pyres. She helps women who are victims of or affected by rape, sexual and physical exploitation, violence, discrimination, lack of dowries and divorce.
Alice founded the Bal Rashmi Society. The Society was concerned with "Relief, welfare and development of children, women and family at large who are poor, neglected, deprived and downtrodden and living in difficult circumstances and community development". The society presently houses 183 indigent children from oppressed castes and has over 1640 children enrolled in its schools. The society has a presence in over 138 villages. It runs a large number of government programs in the under-resourced areas of Jaipur and other villages, funded by both the Government of Rajasthan and the Government of India.
22 | Willa Beatrice Player
(b.8/9/1909 d.8/29/2003)
Willa Beatrice Player (August 9, 1909 – August 29, 2003) was a Black educator, college administrator, college president, civil rights activist and federal appointee. Player was the first Black woman to become president of a four-year fully accredited liberal arts college when she took the position at Bennett College for Women in Greensboro, North Carolina.
In her career at Bennett College, Player had served as a teacher and then in progressively responsible administrative positions. From 1955 to 1966, Player served as president of the historically Black college, during a period of heightened civil rights activism in the South. She supported Bennett students who took part in the lengthy sit-ins started by the Greensboro Four to achieve integration of lunch counters in downtown stores.
23 | St. Rose of Lima
(b.4/20/1856 d.8/24/1617)
Rose of Lima decided at a young age to devote her life to God and not to marry. This dashed the hopes of her parents who hoped to secure the financial well-being of their large family by marrying Rose to one of her many wealthy suitors. Despite family pressure, she held fast but supplemented the family income through her sewing.
24 | Clara Maass
(b.5/28/1876 d.8/24/1901)
Clara Louise Maass was an American nurse who died as a result of volunteering for medical experiments to study yellow fever. In 1895, she became one of the first graduates of Newark German Hospital's Christina Trefz Training School for Nurses. By 1898, she had been promoted to head nurse at Newark German Hospital, where she was known for her hard work and dedication to her profession. In March 1901, Maass volunteered to be bitten by a Culex fasciata mosquito (now called Aedes aegypti) that had been allowed to feed on yellow fever patients. She contracted a mild case of the disease from which she quickly recovered. By this time, the researchers were certain that mosquitoes were the route of transmission, but lacked the scientific evidence to prove it because some volunteers who were bitten remained healthy. Maass continued to volunteer for experiments. On August 14, 1901, Maass allowed herself to be bitten by infected mosquitoes for the second time. Researchers were hoping to show that her earlier case of yellow fever was sufficient to immunize her against the disease. Unfortunately, this was not the case. Maass once again became ill with yellow fever on August 18, and died on August 24. Her death roused public sentiment and put an end to yellow fever experiments on human beings.
25 | Sumi Sevilla Haru
(b.8/25/1939 d.10/16/2014)
Sumi Haru was an American film and television actress,] best known for such films and television shows as "Krakatoa, East of Java", "MASH", "The Beverly Hillbillies" and "Hill Street Blues". She served as interim president of Screen Actors Guild in 1995, the first and, to-date, only woman of color to hold the position. Haru was born Mildred Sevilla, After changing her name to Sumi Haru when launching her acting career, she became involved with the film and television labor movement to address issues concerning the lack of opportunities and roles for Asians.
26 | Women Get the Right to Vote
Ratified on August 18, 1920, the 19th Amendment to the U.S. Constitution granted American women the right to vote—a right known as woman suffrage. At the time the U.S. was founded, women citizens did not share all of the same rights as men, including the right to vote.
27 | St. Monica of Hippo
(b.331c.e. d.387c.e.)
The mother of Augustine of Hippo, whose youth was rowdy and misspent. His mother, Monica, prayed for his conversion for years. St. Monica is the patron of mothers.
28 | St. Lydia of Philippi
(1 c.)
St. Lydia of Philippi was a New Testament woman regarded as the first documented convert to Christianity by Paul. Several Christian denominations have designated her a saint. Lydia was a successful woman, a merchant who sold purple cloth that was precious and only worn by the affluent and royalty. She was a benefactor of Paul and the Early Church.
29 | Tź-u-his
(b.10/29/1831 d.11/15/1908)
Tz'u-hsi started her adult life as a concubine to the Emperor of China. When she gave birth to his only son, she gained power and prestige. When the Emperor died in 1861, she became a co-regent for her son, along with the Emperor's wife.  During her rule, the government regained the power and prestige of earlier times, foreign languages were taught in schools, the military was patterned after Western forces and brought into the current day and the Taiping and Nien Rebellions were stopped.
30 | Sr. Jeanne Jugan
(b.10/25/1792 d.8/29/1879)
Sr.Jeanne Jugan, also known as Sister Mary of the Cross, L.S.P., was a French woman who became known for the dedication of her life to the neediest of the elderly poor. Her service resulted in the establishment of the Little Sisters of the Poor, who care for the elderly who have no other resources throughout the world.
31 | Maria Elena Zavala
(b.5/24/1924 d.7/6/2004)
Dr. Maria Zavala overcame many common stereotypes in her pursuit of knowledge in the field of biology. As a professor at California State University, Zavala held an undergraduate degree from Pomona College and earned her Ph.D. in Botany from the University of California, Berkeley. She works to increase food security throughout the world.
---
See the entire Marys Pence Calendar of Inspiring Women.