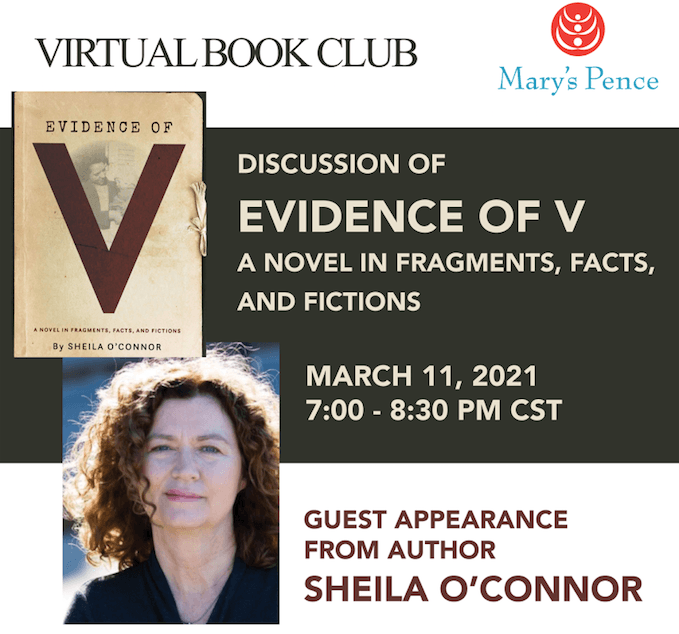 The following book review of Evidence of V: A Novel in Fragments, Facts, and Fictions – the book featured for Mary's Pence March book discussion – is written by Mary's Pence staff member Christine Lian.
Evidence of V: A Novel in Fragments, Facts, and Fictions provides a fictionalized account of author Sheila O'Connor's own grandmother, V, as she aspires to become a famous singer in Minneapolis in the 1930s. When V becomes pregnant at 15, she is sent to the Minnesota Home for Girls in Sauk Center, Minnesota, for upwards of 6 years as punishment for her "immorality."
During the period in her life when she most needs support, V is incarcerated for her sexuality. As readers, we learn that the Minnesota Home for Girls, which sought to "reform" girls by teaching them to be good housewives, actually served more as a prison for victims of sexual abuse, shaming girls and blaming them for the actions of their abusers. Even after they left, many girls were sent to families to work as domestic servants, robbing young women years of their lives.
Pregnant girls who arrived at the Minnesota Home for Girls were forced to put their babies up for adoption, as happens in the book with V's daughter and who, in real life is O'Connor's mother. O'Connor and her mother would later use the actual documents from this adoption process to research the unknown V, and use what historical evidence they could find to piece together V's story.
In her storytelling, O'Connor helps us see how  V is made out to be a "sexual criminal" despite being a child herself–a fact that becomes increasingly depressing when one considers how little has changed in the way victims are often treated. Although the story of V happened decades ago, victim blaming is still incredibly prevalent in modern day society. It  creates an atmosphere that does not encourage women to speak out about their abuse and it allows their perpetrators to commit sexual and physical crimes without repercussion.
For me, it is truly heartbreaking to read about the pain V endured and to know there are countless others like her with stories that will never be told, and that there are similar stories happening today. It is hard to say how many more families there are like O'Connors with this same kind of intergenerational trauma.
As a Minnesotan, it is disturbing to think that this is the dark history of the place I call my home. Evidence of V brings this history to light in a deeply compelling read that I would highly recommend not only to families rooted in Minneapolis, but to anyone wanting to reconsider the narrative around victim blaming and wrongful incarceration.
—————————————
Join us, as well as Evidence of V author Sheila O'Connor for a discussion of this book on March 11, 2021, at 8pm Eastern/7pm Central. The online event is free to attend, but registration is required. Visit our event page here for more information.