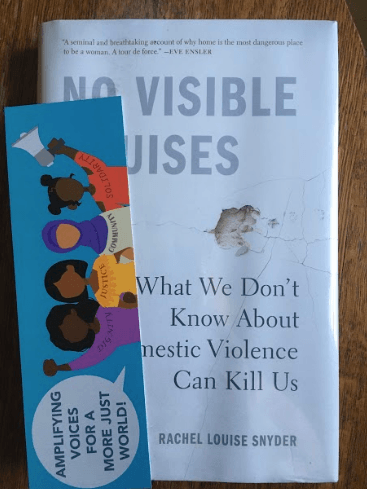 The following book review of No Visible Bruises: What We Don't Know About Domestic Violence Can Kill Us–the book featured for Mary's Pence October book discussion–is written by Mary's Pence staff member Sarah Mechtenberg.
In the United States alone, more than half of all murdered women are killed by a current or former partner. 
That's just one of the multitude of alarming facts that stood out for me while reading Rachel Louise Snyder's  No Visible Bruises: What We Don't Know About Domestic Violence Can Kill Us. Published in 2019, Snyder's book provides important and eye-opening coverage about the prevalence of domestic violence in the U.S.  But the statistics are just the backdrop to the deeply personal stories we come to know of people whose lives have been profoundly and tragically affected by domestic violence.  
At the heart of No Visible Bruises are the very intimate and emotional stories of women and their children who were murdered or lived in constant fear of losing their lives at the hands of partners who supposedly loved them. For me, the storytelling provided me with a deep level of understanding and empathy that left me wanting to do something to help, but knowing it's already too late.
But, as Snyder reminds us, it's never too late. It's time we understand the prevalence of the problem and make change.
I appreciate Snyder's dedication to making sure we all bear witness to the painful truths she uncovers. And, beyond that, Snyder uses the opportunity to educate us about the possible solutions that exist to address and prevent domestic violence. As an example, she explains how research into the warning signs and alternative methods of early intervention can be used to help stop the spiraling trend of violence in the place that should be our safest refuge: our home. 
Part of the solution, Snyder explains, is a cross-disciplinary response that involves a network of advocates for people in domestic violence situations, social workers, medical staff, housing advocates, etc., who can communicate with one another and be prepared to collaborate when needed.
As I follow the current conversations and ideas about what it could look like to overhaul police departments and redistribute funding for people trained in specific types of emergency situations, I feel that Snyder's book is particularly timely in that she helps us understand how the traditional law enforcement response and criminal justice system are not successfully working to protect women and their children who have run out of safe, viable options to leave dangerously abusive situations. 
No Visible Bruises will be discussed in our book club on October 7, 2020 at 8pm Eastern/7pm Central on Zoom. Sign up through our interest form on our website, and stay tuned for more information!