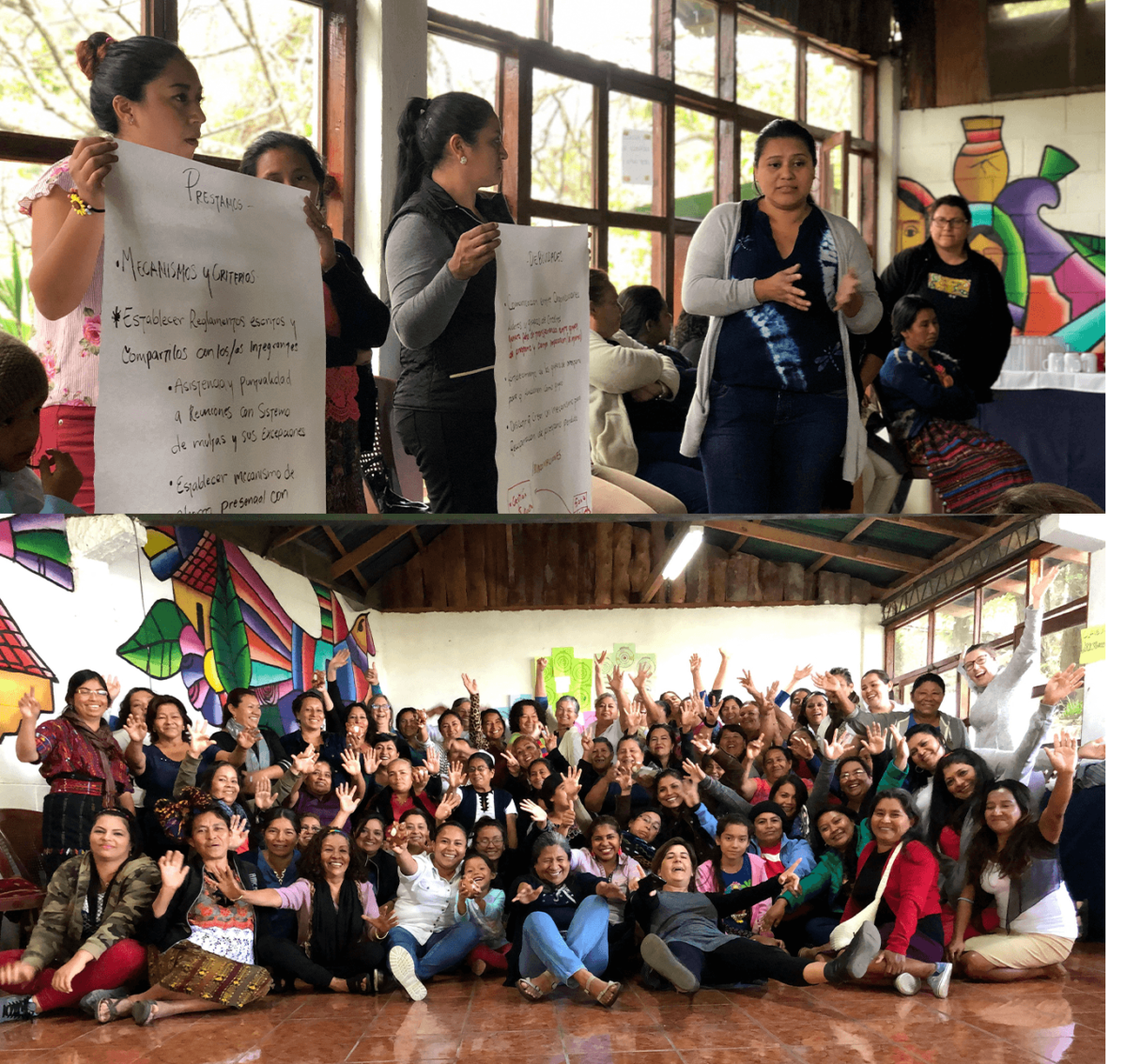 About the featured image: 
Encuentro Celebrating ESPERA's 10th Anniversary.
La Palma, El Salvador. 
In January 2019, Mary's Pence celebrated ESPERA's 10th anniversary in La Palma with a special Encuentro. Seventy women gathered, representing 10 ESPERA partners from 5 countries.
During the Encuentro the women shared stories from their lives and their experiences with ESPERA. Some of the discussions and exercises gathered data on the changes in women's lives since they began participating in ESPERA, and the struggles and successes they have experienced with their economic initiatives. This information gathering initiated by the ESPERA evaluation, an important process for preparing the program for the future.
Calendar of Women – February 2020
1 | The Kuna People
The Kuna are an indigenous people of Panama and Colombia. Traditionally, Kuna families are matrilinear, where the groom becomes part of the bride's family and takes the last name of the bride. The Kuna Peoples' traditional way of life is now threatened by rising sea levels. The small Caribbean islands they have inhabited for generations when they were forced to leave the mainland of Panama by malaria-carrying mosquitoes will soon became inhabitable. The Kuna are having to consider relocation to the mainland, an environment that they are unfamiliar with that will require significant lifestyle changes.
2 | Civil Rights Sit-Ins
While the famous civil rights sit-ins were initiated by male students in Greensboro, North Carolina, men were not the only participants. The women of Bennett College (a private, all-female, historically Black college) got involved as well. During the peak of the sit-ins, according to Linda Beatrice Brown, "as much as 40 percent of Bennett College's student body was in the local jail, and they accounted for more than half the students being held at that time in the city."
3 | Sr. Mary Lange
(b. 1784 d. 1882)
Mary Elizabeth Lange was born in Santiago, Cuba, and moved to the U.S. as a young girl. Her family settled in Baltimore, Maryland, where she established the first Catholic school for Black children in 1828. Also in 1828, she and three other Black women pronounced simple vows together—the beginnings of what would become the Oblate Sisters of Providence, the first religious community for Black women in the U.S..
4 | Betty Friedan
(b. 2/4/1921 d. 4/4/2006)
Betty Friedan's book The Feminine Mystique (1963) is often credited with sparking the second wave of American feminism. Friedan, who graduated from Smith College in 1942 with a BA in psychology and married soon thereafter, became restless in her roles of wife and mother. She surveyed other Smith graduates and wrote a book on her findings, which dispelled the myth that all women were satisfied with being homemakers. In addition to her written work, Friedan also co-founded the National Organization for Women in 1966 and served as its first president.
5 | Judith Baca
(b. 9/20/1946)
Judith Baca is a Chicana artist and activist best known for her murals. Born and raised in Watts, Los Angeles, Baca's life goal has been to create art that is accessible to people outside of gallery and museum spaces. In her role at the Los Angeles Parks and Recreation Department, she began a mural project with members from four different gangs which flourished into a group named Las Nuevas Vistas. The group was dedicated to reflecting public consciousness and identity, which the city was not willing to support. Rather than censor the collective's voice to please the wealthy and powerful, Baca formed the Social and Public Art Resource Center in 1976 so that their work could continue.
6 | Tullia d'Aragona
(b. 1510 d. 1556)
Tullia d'Aragona was an Italian courtesan, writer and philosopher whose work raised the status of women in Renaissance circles. Her 1547 Dialogues on the Infinity of Love, in particular, was notable for casting a female as main commentator and arguing for women's sexual and emotional autonomy in the context of romantic love.
7 | Marian Anderson
(b. 2/27/1897 d. 4/8/1993)
Marian Anderson began singing in her Philadelphia church's choir at 6 years old. When her family was unable to pay for her formal training, her church came together to raise the money. Anderson won contests and scholarships that took her to New York, Europe and the White House. On the invitation of the Roosevelts, she became the first African American to ever perform at the presidential residence. In 1955, Anderson broke another barrier when she performed with the New York Metropolitan Opera, the first African American to do so.
8 | St Josephine Bakhita
(b. 1869, d. 2/8/1947)
Josephine Margaret Bakhita was born the niece of a tribal chief of the Daju people. Sometime in February 1877, she was kidnapped by Arab slave traders and spent the next 12 years in captivity. She was repeatedly bought and sold. In 1883, Bakhita was brought to Italy, where she was left in the custody of the Canossian Sisters and discerned a call to follow Christ. Wishing to remain with the Sisters when her mistress returned to collect her, she appealed to Italian authorities and was declared free. Josephine was baptized and took vows with the Canoccian Daughters of Charity in 1896.
9 | Alice Walker
(b. 2/9/1944)
Alice Walker was born to sharecropper parents in Eatonton, Georgia. Blinded in one eye at age 8, she went on to graduate from Sarah Lawrence College in New York. She is most well-known for her authorial career, particularly her 1982 book The Color Purple, but she is also an activist—Walker worked for the Legal Defense Fund of NAACP in Mississippi and also lays claim to coining the word "womanism," an alternative to white, mainstream feminism based on the history and everyday experiences of women of color.
10 | St Scholastica
(b. 480 d. 2/10/543)
Scholastica was born in Italy to wealthy parents; her brother was St Benedict. She established a hermitage with other religious women and so is considered the foundress of the women's branch of Benedictine Monasticism. She is the patron saint of nuns and education.
11 | Murkarramah Ghanbari
(b. 1928 d. 10/24/2005)
Murkarramah Ghanbari began teaching herself to paint at age 63. A native of Iran, her first exhibition was held in Tehran in 1995. In 2002 a documentary film about her life was released under the title Mokarrameh, Her Memories and Dreams.
12 | Sr Margaret Traxler
(b. 3/11/1924 d. 2/12/2002)
Mary Traxler, SSND was a founding board member of Mary's Pence. She began her career as a teacher in Minnesota and North Dakota. In the 1960s Sr. Mary began to advocate for interracial and gender equality throughout society and within the Catholic Church. She was active in the Civil Rights Movement and participated in the Selma to Montgomery March. She joined the staff of National Catholic Conference for Interracial Justice, where she worked alongside other women religious and Dr. Martin Luther King to assist schools in planning for and implementing school integration.
Sr. Mary and others drew the attention and the anger of the church hierarchy for speaking out for women's rights. She was a close friend of Jeannine Grammick, also a SSND, who ministered to the gay and lesbian community. When Rome demanded that Sr. Grammick end her ministry, Sr. Margaret shared her pain not only as a friend, but because of the loss of an important and necessary ministry. Sr. Grammick described Mary Traxler as "a giant of a woman, a prophetess to us all, unafraid to speak truth to power."
13 | Rana Hussieni
(b. 1969)
Rana Husseini is a former Jordanian journalist whose beat focused on covering violence against women, in particular so-called "honor crimes." She was the first reporter to address the issue, and the government responded to the coverage by suggesting harsher punishments for perpetrators. Hussieni has also been an advocate for women's rights in the Middle East in other capacities, including as regional coordinator for United Nations Development Fund for Women.
14 | Ruchira Gupta
(b. 1/7/1964)
Ruchira Gupta is an Indian sex trafficking abolitionist and journalist. She began her career as a reporter, covering women's rights, caste conflict and minority issues. From there, she went on to work with the United Nations, writing manuals on how to combat trafficking. In 2002 Ghupta established Apne Aap Women Worldwide, an NGO for women's rights and eradication of human sex trafficking. Her leadership in campaigning for the Criminal Law Amendment Act made trafficking a penal offense in India.
15 | Susan B Anthony
(b. 2/15/1820 d. 3/13/1906)
Susan B Anthony was born into a Quaker family committed to social reform. In 1851, she met Elizabeth Cady Stanton, beginning a life-long working partnership on temperance, abolition and women's rights, particularly women's suffrage. Anthony traveled on the national and international level to speak in favor of women's suffrage. In 1872, she was arrested for voting and convicted on the charge, but authorities did not take further action when she refused to pay the fine.
16 | Mildred Fish Harnack
(b. 9/16/1902 d. 2/16/1943)
Mildred Elizabeth Fish was born in Milwaukee, Wisconsin. She met her husband Arvid Harnack at the University of Wisconsin, where she was studying German literature, and moved with him to Germany in 1929. There, she continued to study, pursuing her doctorate, and worked as a translator for various publishing houses. In 1932, Harnack became interested in communism, and along with her husband, created a political discussion group called the Red Orchestra which was in resistance to the Nazis and attempted to prevent the German attack on the Soviet Union. She was arrested in 1942 and executed the following year.
17 | Mary Breckinbridge
(b. 2/17/1881 d. 5/16/1965)
Mary Breckinbridge studied nursing after the death of her first husband, graduating in 1910. She again married, but divorced in 1920 and joined the American Committee for Devastated France. In Europe, she met nurse-midwives and realized that their model of care could be applied in rural America as well. After becoming certified as a midwife in Britain, Breckinbridge returned to the United States in 1925 and founded the Frontier Nursing Service, which provided nursing care in the rural South.
18 | Toni Morrison
(b. 2/18/1931 d. 8/5/2019)
Toni Morrison was born in Ohio as Chloe Anthony Wofford Morrison. "Toni" comes from her baptismal name, Anthony, that she took when she became a Catholic at the age of 12. She began writing when studying at Howard, and went on to be awarded a MA in American Literature from Cornell in 1955. Morrison published her first novel in 1970 and won the 1993 Nobel Prize for Literature.
19 | Harper Lee
(b. 4/28/1926 d. 2/19/2016)
Harper Lee is the author of the classic work, To Kill a Mockingbird, which was published in 1960. Lee attended the University of Alabama, and was accepted into its law school, but revealed to her family that she was drawn not to the law but to writing. She attended the University of Oxford as an exchange student, then dropped out and moved to New York City at age 23 to begin her writing career.
20 | Angelina Grimke
(b. 2/20/1805 d. 10/26/1879)
Angelina Grimké Weld was born to a slave-holding family in South Carolina. She converted to Quakerism along with her elder sister Sarah, and the two moved to Philadelphia in 1829. Grimké supported herself as a teacher and launched her career as an abolitionist writer and speaker in 1836 when she wrote her pamphlet An Appeal to Christian Women of the South. In 1838, she married Thomas Weld and retired from speaking the same year after angry mobs burned down the building where she had spoken earlier that same night. Weld did, however, continue to write abolitionist tracts, as well as teach and raise three children.
21 | Barbara Jordan
(b. 2/21/1936 d. 1/17/1996)
Barbara Charline Jordan was a leader of the Civil Rights Movement and the first southern African-American women elected to the U.S. House of Representatives. She graduated from Boston University School of Law in 1959 and taught political science at the Tuskegee Institute for a year before starting a private practice. In 1966, Jordan won a seat in the Texas Senate, and 8 years later was elected to her national post.
22 | Isabella Hooker
(b. 2/22/1822 d. 1/25/1907)
Isabella Beecher Hooker, sister of Harriet Beecher Stowe, married in 1841 and spent the majority of the next 25 years raising her three children. After the Civil War, however, she entered the women's movement, promoting women's suffrage. In 1870, she presented a bill to the Connecticut General Assembly providing married women with property rights, which was finally passed in 1877.
23 | Frances Watkins Harper
(b. 9/24/1825 d. 2/22/1911)
Frances Watkins Harper was born free in Baltimore, Maryland, and raised by her aunt and uncle after her parents' death. She published her first book of poetry at age 20 and in 1859 became the first African-American woman to publish a short story. Watkins was also a teacher and strong supporter of abolition, prohibition and women's suffrage. In 1853 she joined the American Anti-Slavery Society, and taught newly freed black people during Reconstruction, following the end of the Civil War.
24 | Pearl Witherington
(b. 6/24/1914 d. 2/24/2008)
Cecile Pearl Witherington was born and raised in France by British expatriates. When the Germans invaded France in 1940, she escaped along with her mother and sisters to London, where she found work with the Air Ministry and later the Special Operations Executive. In 1943, she parachuted back into France as a courier for the SOE and began working alongside French Resistance groups. In 1944, she became the first and only woman to lead an SOE network, which was highly successful in sabotaging railroads and telephone lines.
25 | Alicia Montemayor
(b. 8/6/1902 d. 5/13/1989)
Alicia Dickerson Monemayor was born and raised in Laredo, Texas—and rarely, for that time, bilingual. She worked as a social worker for Mexican-Americans during the Great Depression, and in 1936 Monemayor helped charter the women's division of the Laredo League of United Latin American Citizens, which worked independently of the men's council. She called for women to join LULAC to empower themselves, close the gender gap, and make the organization at large more effective before leaving in 1940. In 1973, upon her retirement, she began to do folk art.
26 | Mabel Staupers
(b. 2/27/1890 d. 11/29/1989)
Born in Barbados, Mabel Keaton Staupers emigrated to the U.S. with her parents at age 13. She graduated with honors from Freedmen's Hospital School of Nursing and worked as a private nurse, with an emphasis on treating African-American tuberculosis patients. Staupers advocated for black nurses to be included in the military during World War II, holding the position of executive secretary of the National Association of Colored Graduate Nurses. Nurses were integrated into the military in January 1945 and into the American Nursing Association in 1948.
27 | Rosa Perea
(b. 4/3/52 d. 2/27/1992)
Rosa Perea was born deaf and developed diabetes at age 11. The diabetes was responsible for her blindness at age 29 and kidney failure two years later. During these years, despite her illnesses and disabilities, Parea completed her education. She then worked for the Education Commission in Washington and as a VISTA volunteer in San Antonio where she acted as a peer counselor for blind-deaf children. In 1987, Parea won the right to fly without an escort on Southwest Airlines after a three-year battle.
28 | Lydia Allen
(d.1992)
Lydia Allen was pregnant with her first child during the AIDS epidemic. After a blood transfusion during the pregnancy, Allen discovered that she had acquired AIDS through infected blood, and decided to devote her life to helping others with the disease. As AIDS ravished her family and caused the death of her second son, Allan was ostracized by her church and was made the target of others' ignorance towards the disease. To help protect other families dealing with similar tribulations, she opened Lydia's House, a day-care center for children affected by AIDS. Years after her death, Lydia's House still caters to the needs of parents and children with AIDS and offers comfort to those who are in need.
29 | Augusta Savage
(b. 2/29/1892 d. 3/27/1962)
Augusta Savage began her sculpting as a child in Florida, working with clay. She left for New York to study further in 1921: after graduating, Savage worked as a laundress and fulfilled her first commissions. She was a fixture in the Harlem Renaissance, where she opened her basement Savage Studio of Arts and Crafts to whoever wanted to learn to paint, draw, or sculpt.