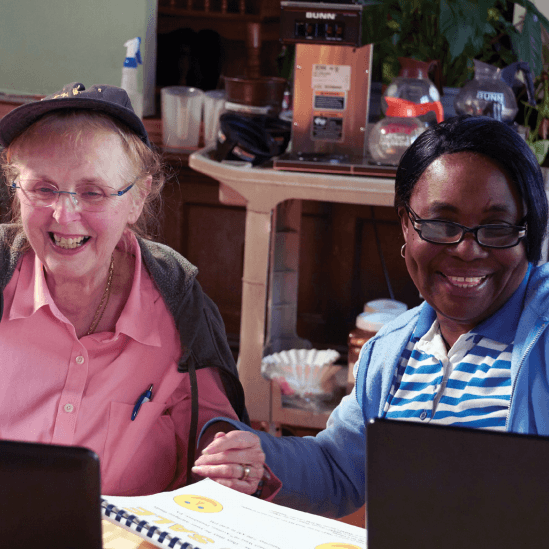 About the featured grantee image: 
Welcoming the Stranger
Bucks County, Pennsylvania 
For many newcomers to the U.S. who struggle with basic communication or job skills, it's a daunting ask to enroll children in school, look for work, or apply for citizenship. Welcoming the Stranger offers free classes in English as a Second Language (ESL), computer skills, and U.S. citizenship test preparation to adult immigrants and refugees.
As a result of Welcoming the Stranger's work, adult learners find that their acquired skills open up new social and employment opportunities, which leads to economic self-sufficiency. Graduates of the program become successful advocates for themselves, their families, and other members of the immigrant community. Since its inception in 1999, Welcoming the Stranger has educated more than 4,000 immigrants from 100 different countries.
Calendar of Women – July 2020
1 | Harriet Beecher Stowe
(b.6/14/1811 d.7/1/1896)
Harriet Beecher Stowe was an American abolitionist and author. She is best known for her novel Uncle Tom's Cabin which depicts the harsh life for African Americans under slavery. The book reached millions as a novel and play, and became influential in the United States and Great Britain, energizing anti-slavery forces in the American North, while provoking widespread anger in the South. Stowe wrote 30 books, including novels, three travel memoirs, and collections of articles and letters. She was influential for both her writings and her public stances on social issues of the day. Stowe also campaigned for the expansion of married women's rights, arguing in 1869 that "The position of a married woman … is, in many respects, precisely similar to that of the Negro slave. She can make no contract and hold no property; whatever she inherits or earns becomes at that moment the property of her husband…. Though he acquired a fortune through her, or though she earned a fortune through her talents, he is the sole master of it, and she cannot draw a penny….In the English common law a married woman is nothing at all. She passes out of legal existence."
2 | Christine Hakim
(b.12/25/1956)
Herlina Christine Natalia Hakim, also known as Christine Hakim, is an Indonesian actress, film producer, and activist. Throughout her career, Christine Hakim has played an active role in raising public awareness on educational issues such as the upgrading of teachers' status.
3 | Angela Eunjin Oh
(b.5/8/1905)
Angela Eunjin Oh, a trial attorney, has been recognized by several organizations as an outstanding spokeswoman for racial issues. As a lecturer and writer on subjects regarding racial diversity in American culture, Ms. Oh has established herself as a strong voice in advocating racial harmony. After spending eleven years as a partner at a Los Angeles law firm, Ms. Oh was appointed by President Clinton to the President's Initiative on Race. She also served as a commissioner on the Los Angeles City Human Relations Commission. Today, Ms. Oh remains active in such organizations as the Advisory Councils for Washington Mutual Bank and the Korean Youth and Community Center.
4 | Women Heroes of the American Revolution
Even though society did not permit women to participate as combatants in the Revolutionary War, women sacrificed for their country in many different ways. Women supported the effort by working farms and dealing with the frontier environment. Women often followed their husbands in the Continental Army. These women, known as camp followers, often tended to the domestic side of army organization, washing, cooking, mending clothes, and providing medical help when necessary.
5 | Anna Arnold Hedgeman
(b.6/5/1889 d.1/17/1990)
Anna Arnold Hedgeman was a black civil rights leader, politician, educator, and writer. After being the executive director of Harry Truman's 1948 presidential campaign, Hedgeman was rewarded with a federal appointment in the Health, Education, and Welfare Department in the new president's administration. She was also appointed to the cabinet of New York City Mayor Robert F. Wagner, Jr. Hedgeman was a major advocate for both minorities and the poor in New York City.
6 | St. Maria Goretti
(b.10/16/1890 d.7/6/1902)
St. Maria Goretti was the daughter of sharecroppers, who lived town of Ferriere. Desperately seeking to support his family, Luigi Goretti arranged with Signor Serenelli, to have their families share a home. Luigi Goretti soon thereafter died of malaria leaving his family to live with the Serenellis. Alessando Serenelli, the son, propositioned Maria on several occasions and sexually harassed her. On July 5, 1902, he would be denied no longer. As she once again rebuffed his sexual advance, Alessandro stabbed Maria 14 times.
7 | Luisa Moreno
(b.8/30/1907 d.11/4/1992)
Luisa Moreno was born in Guatemala to an upper middle class family. She studied at the College of the Holy Name in Oakland, California. In the 1930s she began organizing Hispanic garment workers in Spanish Harlem and cigar workers in Florida. Later she traveled throughout the Southwest serving as an editor of a CIO newspaper and organizing agricultural workers. By the end of the 1930s, Moreno concentrated her work on Hispanic-American civil rights, founding the Congress of Spanish-speaking people in 1938. The first conference was to take place that year in Albuquerque, but the House Un-American Activities Committee accused the group of being Communist sympathizers. The meeting was postponed and later held in Los Angeles. At one time, the Congress had membership of about 70,000. Later Moreno went to Cuba where she took part in the early days of the Revolution, before returning to Mexico. After suffering from illness, her brother brought her to her native home, Guatemala, where she died in 1992.
8 | Eunice Kennedy Schriver
(b.8/10/1921 d.9/11/2009)
In 1962, she founded Camp Shriver, which started on her Maryland farm known as Timberlawn, and evolved into Special Olympics in 1968. After graduating from Stanford University with a Bachelor of Science degree in sociology, she worked for the Special War Problems Division of the U.S. State Department. She eventually moved to the U.S. Justice Department as executive secretary for a project dealing with juvenile delinquency. She served as a social worker at the Federal Industrial Institution for Women for one year before moving to Chicago in 1951 to work with the House of the Good Shepherd women's shelter and the Chicago Juvenile Court.
In 1969, Shriver moved to France and pursued her interest in intellectual disability there. She started organizing small activities with Paris organizations. She reached out to families of children who had special needs to provide activities for them, laying the foundation for a robust international expansion of the Special Olympics in the late '70s and '80s.
9 | Alice Paul
(b.1/11/1885 d.7/9/1977)
Alice Paul was the architect of some of the most outstanding political achievements on behalf of women in the 20th century, she dedicated her life to the single cause of securing equal rights for all women. Alice Paul was an American suffragist, feminist, and women's rights activist, and one of the main leaders and strategists of the 1910s campaign for the Nineteenth Amendment to the U.S. Constitution, which prohibits sex discrimination in the right to vote. Along with Lucy Burns and others, Paul strategized events, such as the Woman Suffrage Procession and the Silent Sentinels, which were part of the successful campaign that resulted in its passage in 1920.
10 | First Meeting of National Women's Political Caucus
(1971)
The National Women's Political Caucus (NWPC) describes itself as a national multi-partisan grassroots organization in the United States dedicated to recruiting, training, and supporting women who seek elected and appointed offices.
The U.S. ranks #69 among countries with the highest percentage of women in government. Countries that have a higher percentage of women include countries such as Tajikistan, Pakistan, Afghanistan, and Uganda.
11 | "Lady Bird Johnson"
(b.12/22/1912 d.7/11/2007)
Claudia Alta "Lady Bird" Johnson was First Lady of the United States, as the wife of the 36th President, Lyndon B. Johnson. Notably well-educated for a woman of her era, she proved a capable manager and a shrewd investor. Lady Bird Johnson was a lifelong advocate for beautifying the nation's cities and highways ("Where flowers bloom, so does hope"). The Highway Beautification Act was informally known as Lady Bird's Bill. She received the Presidential Medal of Freedom from President Carter and the Congressional Gold Medal, the highest U.S. civilian honors.
12 | Mary Eliza Mahoney
(b.5/7/1845 d.1/4/1926)
Mary Eliza Mahoney was the first black woman to study and work as a professionally trained nurse in the United States, graduating in 1879. She also challenged discrimination in nursing. In 1908, Mahoney co-founded the National Association of Colored Graduate Nurses (NACGN) with Adah B. Thoms. This organization attempted to uplift the standards and everyday lives of black registered nurses. The NACGN had a significant influence on eliminating racial discrimination in the registered nursing profession. In 1951, the NACGN merged with the American Nurses Association. Mahoney has received many honors and awards for her pioneering work. She was inducted into the American Nurses Association Hall of Fame in 1976 and to the National Women's Hall of Fame in 1993.
13 | Frida Kahlo
(b.7/6/1907 d.7/14/1954)
Frida Kahlo de Rivera was a Mexican painter, who mostly painted self-portraits. Inspired by Mexican popular culture, she employed a naïve folk art style to explore questions of identity, post colonialism, gender, class, and race in Mexican society.
14 | St. Kateri Tekakwitha
(b.1656 d.4/17/1680)
Kateri Tekakwitha was born in Osserneon, New York, the daughter of a Christian Algonquin woman captured by the Iroquois and married to a non-Christian Mohawk chief. During a smallpox epidemic, both her parents died and she herself was left with a scarred face and poor eyesight. The Jesuit missionary Jacques de Lamberville converted and baptized her in 1676. Because of her faith, as well as her physical disfigurement, she was abused and shunned by relatives. She escaped this life by fleeing through 200 miles of wilderness to the Christian Native American village of Sault-Sainte-Marie. She devoted herself to prayer and austerities and in 1679 took a vow of chastity. She died the following year.
15 | Violette Neatley Anderson
(b.7/16/1882 d.1937)
Violete Neatley Anderson, set up a private law practice and became the first black woman to practice law in the United States Eastern Court Division. She was the first female city prosecutor in Chicago. After practicing in Chicago for five years, on, Violette became the first black woman lawyer admitted to the United States Supreme Court Bar on January 29, 1926,. Violette was active in politics and played a critical role in passing the Bankhead-Jones Act, which donated public lands to many states and territories as designated spaces for agriculture and mechanic arts.
16 | Our Lady of Carmel           
Feast of Our Lady of Mount Carmel is annually celebrated in Chile on July 16. She is the patron saint of the Carmelites, a religious order that works to emulate Mary in their religious practices of austerity and contemplation.
17 | Hannah Szenes
(b.7/17/1919 d.10/7/1944)
Hannah Szenes was a Special Operations Executive (SOE) paratrooper. She was one of 37 Jewish parachutists of Mandate Palestine parachuted by the British Army into Yugoslavia during the Second World War to assist in the rescue of Hungarian Jews about to be deported to the German death camp at Auschwitz. Szenes was arrested at the Hungarian border, then imprisoned and tortured, but refused to reveal details of her mission. She was eventually tried and executed by firing squad. She is regarded as a national hero in Israel, where her poetry is widely known and the headquarters of the Zionnist youth movements Israel Hatzeira, a kibbutz and several streets are named after her.
18 | Morenci-Clifton Picket Line           
The Arizona copper mine strike of 1983 began as a bargaining dispute between the Phelps Dodge Corporation and a group of union copper miners and mill workers, led by the United Steelworkers. The subsequent strike lasted nearly three years, and resulted in replacement of most of the striking workers and decertification of the unions. It is regarded as an important event in the history of the United States labor movement.
19 | Mary Ann Ball
(b.7/18/1817 d.11/1/1901)
Mary Ann Ball was born in Ohio where she attended Oberlin College and later studied nursing. In 1847 she married widower Robert Bickerdyke, who died in 1859. Thereafter she supported herself through the practice of what was called "botanic" medicine. During the early days of the Civil War she volunteered to care for and distribute supplies to the wounded men. She was appalled by the unsanitary conditions of field hospitals and set about cleaning, organizing, and improving them. She insisted on better help for the wounded, at times having incompetent physicians and officers dismissed. When patients were not brought in, Mary Ann sometimes ventured into battlefields to search for the wounded. Her work attracted the attention of both Grant and Sherman who appreciated and supported her work. After the war, she spent the rest of her life working for the homeless, the friendless, and especially for veterans.
20 | Eulalia Arrila de Perez
(b.1773 d.1878)
Eulalia Arrila de Perez managed an early mission in the northern frontier of Mexico, called Mission San Gabriel. She directed the amount of supplies coming in and out of the mission and ran the main kitchen. She also directed the women who worked at the mission making such goods as wine, olive oil, and assisting them in carding wool, spinning, weaving, sewing, and threshing wheat. Eulalia was respected for her ability as a healer and midwife, in addition to helping the mission to run smoothly and efficiently. As she grew older, she was given a home and two small ranchos in appreciation for her hard work in helping San Gabriel run smoothly and productively.
21 | Hortense Sparks Ward
(b.7/21/1872 d.12/5/1955)
Hortense Sparks grew up in Texas and attended a convent school as a young girl. She went on to become a teacher and then, after moving to another town with her new husband, a court reporter. After their divorce she remarried to William Henry Ward, an attorney. She was the first woman admitted to the Texas state bar and she began to practice law with her husband. She also became well known for the pamphlets and newspaper articles she wrote advocating women's rights and suffrage. In 1918 she led a successful campaign to allow women the right to vote in the Texas primaries. Later that year she became the first woman in her county to register to vote. Ward also worked for social reform, helping to push forth the Married Woman's Property Act, working toward a 54 hour work week for women, and creating a Women's Division in the Department of Labor.
22 | St. Mary of Magdala
(1st century A.D.)
Mary of Magdala is most prominent in the narrative of the crucifixion of Jesus, at which she was present, and the witness of the empty tomb, which is central to narratives of Jesus' resurrection. She was also present two days later, immediately following the Sabbath, when, according to all four canonical Gospels. She was, either alone or as a member of a group of women, the first to testify to the resurrection of Jesus specifically name her as the first person to see Jesus after his resurrection. Mary of Magdala is known as the Apostle to the Apostles as she was "sent" by Jesus to proclaim the Good News of the resurrection.
23 | Nancy Mairs
(b.7/23/1943 d.12/31/2016)
Nancy Pedrick Mairs was an author who wrote about diverse topics, including spirituality, women's issues and her experiences living with multiple sclerosis. She was diagnosed with MS when she was 28, and wrote several essays on her experiences as a self-described "cripple", including "On Being a Cripple," and the memoir Waist High in the World.
24 | Amelia Earhart
(b.7/24/1897)
Amelia Earhart was an American aviation pioneer and author. Earhart was the first female aviator to fly solo across the Atlantic Ocean. She received the U.S. Distinguished Flying Cross for this accomplishment. She set many other records, wrote best-selling books about her flying experiences and was instrumental in the formation of The Ninety-Nines, an organization for female pilots. In 1935, Earhart became a visiting faculty member at Purdue University as an advisor to aeronautical engineering and a career counselor to women students. She was also a member of the National Woman's Party and an early supporter of the Equal Rights Amendment. During an attempt to circumnavigate the globe in 1937 in a Purdue-funded Lockheed Model 10 Electra, Earhart disappeared over the central Pacific Ocean near Howland Island. Fascination with her life, career and disappearance continues to this day.
25 | Mev Puleo
(b.1963 d.1996)
Mev Puleo was an American photojournalist and social change activist who confronted injustice, poverty, and violence. From witnessing homelessness in the United States to struggles for social change in Haiti, El Salvador, and Brazil, Puleo used photography and interviews to be a bridge between poverty and affluence, the developed and developing countries. Puleo's familiarity with suffering, however, was dramatically intensified when she was diagnosed with a malignant brain tumor at the age of thirty-one. She died twenty-one months later.
26 | St. Anne
(1st century B.C.)
Saint Anne (also known as Ann or Anna) a descendent of King David, was the mother of Mary of Nazareth and grandmother of Jesus according to apocryphal Christian and Islamic tradition. Mary's mother is not named in the canonical gospels, nor in the Qur'an. Anne's name and that of her husband Joachim come only from New Testament Apocrypha, of which the Gospel of James (written perhaps around 150) seems to be the earliest that mentions them.
27 | Linda Richards
(b.7/27/1841 d.4/16/1930)
Linda Richards was the first professionally trained American nurse. She established nursing training programs in the United States and Japan, and created the first system for keeping individual medical records for hospitalized patients.
28 | Sr. Mary Luke Tobin
(b.5/16/1908 d.8/24/2006)
Sr. Mary Luke Tobin attended public schools in Denver and then managed a dance studio while attending Loretto Heights College. She eventually became the Superior General of the Sisters of Loretto and then the president of the congregation from 1958-1970. She then went to Rome as one of only 15 women auditors invited to attend the Second Vatican Council, and the only American woman of the three women religious permitted to participate on the Council's planning commissions. She focused her ministry in Denver but also traveled the world on peace missions. Sister Mary Luke Tobin was also a political activist. She supported women's ordination to the priesthood and helped the United Farm Workers take on the Blue Diamond Coal Company. She also demonstrated her opposition of nuclear proliferation by taking part in nonviolent actions at Rocky Flats Nuclear Weapons Plant. Mary Luke Tobin was a founding board member of Mary's Pence.
29 | Martha of Bethany
(1st century A.D.)
Martha of Bethany was one of the trinity of good friends of Jesus, along with her sister, Mary, and her brother, Lazarus. The three had a house in Bethany where Jesus often went for respite from his ministry. From the stories in the Gospels, we learn that Martha was the busy one preparing supper in the kitchen while her sister Mary was the more contemplative one sitting at the feet of Jesus. Martha felt confident enough to complain to Jesus about it. Another time, when Lazarus had died, Jesus chose not to come when summoned but arrived after Lazarus had been in the grave three days. In this case both sisters complained to Jesus, "If you had been here, Lazarus would not have died," an indication of the closeness of their friendship.
30 | Antonia Hernandez
(5/1/1905)
Antonia Hernandez , as former President and General Counsel of the Mexican American Legal Defense and Educational Fund (MALDEF), has been a spokeswoman for thirty five million Latin Americans in the United States. Antonia Hernandez is nationally regarded for a career spanning four decades in social justice, expertise in philanthropy and the non-profit sector, and a lifelong devotion to underserved communities in Los Angeles county and beyond.
31 | Azar Nafisi
(b.12/1/1955)
Azar Nafisi lost her job teaching English at Tehran University in Iran because she refused to wear a veil. So she began a book club for her former women students. They would meet at her house, remove their veils, and read works of Western authors, using the books as a means to discuss the political, social and economic boundaries of their country. She is the author of Reading Lolita in Tehran, a memoir based upon these experiences. She now lives in Washington D.C. and presents the voice of an educated woman who lived in Iran under their totalitarian regime. She also tours using books to discuss and help develop democracy and recognition of human rights in the Muslim world, with the Dialogue Project.