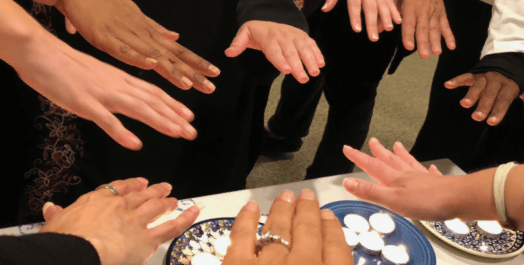 It's official! We've chosen the books for our 2021 Reading List: Peoples. Earth. Spirit.
The books represent a diverse collection of voices and perspectives that highlight social, environmental, and spiritual themes. By reading these books – and discussing them as part of our monthly Illuminating Conversations series – we can all play an active part in the ongoing work to understand and ensure dignity, justice, and solidarity.
Click here for more information about upcoming online book discussions.
Mary's Pence 2021 Reading List: Peoples. Earth. Spirit.
---
All We Can Save: Truth, Courage, and Solutions for the Climate Crisis
Edited by Ayana Elizabeth Johnson and Katharine K. Wilkinson, 2020
All We Can Save brings a diversity of women's voices forward in the form of essays, poetry, and art. Through a deeper and nuanced understanding of our climate crisis, it offers practical action steps to rapidly and radically reshape society.
Bearing Witness While Black: African Americans, Smartphones, and the New Protest #Journalism
Allissa V. Richardson, 2020
Alissa V. Richardson examines historical and current Black social movements and how they have been covered by Black writers, photographers, and journalists. Using interviews with 15 current activists, Richardson shows how the growing use of smartphones to document injustice has created a new wave of activism with citizen journalists giving first person narratives of fatal police encounters across the country.
Caste: The Origins of Our Discontents
Isabel Wilkerson, 2020
Isabel Wilkerson makes visible the caste system in which we live – calling our attention to clearly see who has power, resources, and respect. Through stories and analysis Wilkerson explores the impacts of caste on race and society, the pillars that keep our caste system alive, and ways we can work to make society a more equitable place for all in a time when divisions seem to be growing deeper. 
Central America's Forgotten History: Revolution, Violence, and the Roots of Migration 
Dr. Aviva Chomsky, 2021
A must read for all of us who live in Las Americas, Central America's Forgotten History uncovers the history of Central America starting from the Spanish conquest to the events of today, including the long struggles against inequality and oppression, intertwined with U.S. policies and the impact of those policies on the region. Aviva Chomsky explores why and how histories are suppressed, and how these memories serve as the roots of present events.
The Echoing Ida Collection 
Edited by Cynthia R. Greenlee, Kemi Alabi, and Janna A. Zinzi, 2021
With a nod to the prominent journalist, activist, and researcher Ida B. Wells, this anthology amplifies the voices of Black cis women, trans women, and nonbinary people who are too often unheard or misunderstood. The essays pay tribute to Ida's famous words: "The way to right wrongs is to turn the light of truth upon them."
Healing: The Act of Radical Self-Care
Dr. Joi Lewis, 2018
Dr. Joi Lewis defines radical self-care as the intentional practice of attending to your mind, body, and soul in ways that oppose the forces of oppression that want you exhausted and sick. She asserts that without the ability to feel pain and heal one cannot experience joy. Indeed all of us in this world could use more joy!
Justice Makes a Difference: The Story of Miss Freedom Fighter, Esquire
Dr. Artika Tyner and Jacklyn Milton, 2017
Written by Dr. Artika Tyner, Founder and Executive Director of Planting People Growing Justice – a 2020 Mary's Pence grantee – Justice Makes a Difference is a children's book that is an inspiring story for all ages. Through the perspective of a Black girl we come to know people of color who have paved the way for justice, and are reminded of the special gifts we each have to contribute to that legacy. 
On Women: From the Writings of Joan Chittister
Sister Joan Chittister, OSB, Edited by Mary Lou Kownacki, 2020
Feminist theologist Joan Chittister shares a collection of her essays that focus on the role of women in the Catholic Church. Understanding the dichotomy of a love for Catholic faith and traditions, while also deeply compelled to challenge injustices within and beyond those same traditions, Chittister recognizes the importance of spirituality and justice in the lives of feminists.
The Purpose of Power: How We Come Together When We Fall Apart
Alicia Garza, 2020
Black Lives Matter movement co-founder Alicia Garza details the history and importance of the BLM movement in a book that is part memoir, part activist guidebook. Readers will come away with a deeper understanding and appreciation for the behind the scenes work that goes into building and organizing a movement.
When My Brother Was an Aztec 
Natalie Diaz, 2012
In her first book of poetry, 2021 Pulitzer Prize winner Natalie Diaz gives us raw, emotional accounts of her brother's drug addiction, love, and life in the southwest United States. Diaz's words expose the trauma felt by those living on reservations as she weaves in images of mythology, nature, sports, Christianity, and Mojave and Spanish cultures.
The Sioux Chef's Indigenous Kitchen
Sean Sherman with Beth Dooley, 2017
Beyond sharing recipes for indigenous cuisine, Sioux Chef Sean Sherman highlights the foundations of indigenous food systems and their relationship to indigenous wisdom, elements, plants, and animals. Each section features pre-colonial ingredients, the history of native plant ingredients, and gorgeous photos that will inspire you to prepare dishes from the traditional diets of the Dakota and Minnesota territories.
World of Wonders: In Praise of Fireflies, Whale Sharks, and Other Astonishments
Aimee Nezhukumatathil, Illustrations by Fumi Mini Nakamura, 2020
Poet Aimee Nezhukumatathil takes us around the globe with this beautifully illustrated book of essays. In each essay, Nezhukumatathil blends personal memoir with observations from nature – from the Axolotl to the Narwhal to the Corpse Flower – inviting the reader to share the wonders she sees in our world.