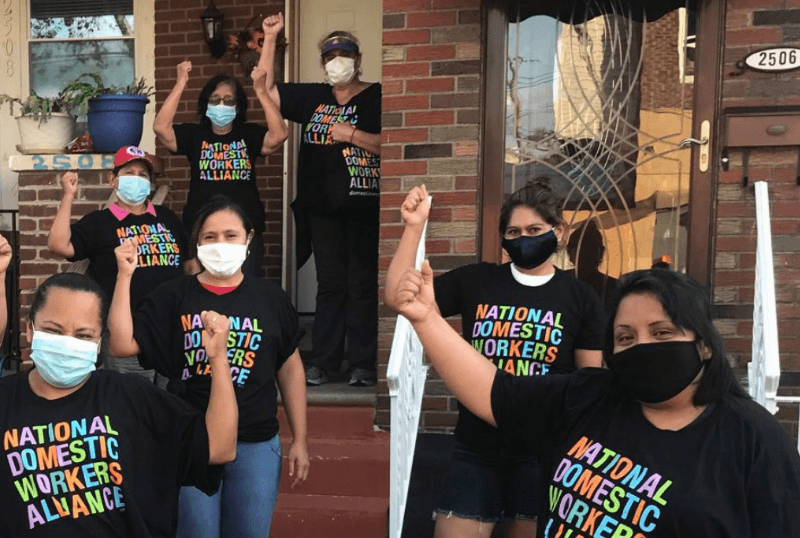 Mary's Pence is honored to announce the 12 organizations that were awarded grants for our 2020 fall cycle. The following organizations were chosen because they embody our values of justice, dignity and solidarity for cis women, trans women, and non-binary people. They also reflect our guiding principles by standing in solidarity with women on the margins through their commitment to addressing and making long-term change around inclusivity and collaboration of issues related to social, economic, and racial justice.
Ayada Leads
Minneapolis, Minnesota
Ayada Leads empowers all women, specifically first and second generation East African immigrants, to become engaged citizens and community leaders, regardless of political affiliation.
CloseKnit
Minneapolis, Minnesota
Prioritizing the deep need for human connection and belonging, CloseKnit catalyzes system change for youth facing homelessness by facilitating lasting relationships with caring adults to fortify life-giving connections. 
The Don't Look Back Center
Aurora, Colorado
Committed to rebuilding their community one woman at a time, The Don't Look Back Center serves justice-involved women and trans women by helping them to develop life skills to rebuild their lives from the grip of addiction, trauma, PTSD, & domestic violence.
Heartspark Press
Olympia, Washington
Dedicated to supporting and developing the creative voices of transgender girls, transgender women, and non-binary people, Heartspark Press amplifies their life experiences through storytelling and book publishing.
Immigrant Rights Action
Doylestown, Pennsylvania
Immigrant Rights Action is a neighborhood collective that documents ICE activity and advocates for undocumented immigrants who have been detained or are at risk of deportation.
Institute for Research on Male Supremacism (IRMS)
Berkeley, California
Dedicated to helping grassroots social justice groups fight male supremacism by researching supremacists' ideologies and movements and educating the public, IRMS unites organizers to address male supremacism and its intersections with racism, xenophobia, and transphobia.
Pennsylvania Domestic Workers Alliance (PDWA)
Philadelphia, Pennsylvania
A worker-led organization, PDWA empowers low-income women of color and immigrant women to win workplace protections and to ensure all work is dignified and safe.
Planting People Growing Justice
Saint Paul, Minnesota
Planting People Growing Justice offers leadership development for women while providing the tools necessary to advocate for social change and form alliances through education, training, and community outreach.
Refugee Community Partnership (RCP)
Carrboro, North Carolina
Through long term relationship-based support, language justice, and cultural stewardship, RCP builds vibrant, protective ecosystems of opportunities, resources, and relationships, while forging transformative solidarity among neighbors. 
Women in Science and Engineering (WiSE) at Cold Spring Harbor Laboratory (CSHL)
Cold Spring Harbor, New York
WiSE is a grassroots network of scientists working to build a more supportive, collaborative and equal scientific community by focusing on the gender disparity in the sciences. 
Working Group on Girls of Schenectady, Inc. (WGGS)
Schenectady, New York
WGGS helps middle school and high school girls build meaningful connections for healthy relationships and successful futures by providing social and emotional support to develop their own voices. 
Youth Activism Project
Washington, District of Columbia
Youth Activism Project fosters teen-led advocacy campaigns to normalize young people's participation in decision-making processes by providing access to leadership and advocacy training for teens.