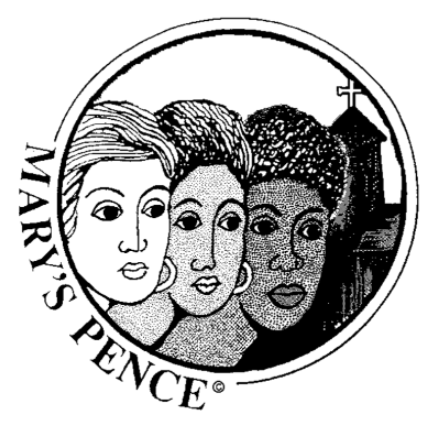 Thirty-five years ago this month on April 29, 1987, the Feast Day of Saint Catherine of Siena, Mary's Pence was founded. It's the day that our work to fund women-led, community-centered groups working for justice was officially set in motion.
It was a community of justice-minded friends and colleagues in Chicago — Catholic women and Sisters — who first recognized that few funding opportunities prioritized the work of women, especially women whose work was rooted in the core values of Catholic Social Teaching and the values of dignity, justice and solidarity. And they wanted to change that.
It is the foresight of those women that brings us to the place where we are today: at the forefront of working for justice and equity!
Mary's Pence has evolved in so many ways since 1987. On a practical level, the central office has moved several times throughout the U.S., a significant online presence has been — and continues to be — developed (there was no internet or social media in 1987!), and our logo and branding has changed.
But more significantly, Mary's Pence has grown as an organization. It has accomplished this by expanding programming, diversifying the board and staff, and responding to the ever-evolving needs of women. In all, Mary's Pence has awarded more than $2.1 million dollars in grants to grassroots organizations, and invested more than $1.3 million dollars in the ESPERA program for women in Mexico and Central America.
Changing unjust systems requires more than money. In a time when many foundations are being called out for their lack of diversity and focus on women's issues — particularly issues for BIPOC women and trans women and nonbinary people — Mary's Pence has been focused on these issues of equity from the very beginning. It's part of the reason Mary's Pence has received national awards and recognition, including a 100% rating on GrantAdvisor — an online forum that collects, shares and quantifies anonymous feedback from grant applicants.
While the scope of the Mary's Pence Grants Program and ESPERA continues to evolve and grow, the core mission of Mary's Pence remains the same: funding women and changing lives. And as Mary's Pence follows up with past grantees and meets with ESPERA partners, it is encouraging to see that the core mission is also alive and well in their work.
Women of Mary's Pence past and present will participate in the 35th anniversary virtual celebration, including Mary's Pence Founding Coordinator Maureen Gallagher, OP, current staff and board members, and newly produced videos featuring ESPERA women and grantee partners.
Whether you were one of the first women to help found the organization, or you just made your first donation today, please join us via Zoom on Friday, April 29th, 2022, at 12pm Central to celebrate this significant milestone for Mary's Pence and the work to fund women and change lives.