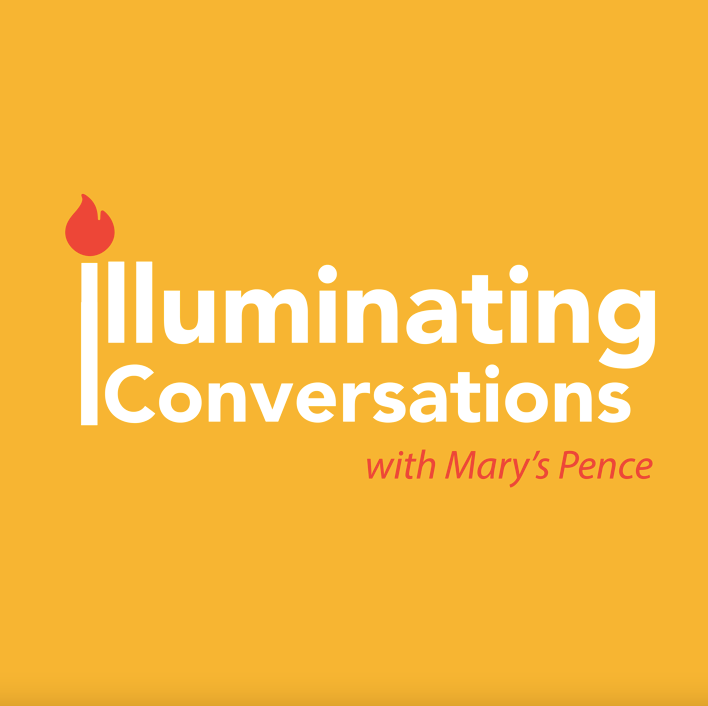 We are excited to announce the schedule for our 2021 – 2022 Illuminating Conversations series!
Everyone is invited to attend these live online conversations about topics that are at the core of our work to help women and their communities flourish in solidarity and justice. For more information about upcoming conversations, sign up for our email list.
The Echoing Ida Collection
Edited by Cynthia R. Greenlee, Kemi Alabi, and Janna A. Zinzi
Special Guest: Cynthia R. Greenlee, Editor of The Echoing Ida Collection
Date: Thursday, May 12, 2022
Time: 8pm Eastern/7pm Central (1.5 hours)
Location: Online. (This event is free to attend and all are welcome, but registered is required to receive the Zoom link.)
With a nod to the prominent journalist, activist, and researcher Ida B. Wells, this anthology amplifies the voices of Black cis women, trans women, and nonbinary people who are too often unheard or misunderstood. The essays pay tribute to Ida's famous words: "The way to right wrongs is to turn the light of truth upon them."
Past Illuminating Conversations:
Central America's Forgotten History:
Revolution, Violence, and the Roots of Migration

by Aviva Chomsky

Special Guest: Aviva Chomsky, Author
A must read for all of us who live in Las Americas, Central America's Forgotten History uncovers the history of Central America starting from the Spanish conquest to the events of today, including the long struggles against inequality and oppression, intertwined with U.S. policies and the impact of those policies on the region. Author and activist Aviva Chomsky, will join us for the discussion of her book to talk about her work to look at how histories are suppressed, and how these memories serve as the roots of present events.
When My Brother Was an Aztec

By Natalie Diaz
Special Guest: Cecelia Rose LaPointe, Founder and Executive Director of Native Justice Coalition
Date: Thursday, November 11, 2021
Time: 8pm Eastern/7pm Central (1.5 hours)
Location: Online
In her first book of poetry, 2021 Pulitzer Prize winner Natalie Diaz gives us raw, emotional accounts of her brother's drug addiction, love, and life in the southwest United States. Diaz's words expose the trauma felt by those living on reservations as she weaves in images of mythology, nature, sports, Christianity, and Mojave and Spanish cultures.
Justice Makes a Difference

By Dr. Artika Tyner and Jackyln Milton
Special Guest: Dr. Artika Tyner, Author and Founder and Executive Director of Planting People Growing Justice Leadership Institute
Justice Makes a Difference is a children's book that serves as an inspiring story for all ages. Through the perspective of a Black girl we come to know people of color who have paved the way for justice, and are reminded of the special gifts we each have to contribute to that legacy. Join author Dr. Artika Tyner to talk about why representation matters when preparing young people–especially young girls of color–to be leaders in their communities…and beyond!
From the Writings of Joan Chittister: On Women
By Sister Joan Chittister, OSB, Edited by Mary Lou Kownacki
Special Guest: Mary's Pence Board Member and human rights advocate Sister Barbara Battista, OP
Date: Thursday, January 13, 2022
Time: 8pm Eastern/7pm Central (1.5 hours)
Location: Online.
Feminist theologist Joan Chittister shares a collection of her essays that focus on the role of women in the Catholic Church. Understanding the dichotomy of a love for Catholic faith and traditions, while also deeply compelled to challenge injustices within and beyond those same traditions, Chittister recognizes the importance of spirituality and justice in the lives of feminists.
The Purpose of Power: How We Come Together When We Fall Apart

By Alicia Garza
Special Guest: Sonia James-Wilson, The WomanHOOD Project
Date: Thursday, February 10, 2022
Time: 8pm Eastern/7pm Central (1.5 hours)
Location: Online.
Black Lives Matter movement co-founder Alicia Garza details the history and importance of the BLM movement in a book that is part memoir, part activist guidebook. Readers will come away with a deeper understanding and appreciation for the behind the scenes work that goes into building and organizing a movement.
Caste: The Origins of Our Discontents
By Isabel Wilkerson
Special Guest: Neda Renee Kellogg, Founder and Executive Director of Project DIVA
Date: Thursday, March 10, 2022
Time: 8pm Eastern/7pm Central (1.5 hours)
Location: Online.  (The event is free, but pre-registration is required for the Zoom link.)
Isabel Wilkerson makes visible the caste system in which we live – calling our attention to clearly see who has power, resources, and respect. Through stories and analysis Wilkerson explores the impacts of caste on race and society, the pillars that keep our caste system alive, and ways we can work to make society a more equitable place for all in a time when divisions seem to be growing deeper.
All We Can Save: Truth, Courage, and Solutions for the Climate Crisis
Edited by Ayana Elizabeth Johnson and Katharine K. Wilkinson
Special Guest: Whitney Terrill, Environmental Justice Program Manager at Minnesota Interfaith Power & Light
Date: Thursday, April 14, 2022
Time: 8pm Eastern/7pm Central (1.5 hours)
Location: Online.
All We Can Save brings a diversity of women's voices forward in the form of essays, poetry, and art. Through a deeper and nuanced understanding of our climate crisis, it offers practical action steps to rapidly and radically reshape society.