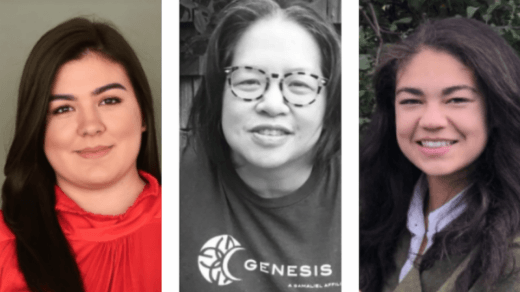 Mary's Pence welcomed 3 new women to our board in April. Each brings unique skills and lived experiences to the role, and each is passionate and committed to the mission of Mary's Pence to support the work of women actively seeking justice, dignity and solidarity. In fact, each woman has a strong commitment in their personal and work lives to organizations working for justice.
Mary's Pence focus on organizations that impact women and issues that oppress women is what appeals most to Mary Lim-Lampe. A lawyer and community activist, Mary is the Executive Director of Genesis in Oakland, California. A 3-time Mary's Pence grantee, Genesis advances economic, gender and racial equality in the San Francisco Bay Area. In addition to offering her skills as a fundraiser, community organizer, and non-profit leader, Mary hopes to be part of Mary's Pence work to promote anti-racist practices and shift from being a white led organization.
New board member Jadea Washington, who is the communications manager for Appetite for Change in Minneapolis, Minnesota, is also committed to sharing and growing anti-racism personally and structurally. "I've done work with myself and in relationship to my own Blackness and the Black experience in North Minneapolis and I hope to expand that to experiences beyond Blackness and whiteness in America (e.g. Mexican and Latinx experience)." Jadea recently completed a year-long fellowship program for people starting nonprofit careers and believes that opportunity, mixed with her new board member role, will continue to enrich her skills and knowledge of nonprofit work and allow her to contribute in positive ways to Mary's Pence.
As the former Education Coordinator for the 3-time Mary's Pence grantee Austin Tan Cerca de la Frontera in Austin, Texas, Laura Hoyos brings a unique perspective to the Board. "I know first-hand how meaningful [Mary's Pence] contributions are towards the ongoing efforts of these different organizations," says Laura, who now works for Apple as a Spanish Siri analyst. "During the September 2019 [Mary's Pence sponsored grant] retreat I had the privilege to meet some of the staff and also interact with some of the organizations that have been directly impacted by Mary's Pence. It was truly an amazing experience for me. I love that Mary's Pence has a close relationship with their grantees and is truly invested in the mission of each of these organizations."
Apart from serving on the Board and contributing to overall strategic planning for Mary's Pence, the women will also participate on board committees. Mary will share her background in philanthropy as part of the Mary's Pence Grants committee, which reviews grant applications and awards financial support to women-led, community-based organizations in the U.S. Jadea and Laura will contribute their work experience in communication and marketing with the Mary's Pence development and communication committee.
In addition to welcoming Jadea, Mary, and Laura, Mary's Pence Board of Directors bid farewell to Rita Lampe. Rita, who served two 3-year terms as a board member, was honored at the April board meeting during a special Wise Woman ceremony that showered Rita with gratitude for her 6+ years of volunteer service to Mary's Pence and blessings for her continued commitments to social justice.