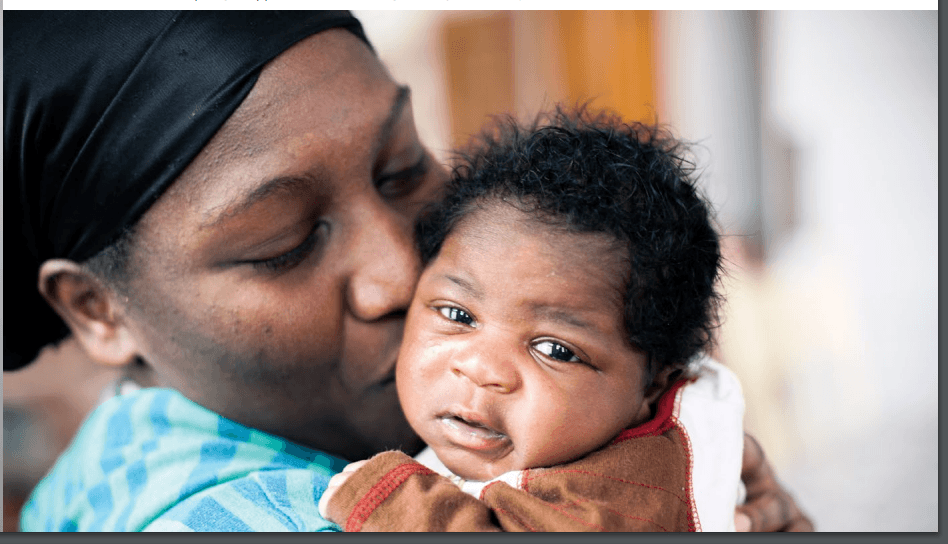 About the featured image:
Lydia's House
Uprooting Justice Together 
Cincinnati, Ohio 
The Cincinnati area has a critical defecit of 40,000 affordable housing units. Lydia's House addresses this need by offering emergency and transitional housing for single-mother-lead families living in poverty. The staff of Lydia's House believe that meeting immediate needs must be accompanied by advocacy to change the unjust policies that contribute to homelessness.
Uprooting Injustice Together is a Lydia's House initiative to equip staff, guests and former guests as advocates for change and just policies. Training materials assist the Lydia's House extended community in the planning of and participation in direct action. Lydia's House is an excellent model of a two-pronged approach to social change: charity and social justice. 
1 | St Thérèse of Lisieux
(b. 1/2/1873 d. 9/30/1897)
St Thérèse entered a Carmelite convent at the age of 15, dying there only 9 years later from tuberculosis at age 24. Thérèse would also become known as "The Little Flower," for her philosophy of the "little way." She inspired many by sharing her spirituality of generous, attentive love and was named a Doctor of the Church.
2 | Käthe Kollwitz
(b. 7/8/1867 d. 4/22/1945)
Käthe Kollwitz was a German artist who worked with painting, printmaking and sculpture. Her first works were realist in style, and depicted the effects of poverty, war, and hunger on the working class. After the First World War, she became interested in Expressionism and pursued that style, while keeping the same subject matter.
3 | Penny Lernoux
(b. 1/6/1940 d. 9/9/1989)
Penny Lernoux was an American journalist and author who began working in Latin America in 1961, around the time of the Second Vatican Council. After Lernoux witnessed the extreme inequalities and violence in the region, she began to speak out against them and the U.S. and Papal policies that she believed perpetuated them. She also became interested in base communities and liberation theology.
4 | Kek Galabru, MD
(b. 9/4/1942)
Kek Galabru received her medical degree in France, then practiced medicine and conducted research in her native Cambodia as well as in Angola, Brazil, and Canada. During this period, Galabru founded the Cambodian League for the Promotion and Defense of Human Rights, which promotes human rights, especially those of women and children.
5 | Maya Lin
(b. 9/5/1959)
Maya Yang Lin is an American designer, artist, and architect who works with sculpture and land art. Her career began when she was just 21, when her design for the Vietnam Veterans Memorial won a national competition. Her contemporary works focus on nature and the environment, with the aim of getting people to reflect on the "hidden."
6 | Rosalie Muschel-Reinhardt
Rosalie Muschel-Reinhardt was a founding member of the board of Mary's Pence. The idea was born a prayer meeting in the Chicago home of Patricia Crowley, where the discussion turned to the extraordinary contributions of Catholic women doing the work of the church among the forgotten poor of the Americas. Two women who were present shared frustration about not getting a grant they requested from the diocese to fund their active and successful prison ministry, while a priest had received a substantial amount to start a new program for men. Judge Sheila Murphy stated, "What we need is a Mary's Pence," a play on Peter's Pence, the Pope's annual church collection.
7 | Our Lady of the Rosary
8 | Vilma Martínez 
(b. 10/17/1943)
Vilma Socorro Martínez used her career as an attorney to champion civil rights, playing a role in establishing affirmative action and ensuring an extension to the Voting Rights Act to include Mexican Americans. Martínez was also a consultant to the U.S. Commission on Civil Rights and served as the U.S. Ambassador to Argentina from 2009-2013.
9 | Mother Mary Joseph Rogers
(b. 10/27/1882 d. 10/9/1955)
Mary Joseph Rogers founded the Maryknoll Sisters in 1920, the first American congregation of women religious for foreign mission. She was inspired by a group of young Protestant women and by 1955 the Sisters had over a thousand members working around the world.
10 | Aparna Basnyat
Aparna Basnyat is Programme Specialist at the Rule of law, Justice, Security and Human Rights at the United Nations Development Programme (UNDP). She formerly worked as Human Rights and Justice Specialist for the UNDP Asia Pacific Regional Center and received her Master's degree at the London School of Economics and Political Science.
11 | Eleanor Roosevelt
(b. 10/11/1933 d. 11/7/1962)
In her 12 years serving as the First Lady of the U.S., Eleanor Roosevelt redefined the role by being outspoken about controversial issues of her day, using her position to advocate for the civil rights of African- and Asian-Americans and greater opportunities for women. In her later political career, Roosevelt became the first U.S. delegate to the U.N. There, she was the first chair of the UN Commission of Human Rights, where she oversaw the writing of the Universal Declaration of Human Rights.
12 | Ann Petry
(b. 10/12/1908 d. 4/28/1997)
Ann Perty was an African-American author and journalist. Her first and most famous novel, The Street, was published in 1946 and depicted a working-class Black woman's life in Harlem, which she based on her work as a reporter there. She continued to address racial concerns in her future work.
13 | Mary Williams
(b. 10/13/1967)
Mary Luana Williams is an African-American writer and activist. Her birth parents were Black Panthers and she received some of her upbringing from them, but as a teenager she was informally adopted by Jane Fonda and Tom Hayden. She drew on these experiences to write a popular memoir called The Lost Daughter. Williams currently works with Sudanese refugees through an organization that she founded, the Lost Boys Foundation.
14 | Sor Juana Inés de la Cruz
(b. 11/12/1648 d. 4/17/1695)
Sor Juana remains one of the most important literary figures of the Latin American colonial period and a giant in the history of Mexican literature. She was a self-taught child prodigy in multiple fields including philosophy and music. She was fluent in three languages (Spanish, written Latin, and an indigenous language called Nahautl) from a young age. Sor Juana began her literary career upon entering a convent, where she wrote primarily Baroque poetry. She defended women's rights to education and was not afraid to critique society's sexist double standards, although this resulted in censure by the Bishop of Puebla.
15 | St Teresa of Ávila
(b. 3/28/1515 d. 10/4/1582)
St Teresa of Ávila was a Spanish noblewoman-turned-monastic nun, later named a Doctor of the Church for her contributions to Christian mysticism. After entering the convent, she became concerned about its laxity and endorsed a return to earlier, stricter monastic rules, eventually establishing a number of new religious houses, both monasteries and convents, based on her ideas. She also promoted absolute poverty and spent much of her time secluded in prayer or writing. Teresa's commitment to the inner life can be seen in the title of her most famous work, The Interior Castle.
16 | Sarah Winnemucca Hopkins
(b. 1844 d. 10/17/1891)
Sarah Winnemucca, whose birth name was Tocmetone (Shell Flower) was a Paiute activist, author, and educator. She was safely away from the attacks by settlers on the Pyramid Lake Paiute because she was attending a Catholic school. However, the dispute still touched her when the US cavalry killed 29 people, including her mother. Winnemucca traveled across the US to expose the plight of her people. When the Paiute were interned in a concentration camp she went directly to Washington DC to lobby for their release. In 1884 she wrote a memoir, Life Among the Paiutes: Their Wrongs and Claims, and continued to educate both Anglo audiences and Native American children.
17 | Mae Carol Jemison
(b. 10/17/1956)
Mae C. Jemison is the first the first Black woman in to have been in space. She was also the first African-American woman to be accepted to NASA's astronaut training program. Jemison considers Chicago her hometown, and studied first at Stanford (where she was the head of BSU) and then at Cornell University Medical College. Before pursuing space travel Jemison obtained her MD in 1981 and spent several years working as a general practitioner, including in the Peace Corps. As the science mission specialist, her role on the mission was to conduct experiments about weightlessness and motion sickness.
18 | Violeta Barrio de Chamorro
(b. 10/18/1929)
Violeta Chamorro is the former president of Nicaragua and the first elected female head of the state in the Americas. Born into a rich family, she married a reporter who was assassinated for criticizing the corrupt and dynastic Somoza government in his newspaper. After his death, she took over the paper as publisher to continue his work. During the Nicaraguan revolution she initially supported the Sandinistas but withdrew her support after the party began working with the Soviet Union. She returned to using her paper to criticize the government, and in 1990 was selected as the candidate for the opposition group, the National Opposition Union.
19 | Ellen Malcolm
(b. 2/2/1947)
Ellen Malcolm began her work in politics with her involvement with the group Common Cause, which advocated for peace in Vietnam. In 1985, she founded EMILY's List (Early Money Is Like Yeast), a donor network to elect pro-choice women to the US Senate.
20 | Sisters Martyred in Liberia
Mark Kolmer, Shirley Kolmer, Kathleen McGuire, Agnes Mueller, Barbara Muttra were Sisters of the Adorers of the Blood of Christ who were killed in a Liberian civil war in 1992. Soldiers of the warlord Charles Taylor's army were convicted of the crime by an international court, but as of yet, nothing has resulted from this. Most of the nuns had been working as teachers at the time of their murders.
21 | St. Ursula
(d. 10/21/383)
According to legend, St Ursula was one of a group of holy virgin martyrs killed at Cologne, Germany. In more fantastic accounts, she is said to have been a princess travelling with 11,000 handmaidens to her future husband when Huns attacked and murdered them. Some scholars think that Ursula might be a Christianized form of the goddess Freya, who welcomed the souls of dead maidens.
22 | Barbara C. Harris
(b. 6/12/1930)
The Right Reverend Barbara Harris is a retired bishop of the Episcopal Church and the first woman bishop in the Anglican Communion. Long involved in the Classic Civil Rights Movement, she was ordained a priest in 1980 and bishop of the Episcopal Diocese of Massachusetts in 1989. Harris received death threats and was advised to wear bulletproof vest to her consecration but refused.
23 | Shahla Sherkat
(b. 3/30/1955)
Sharla Sherkat is an Iranian journalist and feminist author. She founded Zanan (meaning "women") magazine in 1992, which has been censured and brought to court repeatedly for covering controversial issues such as domestic abuse, sex and reformist politics.
24 | Barbara Rouse
(b 12/23/1944)
Barbara Rouse is the former Chief Justice of the Massachusetts state Superior Courts. Governor Michael Dukakis appointed Judge Rouse to the bench in 1985 as an associate justice to the state's Superior Courts. She was named its Chief Justice in 2004.
25 | Irene Sendler
(b. 2/15/1910 d. 5/12/2008)
Irene Sendler was a Polish social worker, humanitarian and nurse who served in the Polish Underground during WWII. From 1935 to 1943, she did social work out of the Free Polish University. During the war, Sendler participated in smuggling children out of the Warsaw ghetto, for which she was named one of the Righteous Among the Nations. After the war, she went on to hold high positions on social welfare in the Socialist government.
26 | Juliette Gordon Low
(b. 10/31/1860 d. 1/17/1927)
Juliette Gordon Low founded the Girl Scouts of the USA in 1912 after being inspired by a meeting with the founder of the Boy Scouts, Sir Robert Baden-Powell. The Girl Scouts is recognized as the largest and most successful organization for girls in the world.
27 | Carrie Chapman Catt
(b. 1/9/1859 d. 3/9/1947)
Carrie Chapman Catt was a suffragist who helped lead the fight for white American women to vote in many states. In 1920 she founded the League of Women Voters to bring women into the political mainstream.
28 | Elizabeth Cady Stanton
(b. 11/12/1815 d. 10/26/1902)
Elizabeth Cady Stanton married an abolitionist in 1840 and became active in the anti-slavery movement. Angry at the exclusion of women in the movement, she and fellow abolitionist Lucretia Mott held a woman's rights convention at Seneca Falls, New York. Stanton there drafted "The Declaration of Sentiments," which lists grievances about women's inability to hold property or vote, as well as other issues such as divorce and custody. Her calls for social and legal change helped to mold the women's rights movement of her era.
29 | Maxine Hong Kingston
(b. 10/27/1940)
Maxine Hong Kingston is a Chinese American author and professor who has written both novels and non-fiction about the experiences of Chinese Americans. Her memoir, The Woman Warrior, examines issues of gender and ethnicity.
30 | Abigail Adams
(b. 11/22/1744 d. 10/28/1818)
Abigail Adams is often considered a founder of the United States due to her involvement, by mail and through her husband, in the Continental Congress. John Adams sought Abigail's advice regularly on a variety of topics. Notably, she advocated in her correspondence for women's rights and against slavery.
31 | Catherine Hoffman
Catherine Hoffmann began her activism as a community organizer at Brown University. From there she went on to a career as a social worker for special education schools in Boston before being hired as director of the Cambridge Peace Commission in 1987. Her goal of working with youth to reduce violence and discrimination culminated in Hoffmann founding the Youth Peace and Justice Corps, a multi-racial team of youth who focus on alternatives to violence and bigotry.