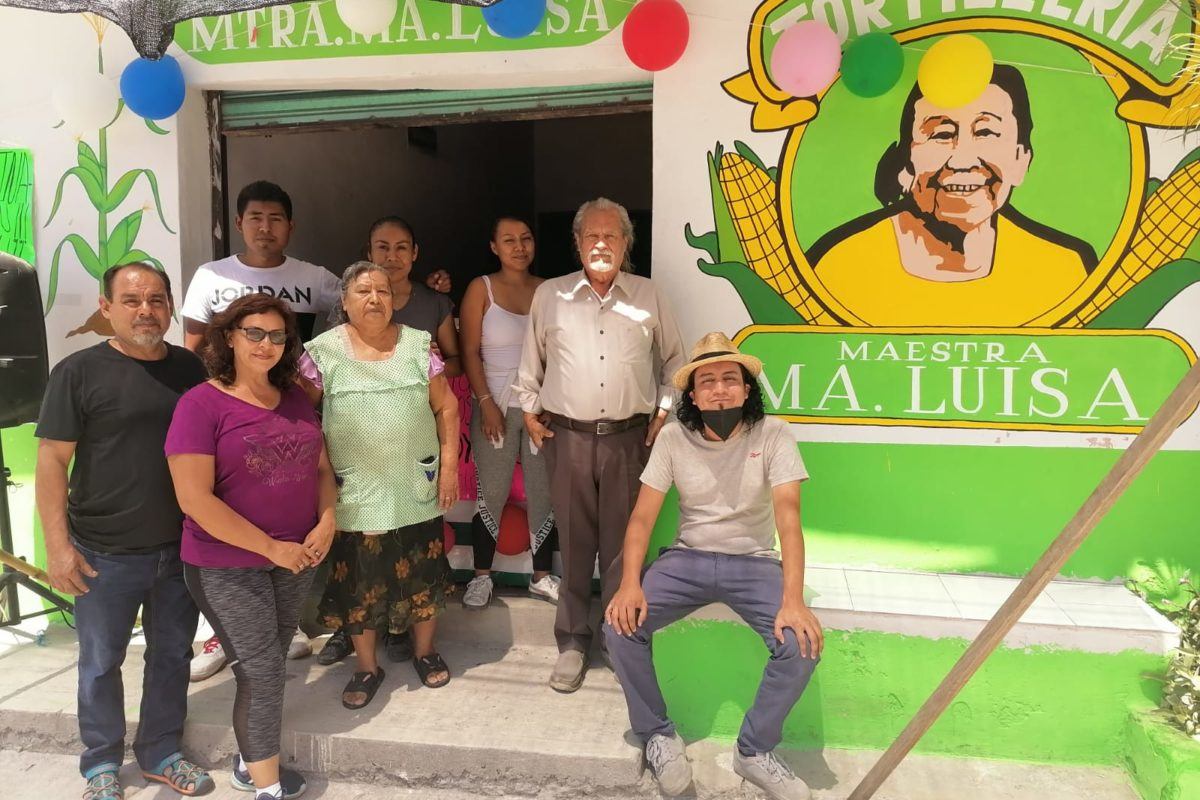 When Maria Luisa Mejia passed away in January 2020, she left behind an impressive legacy.
The Coordinator of our ESPERA partner Red de Mujeres in Morelos, Mexico, Maria Luisa was known for her dynamic leadership style, which earned her region-wide respect for promoting the empowerment of women. She was a go-getter, as well as a listener; she tirelessly poured her creativity and love into her community. And now that community is honoring her.
Earlier this year, when ESPERA participant Esther and her son and business partner David expanded their growing tortilla business to a third location, they fulfilled a promise  they once made to the woman who first helped them secure a loan from ESPERA to start their initiative: they named the new location after Maria Luisa.
Tortillería Maestra Maria Luisa, which was inaugurated on August 16, 2021, not only bears Maria Luisa's name, it also pictures her smiling face on the outside wall. Esther and David believe it will serve as a reminder to all of the impact Maria Luisa made on the lives of people in the greater community.
The original tortilleria came to fruition in 2016 when Esther received a loan and support from ESPERA partner Red de Mujeres—and the encouragement of Maria Luisa. That first business initiative—named Tortilleria Esther—was a success so the family decided to take their knowledge, experience and earnings and invest in opening a second location a couple years later. Esther and David thought it could be a way to offer employment to family members. Maria Luisa, Esther's daughter Daniella recalls, was key in helping to secure a second loan so they could put their business plan to work.
Despite the pandemic and the rising costs of corn, the second tortillería also proved successful—in part because they started offering home delivery service. Now, David says he and his mom are in a position where they want to help others in the same way people have helped them and their family.
"Maria Luisa was a really special and important person in our lives and our business—she was an invaluable support when we got our first two stores off the ground," said David. "She left us with the good feeling that she will always be present with all of us here and in each of our dreams and goals."
Daniella also expressed her gratitude for the homage to the beloved Maria Luisa. "Throughout her life she always provided support—along with her team at Red de Morelenses. It makes us all proud to be part of this network and we will always be grateful for the support it's blessed us with."
Teresa, a representative of Red de Morelos, agrees. "For me, this name represents a recognition of the work that Maria Luisa accomplished in life and her dedication to the women and the communities in order to change their economy and vision for the future."