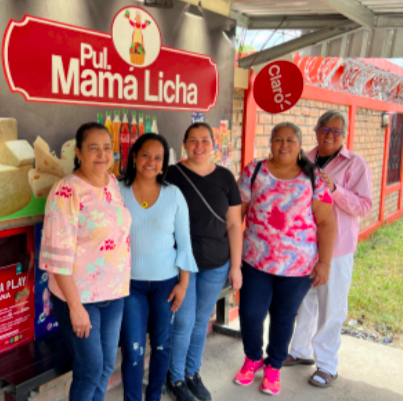 The lifting of COVID restrictions has been a welcome reprieve for many people – especially the women of ESPERA who thrive on the community support and accompaniment they receive from personal connections, both within their local organizations and the ESPERA program.
In February and March the ESPERA regional team visited all of the women and partners in Mexico, El Salvador, Guatemala, and Honduras. For ESPERA groups in Guatemala and Honduras, it was the first time since the beginning of the pandemic in March 2020 that ESPERA staff had been able to travel across borders and visit with women in person.
ESPERA Team Lead Gilda Larios, ESPERA Promoter Eva Martinez, and ESPERA Business Facilitator Brenda Valladares Escobar had several objectives for their multiple-week trip to visit 11 ESPERA groups, but first and foremost they wanted to be physically present to spend quality time with all of the women.
Listening to the stories of women face to face, Gilda, Eva, and Brenda saw clear evidence of how ESPERA women braved the darkest days of COVID. "They were determined that the pandemic wouldn't stop them," said Gilda.
The ESPERA team found that in some cases women's economic initiatives are stronger than ever. At Grupo Emprendedor La
Epifanía in Tegucigalpa, Honduras, they saw several examples of how women changed their business strategies as a result of COVID restrictions and, in the end, experienced positive results.
Delmi, a 9-year member of Grupo Emprendedor La Epifanía, originally used her loan to buy a car to drive as a taxi. Once that car was paid off, she and her husband sold the car and purchased a newer, more reliable car and continued to earn money with the taxi business. She also made ceramic decorations, as well as curtains, tablecloths, and bedding – all of which Delmi sold to help earn money for her family.
But extortion from gang members made their taxi business difficult – if not terribly dangerous. Ultimately, when the pandemic hit, Delmi and her husband mutually decided to sell the car and try a new economic initiative. With no car to park in their garage, Delmi took advantage of the space to sell fruit and vegetables. Soon, clients were asking if Delmi also had sugar, rice, flour, and bread to sell.
Investing little by little, Delmi and her husband have grown their inventory to include more products and, thus, generate more income. In the meantime, Delmi continues with her seamstress business. "As a woman, I feel like a luchadora (a fighter). Sometimes as women we don't feel like we are capable of taking control of our lives and moving ourselves forward. But we can. We are capable of fighting each and every day; we are capable of learning new businesses and not being afraid of starting a new business. I am capable of doing many more things. I'm so happy to belong to this group."
Sara, a 39-year-old ESPERA woman, owned a thriving small business that helped neighborhood children with homework and offered printing and photocopying services. But when children stopped going to classes in person, Sara lost her clients. Moving to the city of Talanga located about 1 hour away, Sara started her business anew, and is now implementing better management skills, such as record-keeping and inventory.
On May 19, Sara was recognized as a Gente Positiva – a Positive Person – by the city of Talanga for her desire and commitment to serve the community. Apart from being an inspiration and example to other women, Sara is an example for her 16-year-old daughter.
ESPERA staff said that one benefit of visiting women's groups after a significant gap is that positive social change and economic development has been more apparent. "Change takes time, so when visits are more closely spaced together, sometimes that change isn't as obvious," Gilda said. "But when you visit after 2 years you can see progress."
All the groups expressed their gratitude to Mary's Pence for the financial and emotional support during the most difficult moments of the pandemic. The ESPERA team received overwhelmingly positive feedback regarding the online mental wellness
programs for women, such as the Co-Escucha ("Co-Listening") initiative and the online 12-month Leadership and Emotional Health program.
"We've seen a lot more enthusiasm around the topic of emotional wellness," Eva said. Some of that, she believes, is a result of the stress induced by COVID, increasing levels of gang violence, and political instability throughout all of Central America, but particularly in El Salvador.
Gilda agrees. "It was gratifying that we were able to see such success with the Co-Escucha and the Emotional Health program… and know how much it helped women in crisis."
The regional team also used their time with organizational partners to talk about the ESPERA program's recently updated strategic plan that focuses on four key areas: Economic Autonomy through Strong Initiatives; Strong Women's Organizations; Family Farming; and Emotional Wellness.
From within those areas, ESPERA partners decide how they want to prioritize their goals. Together they also reviewed the partners' annual operating plans and made decisions about which essential elements of the ESPERA Program will be included.
In all, it was a successful trip – a reminder of the incredible work that has been done in the past two years, despite extraordinary challenges. And an indicator of how ESPERA's work and partnerships continue to grow stronger – with women working together to accomplish shared goals guided by a common vision.