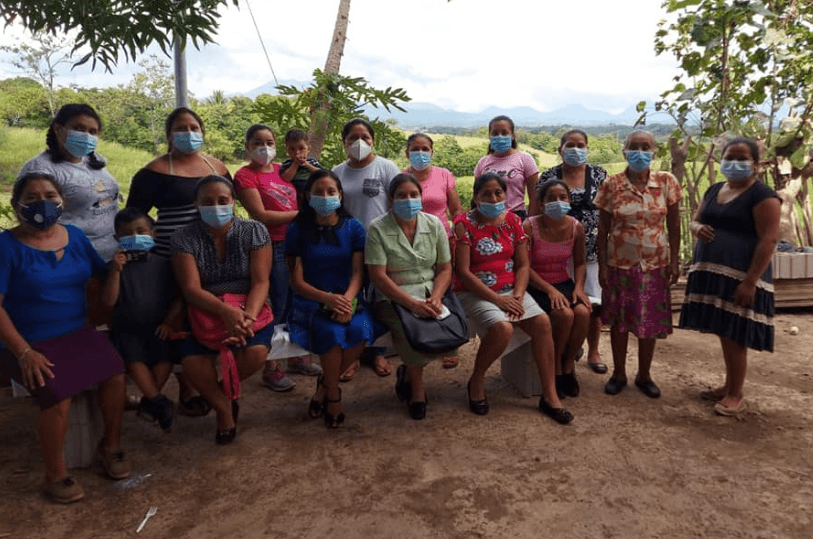 Photo: Members of La Asociación de Mujeres de Santa Domingo de Guzmán, a member of ESPERA partner La Red Union de Mujeres (RUM), El Salvador, taken at a group gathering with the El Salvador-based ESPERA team in December 2020.
With the start of a fresh new year, we want to pause and reflect on everything the ESPERA program accomplished in Central America and Mexico in 2020. Although the COVID-19 pandemic – along with the recent destruction caused by Hurricanes Iona and Eta – created unimaginable challenges for women and their communities, ESPERA staff and partners have incredibly continued their work to support women through it all…just in different ways. The accompaniment and solidarity of women to promote economic self-sufficiency and emotional wellness proves to be all the more critical in times of crisis.
Examples of ESPERA's work in the past year include:
Educating women and their communities through online platforms
COVID-19 awareness campaign
ESPERA staff sent information and prepared online campaigns reminding women to stay at home, social distance, and buy local.
Techniques for organizations
ESPERA staff organized short lessons delivered via WhatsApp on community development, planning, and working in teams.
Techniques for businesses
ESPERA provided a series of lessons for online sharing about customer service, marketing, pricing, etc., for small businesses.
Providing emotional health accompaniment
Co-Escucha (or, in English, Co-Listening) Program
The program, which addressed emotional wellness concerns and management strategies for women during the pandemic, offered 12-weeks of content and group chats via the internet WhatsApp messaging service. Fifty-four4 women in El Salvador and Nicaragua participated in the program.
Sembrando Semillas (or, in English, Sowing Seeds) Program
Using the aforementioned Co-Escucha Program as a model, one ESPERA partner created their own version for women in their community.
Individual psychological support
A volunteer psychologist in El Salvador provided pro-bono services for ESPERA women. Seventeen women took advantage of the one-on-one therapy sessions.
Sharing and learning with the broader world
ESPERA team members participated in the Central America Donors Forum. The Forum provides a way to network with other organizations and donors, as well as discuss important issues and focus areas of Central America.
Presentations at online conferences and workshops ESPERA staff Brenda Valladares and Eva Martinez presented "Experiences and Strategies of Women's Economic Initiatives" for an online workshop hosted by JASS – a global organization building women's power for collective justice.
The ESPERA team presented an online workshop on economic solidarity and food sovereignty for JASS.
ESPERA Team Lead Gilda Larios presented "Listening: The Key for Working Together in Community" as part of an online forum for Change Maker Day 2020 hosted by Tecnológico de Monterrey and Ashoka U.
Identifying ways to support businesses and improve food sovereignty, in ways possible during a pandemic
Emergency loans for women's tiendas (small neighborhood shops)
Mary's Pence provided loans for women business owners and helped them to source food products for sale in their small stores in high demand within the community. This allowed shops to survive and people to buy items they needed in their own neighborhood.
Home garden project
As the pandemic impacted the women's businesses and earned income, 75 women received supplies for planting home gardens to grow food for consumption and sale.
Food basket deliveries
Mary's Pence provided food baskets for ESPERA women and their families in certain communities that struggled to meet basic needs during government-mandated lockdowns. Mary's Pence also continues to monitor the needs of families due to the pandemic and crop production as a result of the recent hurricanes.
Maintaining regular contact with ESPERA's 10 organizational partners
ESPERA staff continued the administration of partners' community lending pools and conducted regular meetings with each of the partners' coordinating teams via Zoom.
In collaboration with the ESPERA Oversight Committee, ESPERA started doing SWOT (Strengths, Weaknesses, Opportunities and Threats) analysis with each ESPERA group. The results of the analysis will be used for future program decision-making.