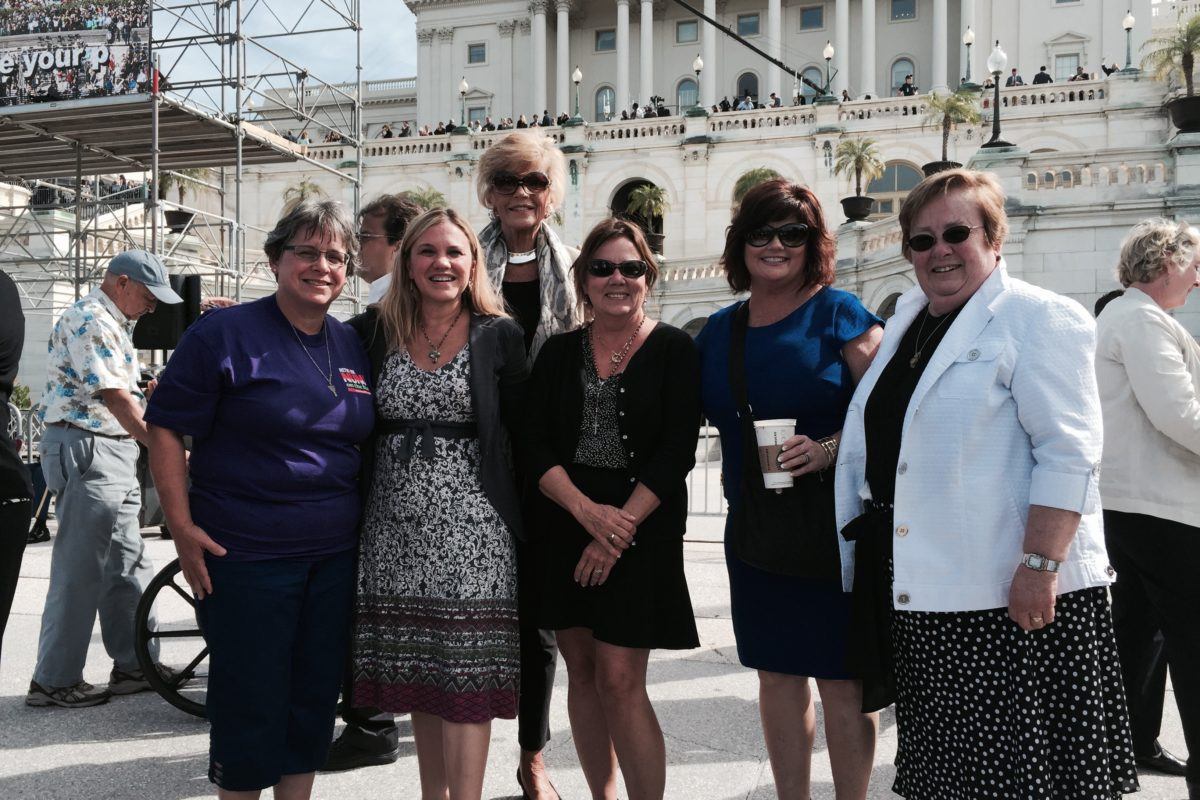 Mary's Pence Treasurer and Sister of St. Francis Robbie Pentecost traveled with the Nuns on the Bus to Greet Pope Francis in Washington D.C. Along the way she connected with many people who shared their stories of despair and hope, struggle and triumph. Here she reflects on the ways the Jesus worked through the Nuns on the Bus to bridge divides and how the journey became for her a pilgrimage.
Making a pilgrimage to a sacred or holy place is a common ritual encouraged by many religious traditions. In some religions it is a required journey, for others it is a spiritual journey. Climbing up the steps of the bus for the journey with the Nuns on the Bus to Washington, D.C. and to greet Pope Francis as he arrived in the United States became for me a Pilgrimage.
I'm not sure where along the way I began to recognize that this was a sacred journey, bringing hope and dignity to those we met, but I suspect it was at the first stop as we were greeted by the 6th grade class at St. Thomas Aquinas School in Indianapolis. These 6th graders and their parents hosted us for dinner and then participated by sharing their concerns and solutions with an audience of over 400 people. They had developed prayers concerning how people are treated in the workplace, honoring the dignity of each person regardless the things that often divide us: race, gender, religion to name just a few. These prayers decorated our tables with more personal messages on the back, thanking us for giving them hope and being courageous.
It was again reinforced through an email from a woman I had encouraged to share her story with our videographer – she was embarrassed to be seen as she was without teeth as a result of cancer treatment, but wanted people to know how the Affordable Health Care Act helped her get the treatment she needed. Without this help she would not be here today. I began to realize it was not anything I had done, but rather Jesus working through us in the simple act of listening is hope planted.
On this journey, which started in St. Louis and traveled through seven states before embarking on Washington, D.C., we heard stories of hardship, pain, concerns, injustice but also innovative solutions to pressing problems, communities coming together and intergenerational gatherings that respected different voices. Nuns on the Bus 2015 was about Bridging the Divide: Transforming Politics, but it was also about lifting up the words of Pope Francis who calls us to conversion and community.
Stories of efforts in St. Louis to bring healing after all of the racial turmoil resulted in a group of black mothers inviting white mothers to join them in conversation. Part of that conversation was the opportunity for the black mothers to share what they must teach their sons that white mothers don't have a need to. One woman, a college professor, shared that often she quizzes her two sons as to what to do if stopped by police. Recently, the 8th grader asked his mother, "Mom, when will this end?" To which his mother replied, "Never."
In Kansas City they heard from a 15 year old young girl whose parents were deported as they went to pay a traffic fine. She and her 5 siblings are now being raised by their grandmother who the young woman applauded for all that she is doing. But it's hard for someone on a fixed income to raise 6 children. Her 12-year old sister thought it would be easier for the rest if she was gone and so she attempted suicide. Perhaps the best message, at least for this family, was that Pope Francis also the son of immigrants.
In the midst of deeply troubling moral issues the Mid-Ohio Food Bank is a sign of hope in this nation that so often blames the victims of poverty. Over 60% of the food they distribute is fresh fruits and vegetables. The have a Leeds Gold status facility (an indicator of a highly energy efficient building) that was the result of renovating a vacant warehouse. They are certainly an example of corporate and community efforts coming together to serve the common good. The Chair of the Board shared the story that one day a family came to pick up food and the staff offered them fresh peaches. The woman looked at the staff person, thanking her but said, "It's not my day to eat." The reality that members of families take days not eating is a moral issue in a nation of plenty.
Again and again along this 7 state journey (although I was only in 3 of the states) we heard how Nuns on the Bus brings hope. In Yellow Springs, Ohio a community choir sang, "You are the Nuns we've been waiting for." But in reality it is the message that Jesus brings of Peace, Hope and Love that people are waiting to hear. The significance of this journey hit a deep chord for those of us on the bus as we entered Washington, D.C. amidst tears, laughter, song and silence as the silhouette of the city was enlarged. Gratefully much of this journey was captured on video to be shared with Pope Francis.
While the opportunity to see and hear Pope Francis both at the welcoming ceremony at the White House and again after his address to Congress was indescribable, without the 5 day journey to Washington D.C. and all the voices that we were lifting up, it would have only been an individual spiritual journey. Instead, this was a pilgrimage with others carrying the stories and experiences of thousands of folks along our way. Truly sacred ground!
Sister Robbie Pentecost