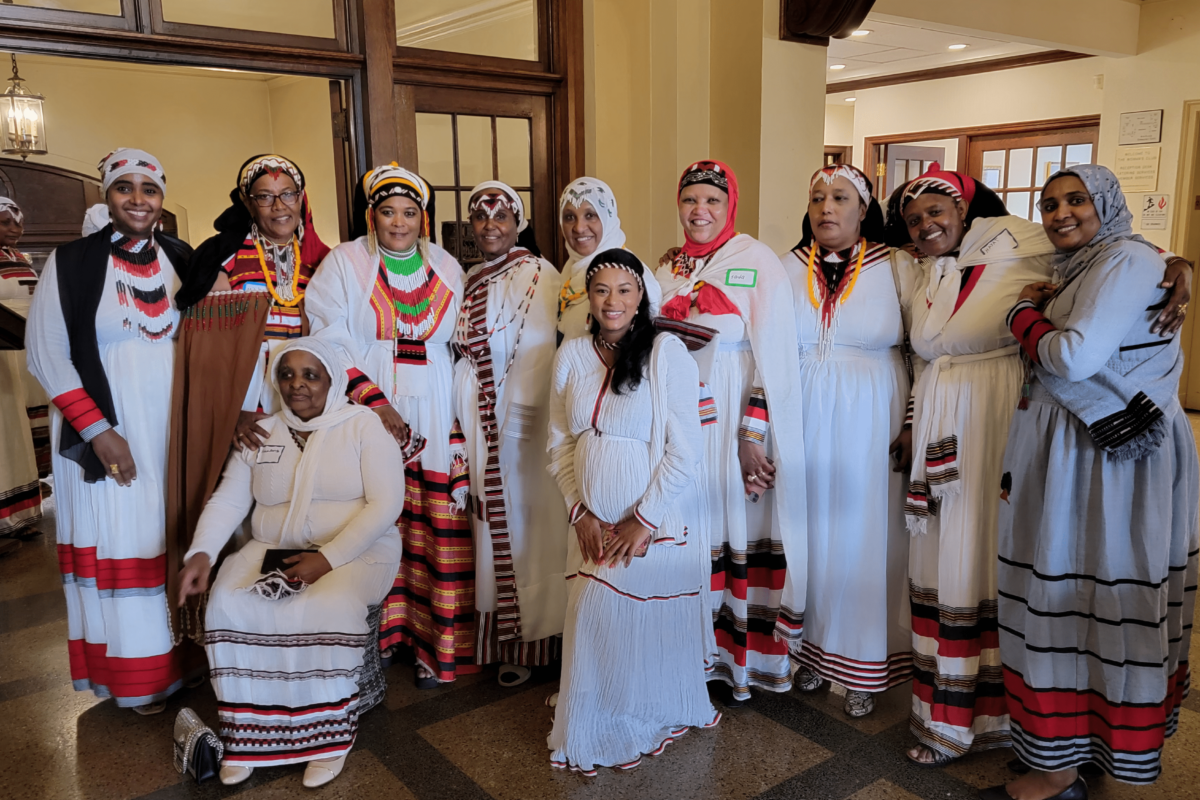 Anole Sisters, a recent Mary's Pence grantee, is creating community and support networks for Oromo women in Minnesota by empowering them through educational workshops and other programs. The organization provides services like language interpretation while connecting women to critical resources, such as immigration assistance, healthcare, housing, food, and support for those with special needs children.
In the face of political repression, land dispossession, displacement, and violence in their homeland of East Africa, thousands of Oromo people have sought refuge in other countries, including the United States. Minnesota, in particular, is home to a significant Oromo population. A 2016 Oromo Cultural Institute and Wilder Research survey reports over 40,000 Oromo people living in Minnesota.
Oromo women and other East African migrants in the United States grapple with racial discrimination, gender discrimination, and difficulty in navigating resources and systems due to the language barrier. 
Recognizing the size of Minnesota's Oromo and other East African communities and the urgent need for stronger connections among the women for healing and mutual support, Rufo Jiru founded Anole Sisters in 2016. The organization is committed to supporting not only Oromo women in Minnesota but East African Women from all backgrounds. They do this by addressing past trauma, fostering connections, and creating systems for lasting change. 
Creating Long-Lasting Change
An achievement that brings Anole Sisters great pride is having 86 members certified in Women's Health since 2022. This program is an ongoing six-week workshop organized by the International Institute of Minnesota (IIMN). This accomplishment reflects their commitment to empowering members and investing in their personal growth. 
Additionally, other members are using resources from the IIMN, such as English classes, the Nursing Assistance Program, immigration services, and college readiness courses.
Currently, Anole Sisters is developing a workshop designed to improve the lives of Oromo women and girls and ensure they are treated fairly and equally. It will provide training in how to succeed in school and look for a job – how to search, prepare resumes, and participate in interviews. It is also designed to support the parents coping with challenging situations. 
Their goal is to raise awareness about the significance of social justice and its practical implementation. By engaging with girls and young women aged 15-25, Anole Sisters aims to empower the next generation of leaders who will be the voice of thousands of Oromo women.
A Day of Joy and Connection
Mary's Pence staff recently had the privilege of participating in an event hosted by The Woman's Club of Minneapolis. Anole Sisters presented their work, shared traditional Oromo food, and a dance performance.
It was inspiring to witness the bond between the Anole Sisters' members and the positive energy that they all share. Gatherings like this provide much-needed socialization and support. It was clear that the Anole Sisters are a valuable resource for its members and that they enjoy each other's company.
During the gathering, the women of the organization prepared and shared delicious Oromo dishes, brewed coffee in the authentic Oromo manner, and performed a traditional dance. It was a delight to learn more about their culture and work. No doubt, it was a memorable day for everyone in the room.
A Milestone Moment
Anole Sisters is deeply grateful for the support from Mary's Pence, which marks an important milestone as their first-ever grant. This grant has empowered them to continue serving and making a difference in women's lives.
Mary's Pence takes immense pride in supporting the essential work of the Anole Sisters. Their commitment to empowerment and community engagement helps amplify women's voices from the Oromo community and other East African roots in Minnesota. 
We are grateful for our supporter's financial support. It ensures that groups like this have the support that enables their work.