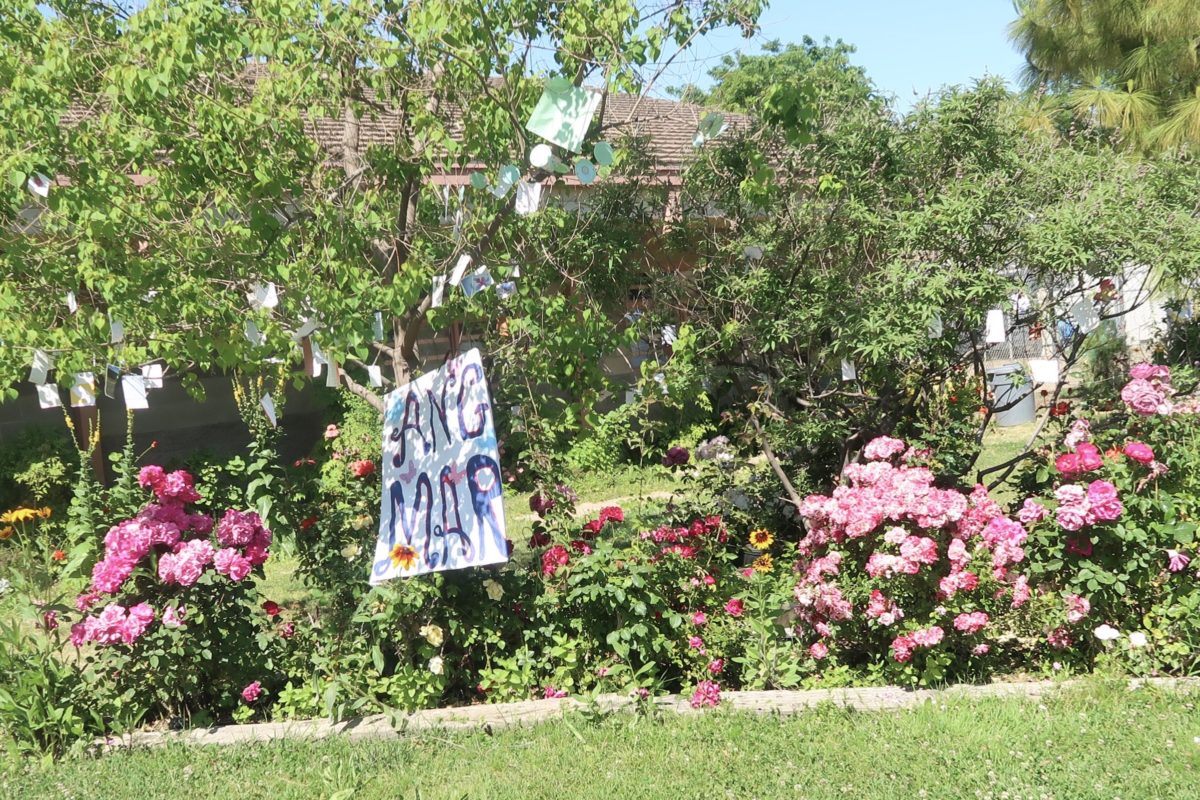 By Michele Rene Scott, Central California Women's Facility (CCWF)
This is a brief story shared by the perspective of the people inside the facility about how people at the Central California Women's Facility (CCWF), the largest California women's prison located in Chowchilla, California, fought for the dignity and care of a friend who was dying of cancer during the COVID-19 pandemic. The women received support from Mary's Pence grantee California Coalition for Women Prisoners (CCWP) to care for their friend in her final days.
Angel Marie Kozeak had been in prison for over 40 years, and was tremendously loved and respected by her community. She had long term health issues, including chronic, severe liver disease. On April 28, 2020, Angel Marie learned she had aggressive pancreatic cancer. 
On that day, we, the Comfort Care workers at the Central California Women's Facility (CCWF), a Fall 2019 Mary's Pence grantee, reached out to members of California Coalition for Women Prisoners (CCWP) to join the advocacy we were doing for Angel Marie, a beloved member of our CCWF community. 
For 20 days prior, Angel Marie tried to get help from Medical. She was in a lot of pain, turning yellow, struggling to keep any food down, and losing weight like crazy. It took 5 days after her request before she saw the doctor and had lab work done. They immediately sent her out to the hospital where she was informed the cancer was terminal. 
Due to COVID-19, Angel Marie was placed in quarantine upon returning to the prison — in the skilled nursing facility. Angel Marie had none of her personal property, including her approved email tablet, which had all of her outside family contacts. She was too sick to remember phone numbers, and needed to contact her family to let them know she was dying and trying to get released under Compassionate Release for people at the end of life.
We had been told that once Angel Marie was on vigil status, Comfort Care volunteers would be allowed to sit vigil with her. Supposedly. We were desperately hoping this would be the case. But because of COVID-19 concerns, Comfort Care volunteers were not allowed to accompany Angel Marie. 
We were not letting this go without a fight. The emotions in the unit with the Comfort Care women were off the charts. We were chomping at the bit to get to Angel Marie. We held onto the hope that her Compassionate Release would go through, but it would not happen overnight. Angel Marie was back in the skilled nursing facility alone, grasping that she was dying, and we wanted to be there for her in some way.
We repurposed "Angel's Tree" — the Chinese Tallow tree in front of the unit where she hung her homemade hummingbird feeder each summer — to honor the life of Angel Marie, with donated cards cut into tags hanging off the branches. The cards contained prayers and words of love and respect from the 512 housing community. We sat in the dayroom cutting out tags and stringing them together, sending them to all the units in the facility yards, so that our global prison community could participate. So much healing and love.
Angel Marie died early on the morning of May 5, 2020. Her death is hard for all of us. We tried so hard to get her out to her family. Our advocacy did get Angel Marie a phone call and a video call with her family before she died. Our hospice group nurtured each other throughout the day. Support is so important; often it is merely a hug and a look into each other's eyes, the tears come, we hold the silence.
We were asked to gather the big sign and all the notes and cards from Angel's Tree. These were given to Angel Marie's family. A beautiful moment to share the love and support our prison community had for Angel Marie and know that it will be in the hands of her family outside.
Michele Scott is a writer who gardens passionately, and is involved in many peer education, restorative justice, victim impact, and spiritual groups at the Central California Women's Facility. She was commuted from a life without parole sentence in Dec. 2018 and is currently working to get released on parole.