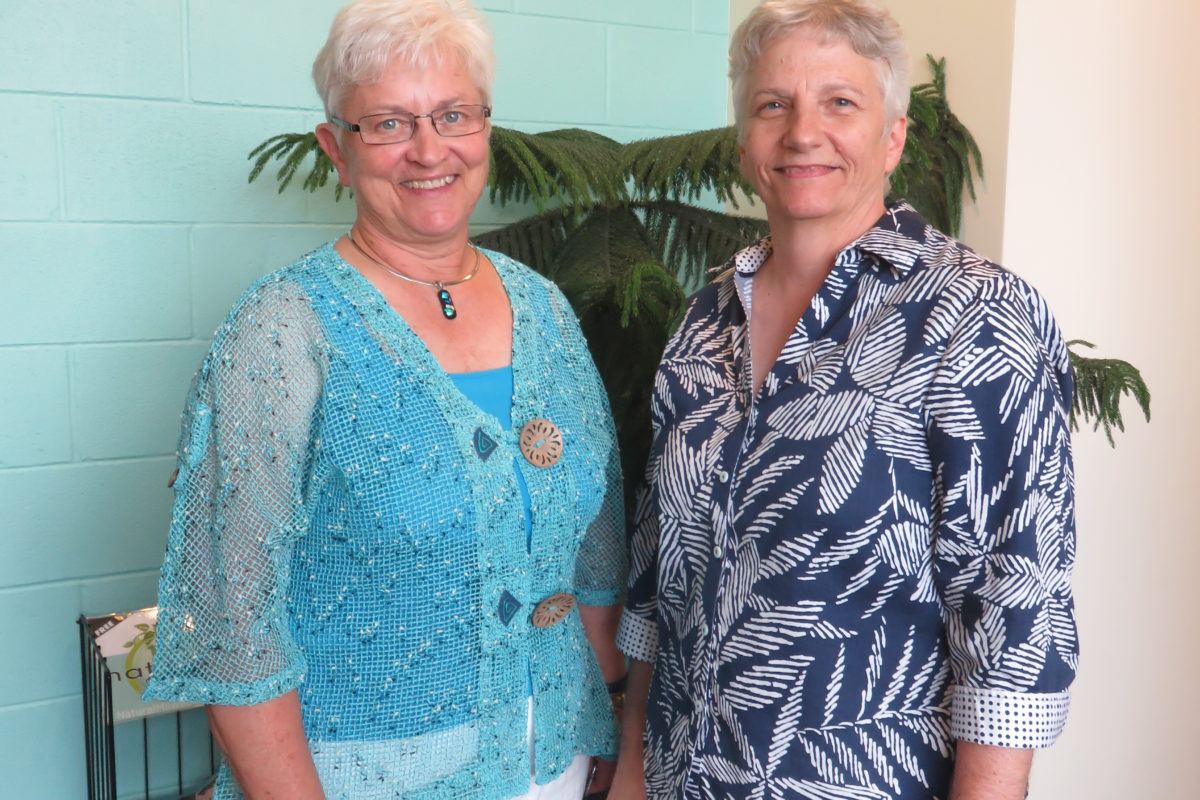 Katherine Wojtan, Mary's Pence Executive Director, shares her impressions about the grantee organizations she has visited throughout spring and summer of 2016.  
Determination and courage are the words I would use to describe the Mary's Pence grantees I have had the opportunity to meet in my recent travels. This year, I have been on the road a lot, meeting supporters and new friends at conferences. I also visited several grantees who shared their inspiring stories with me. Read on about these projects and the women involved:
Wishwas 
Queens, New York
I was impressed by the positive energy of the women in Wishwas. Many of them had struggled with issues of domestic abuse or controlling husbands and took upon a collaborative sewing project to generate income. Thus, Wishwas became a sewing circle and a space for sharing stories. Nivedita Chandrappa, the local coordinator, is an immigrant from India who faced abuse in the past and now supports women in Wishwas as a master networker, seeking training and market opportunities for the emerging sewing collaborative.
Worker's Rights Center
Madison, Wisconsin
Worker's Rights Center is a group that embodies Catholic Social Teaching, with a passion for advancing dignity of all and the right to respectful work. They are dedicated organizers that respond with action to gender discrimination, sexual harassment, wage theft and other issues that Latina women are facing in the workplace. They have also created a just dining guide that points towards fair employers in the local food service industry, giving Wisconisinites a concrete way to support workers' rights.
Milwaukee New Sanctuary Movement / Mujeres Lideres
Milwaukee, Wisconsin
The Mujeres Líderes course provides a chance for immigrant women to develop leadership skills in their own language and use them to create systemic change in their community. I met their staff, learned about their organizing efforts and witnessed their passion for making the challenges of immigrants visible to their neighbors.
Core El Centro
Milwaukee, Wisconsin
What a treat to connect with an organization that has greatly grown and matured since it received Mary's Pence funding! Core El Centro recognizes that healing an individual means changing her family and community alongside. The space itself emanates healing and welcoming energy.
Amethyst Place
Kansas City, Missouri
Amethyst Place provides transitional housing and mentorship for women in recovery and their families, serving 50-60 families and over 100 children each year. This group received a grant from Mary's Pence when it was much smaller than it is today. Their work changes lives! We're pleased to have provided funding during an early critical time that helped them blossom.
The Justice Project
Kansas City, Missouri
I am in awe of those who work with women on the margins, fighting barriers to a stable life, day in and day out. This visit reminded me of how safe and sheltered my life has been, and how much need there is on the street for real, visceral understanding and support.
The Dreamcatcher Foundation
Chicago, Illinois
Brenda Meyers-Powell, one of the founders of Dreamcatcher, literally walks the pavement to connect with women who want help avoiding or leaving prostitution. In conversation, Brenda's complete dedication to her work shines through. You can see more about her and her team in a feature length documentary Dreamcatcher, also available on Netflix.
We look forward to meeting two other grantees very soon. Mary's Pence is hosting a gathering with Genesis in Oakland in October, and we are also partnering with The Kitchen Table of St. Louis to host a workshop at Albuquerque in November.