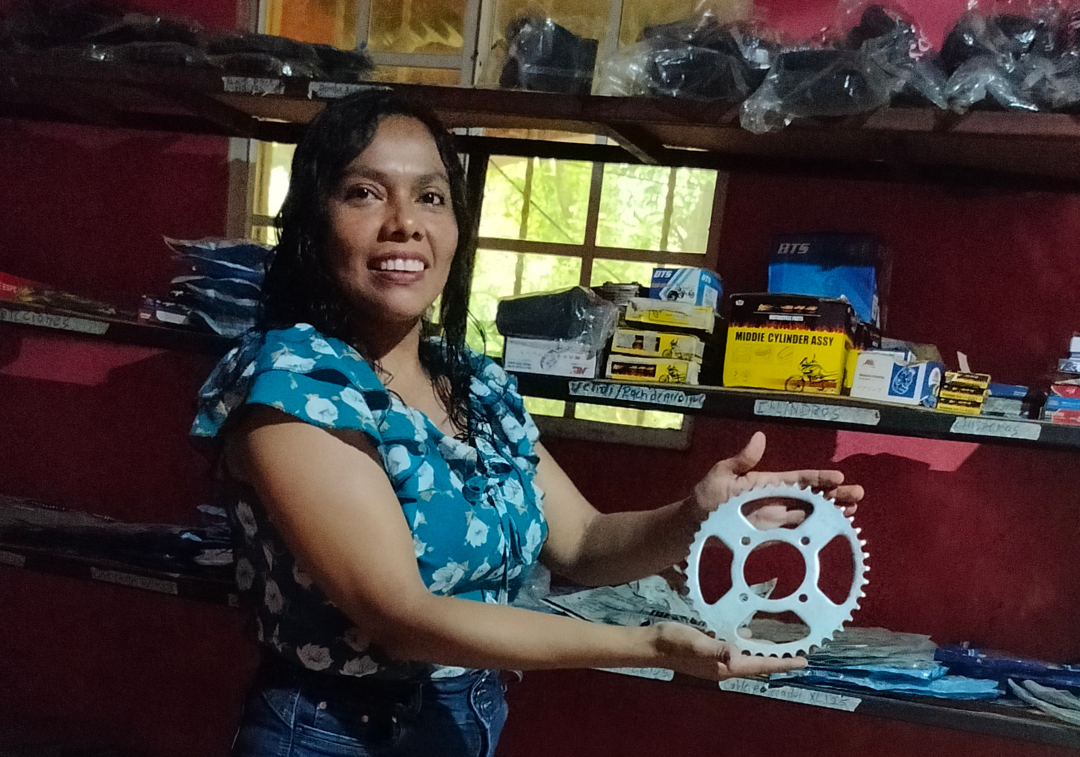 Every day, a little before 6 a.m. Rosita opens her moto-parts shop. "I open the doors early because customers pass by on their way to work, looking for fuel. After that, I clean and organize. Next, I cook breakfast and prepare my daughters (14 and 12) for school."
Rosita yearned for a better life for her and her daughters in rural Nicaragua, where opportunities are limited for women. Like many, she had a strong desire to break free from the confines of her home and create something meaningful. She says she could feel the potential within herself. Luckily, ESPERA funds were available for her. She accessed a $150 ESPERA loan and embarked on a fashion jewelry business.
Despite facing criticism from both strangers and family members, Rosita persevered. "I would leave my house every day with a basket. I carried beads, hair accessories, and things like that. Some people criticized me, even my family, because they thought I didn't need to go out and sell things in the streets or at people's doors. But we all have needs, and sometimes appearances can be deceiving," Rosita remembers.
The news of her little business expanded throughout her neighborhood. Her small jewelry business grew to sell panties, bras, shirts, pants, and shoes to other women in her community. As her jewelry and accessories enterprise blossomed, she started to dream bigger.
The Turning Point
The turning point came when Rosita noticed a growing demand for motorcycle spare parts in her community. Customers visiting a nearby bicycle repair shop often inquired about motorcycle supplies, which became her new vision.
Following her intuition and trust in God, she invested her jewelry and clothes sales earnings in gas and motorcycle parts. She recounts, "My nephew used to sell fuel at my house but couldn't continue. Despite this, customers kept coming and asking, leaving me with no choice but to turn them away. Customers kept asking for fuel, so I realized there was a big need for this product, and I purchased a gas rack and 300 córdobas worth of gas —8.20 USD— and started selling it. This brought customers back, and these customers also started inquiring about tires. I invested in 6 tires and thus began the spare parts business."
Her shop now serves her entire neighborhood and has both regular and new customers. "My store has grown this year, and I thank God for it. God is great and has blessed my business; without Him, nothing is possible," Rosita says.
Breaking Gender Barriers
Rosita's moto parts business startup was challenging, though. In a society deeply rooted in patriarchal norms, Rosita faced skepticism and doubt from those who questioned her ability to succeed in a male-dominated industry.
Rosita says, "When I started, my cousin pointed out that I knew nothing about motorcycles, so I responded, 'Everyone can learn; knowledge is not innate. If others have learned, so can I.' Initially, I felt anxious about answering customers' inquiries or facing unfamiliar questions. However, I embraced each challenge, researching online and learning gradually. It has become my passion to assist others with their spare parts needs while reinvesting profits to ensure the business grows."
Rosita's remarkable story would not have been possible without the support of Mary's Pence and the ESPERA program. Through our financial assistance, Rosita received the initial funding necessary to kickstart her business, enabling her to purchase much-needed inventory.
Rosita's journey reveals a story of courage, faith, and resourcefulness. It shows what is possible when one has access to financial resources and a supportive community. With the support from ESPERA staff and the encouragement from her peers in her local ESPERA group, her vision of having a successful business and taking care of her family slowly became a reality.
Thanks to you, Mary's Pence ESPERA Program can support initiatives like this one. Please continue to support our mission of women supporting women by donating now.