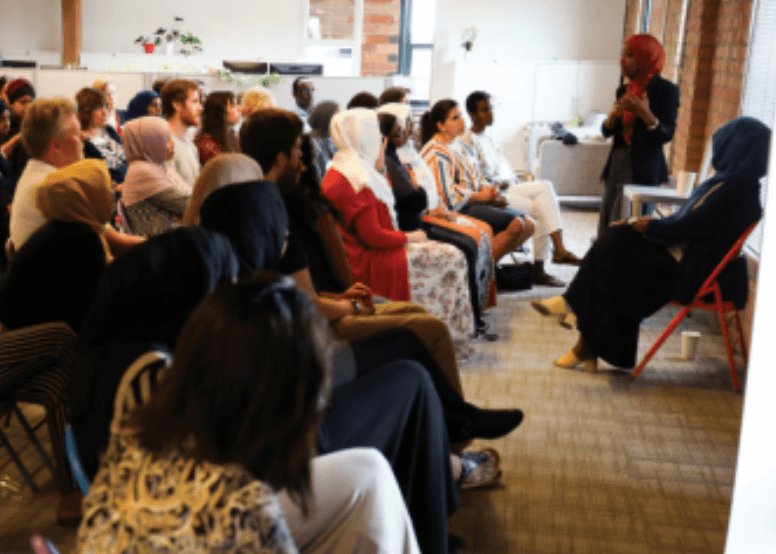 Racism and sexism are systemic. To address systemic issues public policy must change. Several Mary's Pence grantees are working directly to involve and support women, especially women of color, engaging in civic and political action. Here is one example.
Ayada Leads, Minneapolis, Minnesota
Ayada Leads inspires African Diaspora women to participate meaningfully in political and civic life. Using a community-based approach, they provide resources for women to run for office and become engaged in civic matters.
One of their main initiatives, the Ayada Political Campaign Training, is a rigorous, comprehensive training that is an essential primer on all facets of the political campaign process. U.S. Congresswoman Ilhan Omar was the first woman Ayada Leads recruited to run for office. She represents Minnesota's 5th congressional district, which encompasses Minneapolis and surrounding suburbs.
More recently, 5 women who attended the Ayada Political Campaign Training last year, campaigned for positions on the Minneapolis Board of Education (School Board) — a remarkable achievement!
"According to the Minnesota Education Equity Partnership, nearly 30 percent of Minnesota school students are youth of color, and only 3 percent of Minnesota school board leaders are of color," say Ebyan Daud Abdulle, Education and Development Director at Ayada Leads. "We believe that increasing the number of school board members who are women of color is crucial for shaping policy that can lead to stronger and more just academic outcomes for all students."
One of the participants at a training that Ayada Leads co-hosted with Helen Bassett, the Vice Chair of Robbinsdale Area School Board District, was Sharon El-Amin. Sharon shared her experience of unsuccessfully running for a school board position and explained why her initial loss didn't deter her
from running again.
Persistence paid off! Sharon was elected to the Minneapolis Board of Education seat in District 2.
Ayada Leads has two additional programs that promote civic participation. The Engaged Citizen's
Program provides participants with the knowledge, skills and motivation necessary to participate in the decision making of their cities and state to achieve positive community change. The Future Leaders in the Making program works with women, ages 14-25, to find their power and become confident leaders.
Working for Political Change
Mary's Pence grantees with a main focus on building political leadership skills:
• League of Women Voters Minneapolis
Minneapolis, Minnesota
• Planting People Growing Justice
Saint Paul, Minnesota
• Youth Activism Project
Washington, D.C. / national
Mary's Pence grantees with a main focus on key public policy issues and organizing:
• Altagracia Faith and Justice Works
New York, New York
• Cold Spring Harbor Laboratory Women in
Science and Engineering
Cold Spring Harbor, New York
• Defend Glendale & Public Housing Coalition
Minneapolis, Minnesota
• Immigrant Rights Action
Doylestown, Pennsylvania
• Institute for Research on Male Supremacism
Oakland, California
• Pennsylvania Domestic Worker Alliance
Philadelphia, Pennsylvania