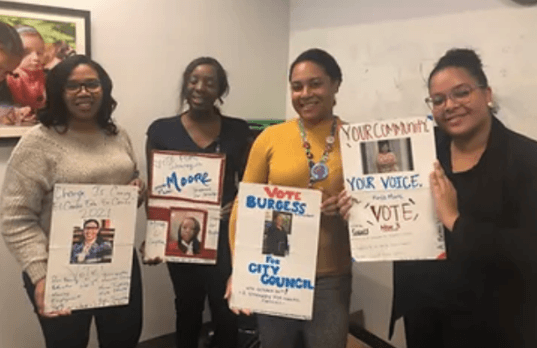 Women's participation in U.S. electoral politics has historically been severely restricted. Even after the 19th Amendment was ratified in 1920, exclusions based on race and residency persisted for decades before voting rights were extended to all female citizens.
As such, women's participation in the political process has lagged behind their male counterparts. Even now, women may decide against running for office based on issues like "impostor syndrome" (feeling unqualified) and observed sexism toward women elected officials, as well as lack of access to funding and networking resources.
It's encouraging that more women than ever before are actively running for political office. Women's participation at the state level has increased more than fivefold since 1971. At the federal level, the U.S. Congress is now composed of nearly 20% women legislators. And yet there is still much work to be done to ensure that women feel that they belong in politics.
Based in Brooklyn, New York, Mary's Pence grantee Dare to Run, Inc. seeks to support and equip women of all backgrounds and political inclinations to run for and be elected to public office at local, state and national levels. The nonpartisan organization focuses their efforts on the 14 states with the lowest representation of women in their state legislatures.
Dare to Run's Founder and President, Rachelle Suissa, speaks of watching firsthand as her single mother navigated a court system that wasn't designed to meet her family's needs. Witnessing that struggle, Rachelle became keenly aware of the necessity to center women's voices and lived experiences in policy making and legislation.  Although they lived modestly, her mom passed on the values of women helping and supporting each other – the same values that are evident in the mission and work of Dare to Run. They are the values of uplifting and empowering women to make changes in the world to better meet their needs and those of their constituents and communities.
Originally an in-person program, Dare to Run's Women's Leadership Program was restyled for pandemic times and is now primarily virtual. The program consists of two semesters of asynchronous instruction that participants can absorb at their own convenience, as well as opportunities to interface live with instructors for discussion and integration of the program materials. Courses cover relevant modules ranging from Branding & Messaging, Public Speaking, and Fundraising; to Planning and Budgeting a Political Campaign, Fundamentals of Grassroots Organizing, and Getting on the Ballot. After the second semester, participants are matched to internships and mentorships with women who currently serve as elected officials in their local areas.
The networking and leadership skills developed through these courses and relationships are highly valuable and transferable even in the event that a participant chooses to forego a run for office. Graduates of the program become Alumni Network members and have access to a wide range of support and resources. Dare to Run is currently building partnerships and preparing for an April 1st recruitment launch for Cohort #4 for fall 2022.
With their grant from Mary's Pence, Dare to Run is working to support its outreach and print/digital advertising for the organization, as well as costs associated with providing courses and programs.
An International Women's Day event is planned for March 8th at 6 pm via Zoom, featuring newly elected NYC Councilwoman Julie Menin, who will be joined by several women candidates for New York State offices. People interested in attending are invited to register here: https://buff.ly/33RNYj