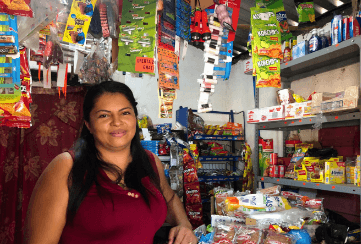 Women who participate in our ESPERA program in Central America and Mexico are working to continue to provide the same services they provide to their local community, which often requires that they modify their services.
Mirna Lopez, a member of ESPERA partner Concertación de Mujeres de Suchitoto, owns a small tienda, or store, that offers a small variety of basic food and household supplies. Although it's becoming more difficult to keep products in stock, she's keeping her tienda open to people during the national quarantine. With her husband out of work as a direct result of COVID-19, Mirna's family relies solely on her income.
Marleny Beatriz Heríquez, a member of ESPERA partner Parroquia San Nicolás Obispo in Teotepeque, El Salvador, is still working at her bakery but she is no longer selling her bread fresh from the oven. Because people are fearful that the virus could be transmitted on baked bread, Marleny now sells bread dough for people to bake at home.