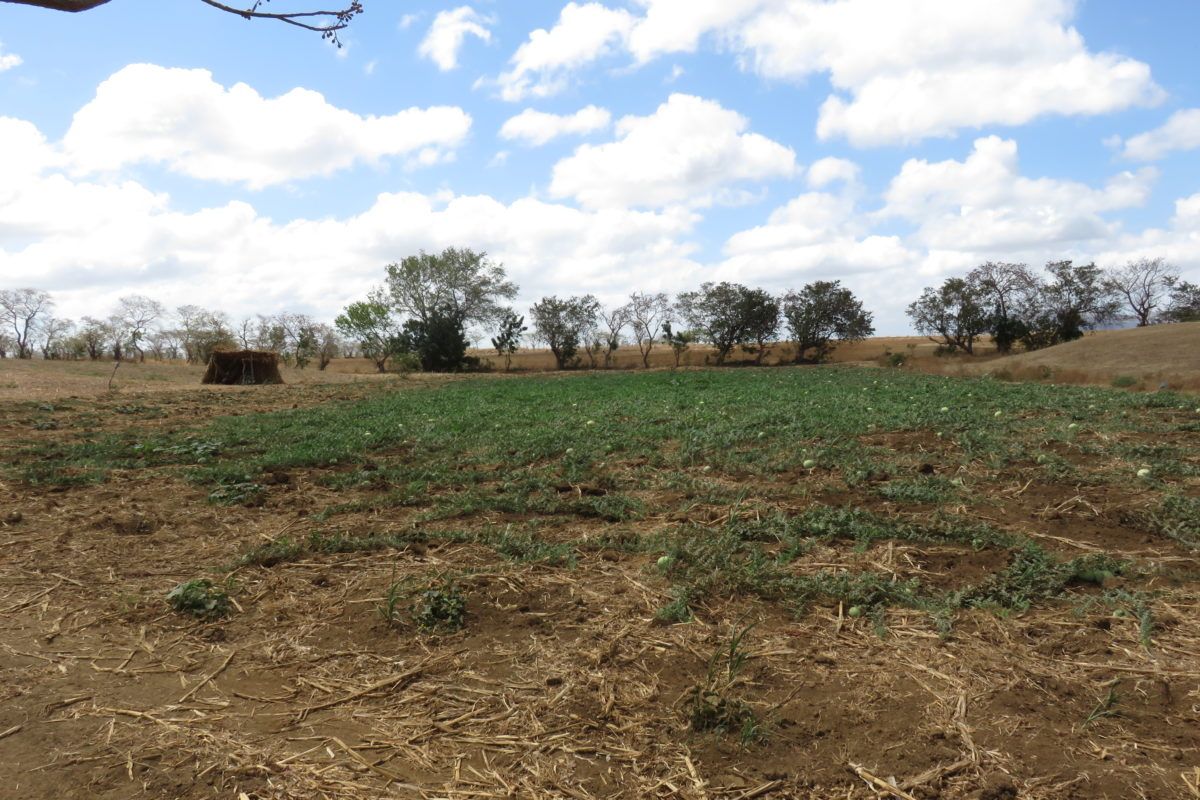 According to the environmental organization Centro Humboldt, Nicaragua is confronting "the most profound environmental crisis in recent history."
Between 2011 and 2016 there has been a reduction in forest coverage of more than 36,000 hectares (roughly 100,000 acres). In addition to the loss of forests, the principal bodies of surface water in the country have lost water, including the large lakes of Cocibolca and Xolotlan, and the El Coco, Grande de Matagalpa and San Juan rivers. This has created a drought across Nicaragua and other parts of Central America, disrupting the daily lives of women, their businesses, and their communities.
Faced with a drought affecting the entire country, local ESPERA coordinator Auxiliadora traveled to the Campuzano, El Portillo and El Papayal communities of Nindiri-Masaya. This is what she learned.
Like many communities in Nicaragua, these communities where ESPERA women live are affected in particular ways. In the case of the Papayal community, they were without potable water for nine months of the past year. After several popular protests directed at the municipal authorities, they now have obtained this service, but it is severely rationed, so much so that, according to Santos Ampie (Leader of the Colectivo Sol de Vida), once a week they have to fill up all the receptacles that they have in the Medina Natural shop in order to make their products. This amount of water runs out in just one day, which has greatly affected the women because it has caused their production to decline, especially in the last two months during which the days have been hotter.
Another problem affecting the women in the Colectivo Sol de Vida is the scarcity of medicinal plants that they utilize in each of their products, caused by the heating up of the sun and the soils. Two years of drought has had a great effect on the plants. This is an economic difficulty since they are paying more for the plants and ingredients like honey as a result of the drought.
In the Campuzano community, the women and their families are also hard hit by the drought because the majority of their fruit trees and orchards are drying out or are completely dried up. In the Papayal community people also suffer from the scarcity of water and for this reason the women and their families have to dig holes to extract water from the ground. This scarcity has arisen due to the high temperatures that have dried up some wells.
Doña Isabel from the Colectivo Mujeres en Prosperidad (Women in Prosperity) and inhabitant of the Campuzano community explains how she has been affected by the drought:
"The drought is affecting me a lot because, with the drought that we had last year and the high temperatures this year, I don't have the orchards ready. Previously at this time of the year I already had the seedlings going so that when the 'winter' rains came I just had to transplant them but since it didn't rain I couldn't do this this year. Due to the drought we have drinking water severely rationed because we don't get enough so I can't even water the seeds to have them ready."
"Economically, this drought affects me because we used to plant pipian (squash), ayote (pumpkin), lemon trees and sour orange trees. All of these trees are drying out. I used to take the production of these plants to the market to sell, but now since there is none, how am I going to substitute it if everything is drying out? For this reason, I am being affected a lot economically because now I can't sell the products that I used to cultivate. This drought also affects us with the sun being very strong. My mother suffers from high blood pressure and so do I and this affects us a lot… For us it has been a disaster that the well dried up because of the drought. It was a big blow because we used to help ourselves with it and now that it is dry and there is hardly any drinking water that comes – it only comes every other day and just a little bit just to drink and bathe. We only have water for the basics."
As I walked over Doña Isabel's land with her, she expressed that she loves having both ornamental and fruit plans. During the walk she showed me what her orchard had looked like and the different plants that have dried out during these last two years of drought, such as pomegranates, lemons, papayas and sour oranges. This year (2016) Doña Isabel is planning to replant different types of grafted plants like avocados, lemons, icaco (cocoaplum) and others during the winter [the rainy season] to see if she is successful once again in having an orchard to sell fruit and vegetables, to help herself economically.
"This year we are going to try [again]," said Doña Isabel, "trusting in God that the winter may be good."
Translated from the Spanish by Luisa María Rivera Izábal and Shelley Coppock.
This is part one of a three-part series on the drought in Central America and its effect on the women of ESPERA, as reported by ESPERA staff. Check the blog for more in the month of May 2016.