Reproductive and sexual health, economic solidarity of women, institutional strength and organizational development, and the right to a life free from violence toward women. These have been the objectives of the Concertación de Mujeres de Suchitoto (Concerta) since it was founded in 1991 with the support of Sister Peggy O'Neill, SC and Sister Pat Farrell, OSF. In 2008, Concerta became Mary's Pence's first ESPERA community lending partner. But ESPERA hasn't been the only economic initiative that the more than 300 members from the rural communities surrounding Suchitoto participated in. Recently Concerta brought in an independent evaluator who analyzed the success of each initiative – savings groups, community banks, cooperatives, and ESPERA community lending groups.
Defining Economic Autonomy
The purpose of the independent analysis was to understand the impact each type of economic credit had on the women's economic autonomy. Beyond being able to cover the cost of basic necessities including food, shelter, clothing, health and education, economic autonomy also means having independence in making decisions and having freedom and leisure time. The women of Concerta define economic autonomy as "being able to do what I want," "being able to use money for what I need," having "liberty" and having "ownership of the money." Economic autonomy empowers women in all areas of their lives, and it enables them to live with dignity.
Patriarchy Prevents Women's Economic Autonomy
The women of Concerta identified being a woman and living in a rural area as primary barriers to achieving economic autonomy. The culture of machismo in El Salvador – oppressive patriarchy – and the lack of resources and economic insecurity in rural regions are barriers that ESPERA works directly to counteract.
The analysis recognized these additional barriers to the women achieving economic autonomy.
Lack of education and illiteracy – High school is a "glass ceiling" for many of the women.
Burdensome family responsibilities – Many of the participants become mothers in their late teens and early 20s. They have identified this early maternity as a barrier to personal growth, in part because culturally reproductive and caregiving work is understood to be a woman's primary responsibility. This makes it difficult to add other responsibilities of economic initiatives.
Fear of failure – Many of the women lack confidence in their own abilities, in part because they have not had the chance to prove themselves before, and in part because they do not have role models to look to.
ESPERA's Success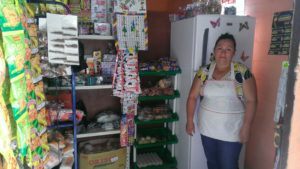 According to the analysis ESPERA "is the type of credit that most clearly contributes to the economic autonomy of the women, because they generate more income from their economic initiatives. The functioning and extensive experience of the ESPERA groups, sponsored by Mary's Pence and closely accompanied by the Concertación de Mujeres de Suchitoto, have supported the economic development of many of the women members of the groups."
However, there is still work to be done. The analysis notes that "several of the economic initiatives are truly successful, prosperous and with a clear vision on the part of the women." But there are also many women for whom their business provides complementary income and is not yet able to cover their full cost of living. Some of the women need to work on better identifying the needs in their communities so that there is greater demand for their products or services, while others stand to strengthen their marketing.
These are certainly challenges that the ESPERA women face. But we are confident in our ability to support them in overcoming these barriers. In fact, these are the kinds of topics that ESPERA staff cover when they work with women during one-on-one meetings as well as in large group assemblies. And it is the kind of thing that we are encouraging the women to work on together. Because there are women who are successful, others in their community are able to learn from them. Together they are working toward more effective businesses.
Also, because ESPERA goes beyond the money, our work is helping the women address some of the major consequences of machismo. By encouraging women to take leadership roles and by strengthening Concerta as an organization Mary's Pence works to fortify individuals striving to have a stronger voice in their homes and this institution fighting for women's rights in their community.
Carmen's Dream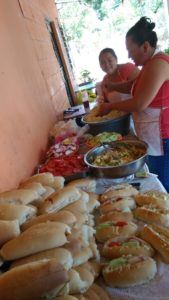 Like many of the ESPERA women, Carmen says she feels as if she has lived several lives already. She has been responsible for taking care of a home since she was a young girl. As an adult, she raised four children while living through many years of domestic abuse. At 42 years old, she has now been a widow for 12 years. Carmen works Monday through Friday in a house in San Salvador, a two hour journey from Suchitoto. But her dream is to leave this job to dedicate herself full time to her weekend business, selling comida tipica – traditional Salvadoran food like pupusas, corn tortillas stuffed with cheese, meet and/or vegetables.
Carmen's first ESPERA loan was $400, which she used to buy raw materials for making her food. With her second loan of $400 she was able to buy a griddle as well as invest in raw materials. Carmen has become the primary provider for a retreat center near where she lives. She is able to fulfill orders with the help of her two daughters, her sister, and sometimes her mother. Carmen recently took out her third ESPERA loan for $700. With this money she has been able to diversify her production and the food for sale. Additionally she has supported her son's corn crop, which also gives her access to raw materials.
As her business grows, so does her dream. Not only does she strive to dedicate herself exclusively to selling food, she also hopes to make enough that she has some time to rest. In short, she hopes to gain economic autonomy and to live a life of dignity. And mostly, she hopes for a better life for her daughters.
Learn more about ESPERA Community Lending.