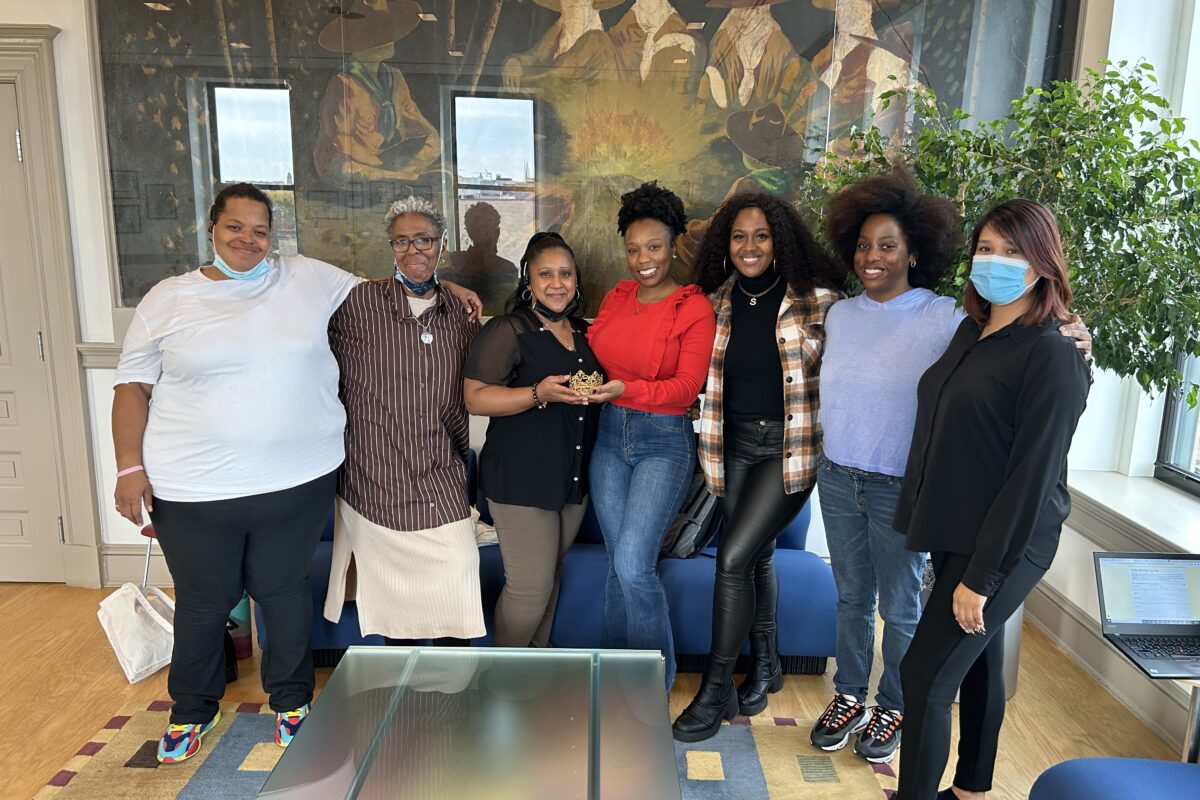 "I am grateful the Holy Spirit allowed us to coordinate in harmony, support each other and our common goal. I never imagined the opportunity to influence someone in the hopes of turning their life for the better. It takes a village, and I'm glad there are women who decided to unite to make changes happen in the Black community. ITAVcollab inspires me so much that I created and donated this hand-crafted blanket to my favorite charity." – To Be Me, Cohort Participant.

Empowering Forgotten Voices
In a world where second chances are often overlooked, It Takes A Village Collaborative (ITAVcollab) stands tall, determined to make a difference in the lives of those often forgotten. Founded by the visionary sister duo Aishia Manley and Shoareged Phillpotts, ITAVcollab is on a divine mission to enlighten, educate, and empower children, families, and communities of tomorrow.
Within the heart of this mission lies the To Be Me Wellness and Advocacy program, designed to provide a haven for women returning from incarceration, equipping them with the tools to advocate for themselves and their communities. The To Be Me program aims to instill self-confidence, resilience, and hope in its participants, promoting systemic change and social justice for justice-impacted citizens.
In the nation's capital, Washington, DC, the criminal legal community has long struggled with reintegration services for female returning citizens. The challenges are immense, with limited reentry programming and a shortage of women-focused wellness programs for justice-impacted individuals. Recognizing this pressing need, ITAVcollab's co-founder, Shoareged Phillpotts, and founding board member Sydni Turner created the To Be Me program in the fall of 2021. This program, held once a year during the fall spans eight weeks and takes place in partnership with the National Reentry Network For Returning Citizens (NRNRC). And it has served 15 women since its inception in 2021.
Nurturing Second Chances
Through a holistic approach to wellness, the To Be Me program focuses on nurturing the whole individual, fostering self-awareness and advocacy skills. Each session centers on the current needs of returning female citizens, aligning them with ongoing initiatives in community coalitions and organizing groups within the city. Using restorative justice practices, such as circle processes, discussions, and role-playing, participants engage in self-reflection, resource mapping, personal storytelling, coalition meetings, and networking. The program seeks to empower participants to become advocates for change and helps build a support network within the community.
Among the inspiring success stories is that of a participant who entered the program unemployed and without custody of her child. Through the tools provided in To Be Me, she learned the power of her voice and successfully advocated for herself in the court system, regaining full custody of her son. After a long job search, her determination and belief in herself led her to secure a Case Manager position at Out For Justice, a non-profit organization advocating for policy reform for returning citizens. Her journey serves as a testament to the transformative power of the program, illustrating how self-belief, determination, and advocacy can lead to greatness.
From Personal Triumph to Systemic Change
Central to the To Be Me program's vision is creating systemic change in reentry services and resources for justice-impacted citizens. After completing the program in the winter of 2021, the first cohort collectively formulated a proposal for the NRNRC, outlining the changes they desired to see in the organization's services.
This proposal sparked a conversation that resulted in improved strategies and services within NRNRC, such as gathering more information about individual women's needs on intake, increased staff support, improvements in programming, and greater assistance with locating reliable social services for clients. This highlights ITAVcollab's potential to drive meaningful change. The To Be Me program has also established partnerships with other non-profit organizations, amplifying its impact and creating a stronger community for returning citizen women.
Mary's Pence played a significant role in realizing the To Be Me program's mission. Mary's Pence provided the funds needed for the program's launch and continued operation through a grant. These funds allowed the co-facilitation of the program, inviting wellness and advocacy experts as special guests, purchasing wellness items for participants, and offering scholarships for ITAVcollab's wellness retreat. The grant also provided essential support to participants, such as food, clothing, and transportation, ensuring their ongoing success and well-being.
The impact of the To Be Me program transcends individual transformations; it paves the way for systemic change and social justice in the lives of justice-impacted citizens. ITAVcollab's vision of a brighter future, where individuals are supported, challenged, and empowered, serves as a beacon of hope. As participants find healing within themselves, they become catalysts for positive change, inspiring others to embrace their potential and create a better world. Together, with the support of organizations like Mary's Pence, we can foster a society that values every individual and believes in the power of second chances. The transformation journey has just begun, and the future is brimming with possibilities.
If you liked this story and want to improve women's lives. Please, donate here.