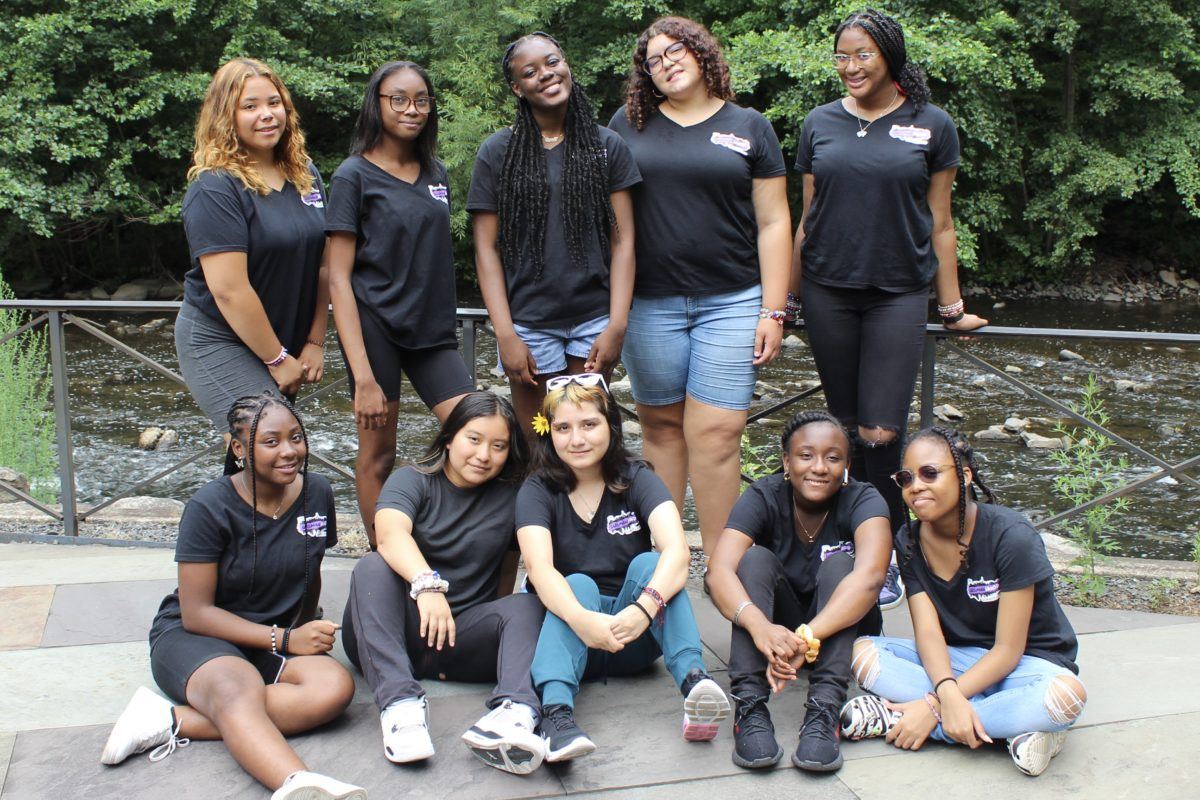 "The WomanHOOD Summer Camp created an all-female environment, and I got to be around other girls in my age group. Sometimes it was awkward because some of the girls were shy. I like talking but I know that everyone is not like that. I had fun with all of the artwork because there were projects that I'd never seen or done before. The art projects were also good because we needed to have patience and used a lot of trial and error. In the future, we will have times when we will have to re-do our work so it's good to learn how to be patient now. Also, all of the field trips we take, in the summer and now, are educational and help us to learn teamwork. I also like that they are related to us as Black and Latina girls. I had a great experience, and I would recommend the Summer Camp to other girls." (Symphony, age 15)
The WomanHOOD Project (WomanHOOD) was founded in 2012 by Amanda Matos and Érida Tosini-Corea because most of the organizations in NYC that promote leadership for youth of color are based in Manhattan and Brooklyn, and these Bronx natives wanted to provide opportunities for other Latinas in their borough. Together, as undergraduates at Columbia University, they created the first afterschool mentorship program to center female-identified youth of color and activism education in the Bronx. As of 2022, The WomanHOOD Project has partnered with five Bronx high schools and three community-based organizations, and over 140 youth have participated in their programs.
What started out as an afterschool mentoring in Bronx High School is now a year-round program that partners with local community centers to provide high-quality, out-of-school programming for female and trans and gender nonconforming (TGNC) youth of color between the ages of 12 and 17. WomanHOOD participants are empowered, not hindered by, their racial and gender identities, and are engaged in programming that provides opportunities to develop social-emotional skills, take on leadership roles, and participate in local advocacy work.
A grant from Mary's Pence helped to fund the first-ever WomanHOOD Project Summer Camp. Thirteen girls, including Symphony, quoted above, were enrolled over three weeks in July 2022 where the curriculum was focused on youth leadership development, access to community resources, and wellness and self-care. The campers also earned stipends of $15 per hour for their active participation!
WomanHOOD Executive Director, Dr. Sonia James-Wilson, believes that the arts and engagement with the natural environment are potent ways to relieve stress, reduce anxiety, and eliminate social isolation, and these activities were used to explore the themes of the camp. Art-based learning activities included painting, drawing, weaving, and working with textiles were used to develop skills including tenacity, problem-solving, time management, listening, and relationship-building skills. WomanHOOD also used theatre games, improvisation, script writing, and role play to encourage sisterhood and to teach about social issues about which campers were concerned. Field trips augmented their curriculum including a canoe paddle on the Bronx River and a nature walk at New York Botanic Gardens. Campers also had the opportunity to experience community engagement by advocating for more youth programming at their local public library.
Drawing from concerns that WomanHOOD participants want to learn more about – and because Black and Hispanic women account for a disproportionate number of Bronx residents who experience long-term abuse, physical and emotional harm, or are murdered – violence against women will be one of the areas of focus for the upcoming summer's camp. Dr. James-Wilson will develop the curriculum in partnership with another non-profit organization that advocates against gender-based violence through self-defense training, healing justice, and community organizing. She will also continue to use the arts and nature to help youth examine and reduce their feelings of fear, inadequacy, and insecurity when experiencing, or thinking about, physical and emotional assaults.
What's Next
Food justice will also be a focus of the 2023 Summer Camp, and campers will explore grassroots initiatives in the Bronx while visiting Rise & Roots. This five-acre farming collaborative was co-founded by Karen Washington, a long-time Bronx resident, and is operated by four owners who are women, intergenerational, multi-racial, and LGBTQ. During their visit, campers will generate ideas for a food justice action project after learning about Washington's work related to turning empty lots in the Bronx into community gardens, and her approach to using the healing power of food and farming to create a more equitable food system.
If you liked this story and want to improve women's lives. Please, donate here.