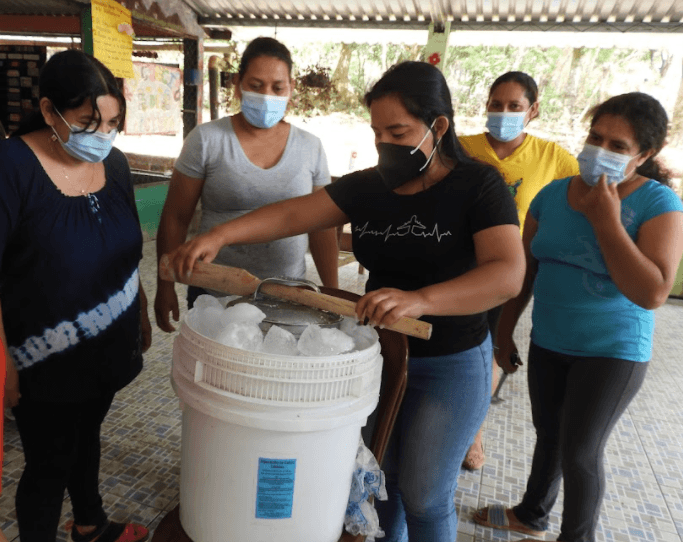 Brenda Sarahí isn't a typical ESPERA program participant. As the employee of one of ESPERA's partners that supports women in agro business, Brenda is participating in ESPERA's online learning course focused on leadership development and organizational effectiveness.
The 26-year-old lives in Suchitoto, El Salvador, and works as part of the economic development team at Concertación de Mujeres de Suchitoto–an ESPERA partner. With a background in agroindustrial engineering, Brenda's work is focused in the areas of agriculture and livestock production. Her primary role at Concertación is to train women who are members how to best produce seasonal fruits and vegetables and learn ways to transform the raw material into a finished product that will garner a higher income. In addition, Brenda supports other overarching strategies of the Concertación, including: food sovereignty, responsible food consumption and agro-ecology.
Needless to say, it was a bit outside her professional area of expertise when Brenda decided to participate in ESPERA's 12-month online Leadership & Organizational Development course that started in March 2021. But when the opportunity was presented to both ESPERA members, as well as staff who work for ESPERA partners, Brenda jumped at the chance.
"For me, life is always about learning," she said. "I've always set personal goals for myself because I know that this is how I can learn things that I've never studied before–especially when it comes to areas of personal growth and things that can help me to improve my emotional life."
Brenda was most interested in the topics of emotions and conflict management, in addition to just learning the logistics of online learning. All of the tools, she believes, will contribute to organizational strengthening at Concertación and, ultimately, provide better support for women.
Now that she is 7 months into the year-long course, Brenda says she is excited to recognize the application of what she's learning in her daily life–especially in her work environment. "At Concertación I have been able to do some of the class exercises with other colleagues and that motivated me to keep up with the coursework." She appreciates how the online coursework, homework and conversations have linked to her real world interactions with co-workers.
She also recognizes changes within herself. Brenda says the exercises have helped her to consider and reassess her emotional well-being–more than anything, her beliefs and attitudes and responses to difficult situations.
You can read more about this unique pilot program on our website.