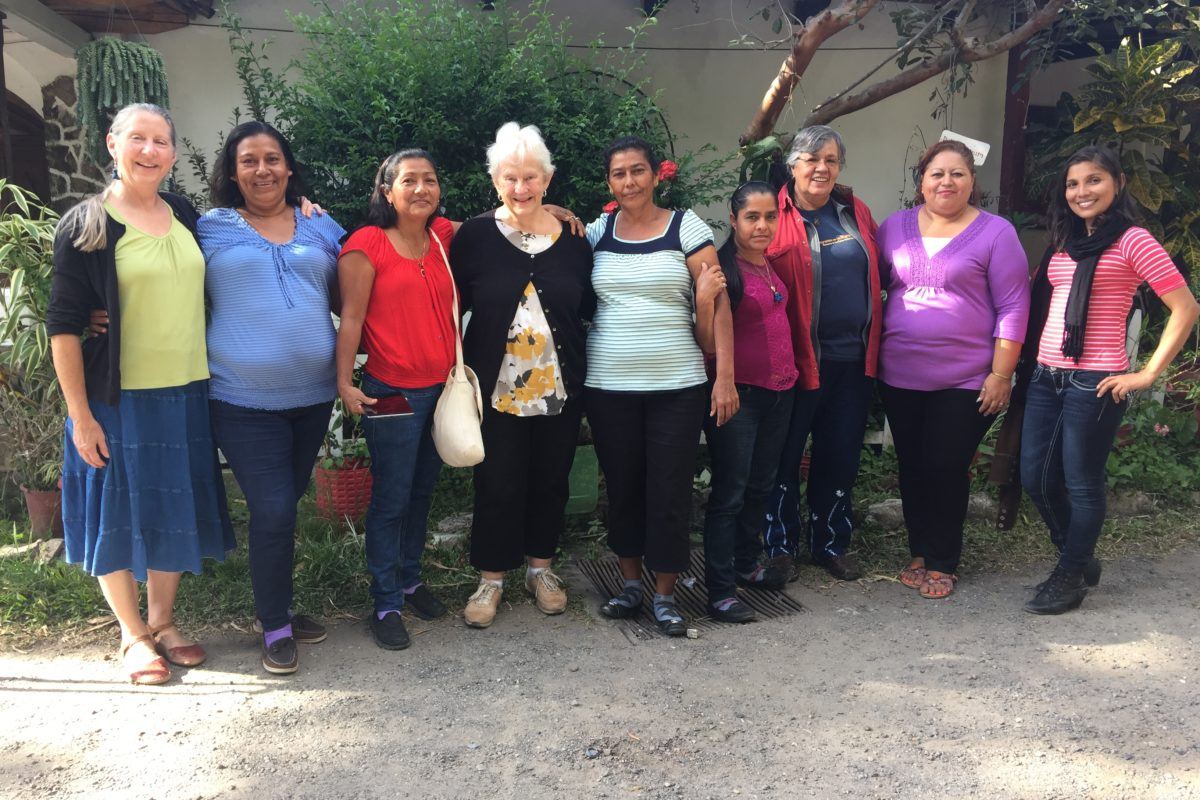 Written by Karen Hurley, a Compañera since 2012.
Sustainable Lending Pools
The ESPERA Program, which operates in Mexico and Central America, was developed when Mary's Pence's traditional approach of offering small grants to fledgling women's organizations in Latin American (as it did and continues to do in the U.S. and Canada) ran into the obstacles of language, differing national legal frameworks and the frustrations of assessing impact over the long term. As an alternative, ESPERA was born. The goal: to develop a deeper relationship with groups of women who could be long-term partners.
ESPERA—Economic ­Systems Providing Equitable Resources for All—is a unique form of micro lending, and it is also a commitment to long-term accompaniment. Already-organized groups of women are chosen to become partners who receive a lending pool (an amount from $3,500 to $35,000 depending on the size and nature of the group). And that money belongs to the women and stays in the community to circulate among members, helping then to start or grow small businesses. Then Mary's Pence staff, women from El Salvador and Mexico, circulate among the ESPERA partners, offering assistance in setting up protocols, choosing a leader, holding members accountable, and more.
Members apply for small loans of several hundred dollars and pay these back to the community-owned lending pool—not to Mary's Pence. The ESPERA lending pool is a permanent resource for the community and remains in the community as long as the group exists and continues to keep the money circulating for its intended purposes.
Eight ESPERA lending pools currently operate in El Salvador, Honduras, Guatemala, Nicaragua and Mexico. The loans help women stock small shops with initial inventory, buy chickens to begin egg businesses, and invest in growing various crops from sweet potatoes to sugar cane.
More than Money
ESPERA is 10 years old this year. Over these years Mary's Pence realized that participating women needed more than money. They also needed help in implementing good business practices—everything from budgeting to marketing.
Three years ago, with assistance from a bequest, Mary's Pence began a new chapter in accompanying ESPERA partners. An additional staff member was hired with experience in rural economics in developing countries to work on an individual basis with small businesses. A year ago, another new chapter began when Mary's Pence offered its first retreat for 50 ESPERA women, recognizing that these women, as victims of civil wars, gang violence and machismo cultures, needed help with more than their business practices. Thus began a new commitment to find ways to creatively address the emotional health of the ESPERA women.
I had the privilege of attending that first emotional health retreat in La Palma, El Salvador, in 2017 and meet the women who attended from all over Central America. I was so proud of Mary's Pence as I heard one woman after another thank our organization for its caring accompaniment.
I know with certainty that the ESPERA Program lives up to its name—not only its acronym but the related Spanish lower-case word, esperanza. ESPERA gives hope!
Learn more about the ESPERA Community Lending program.