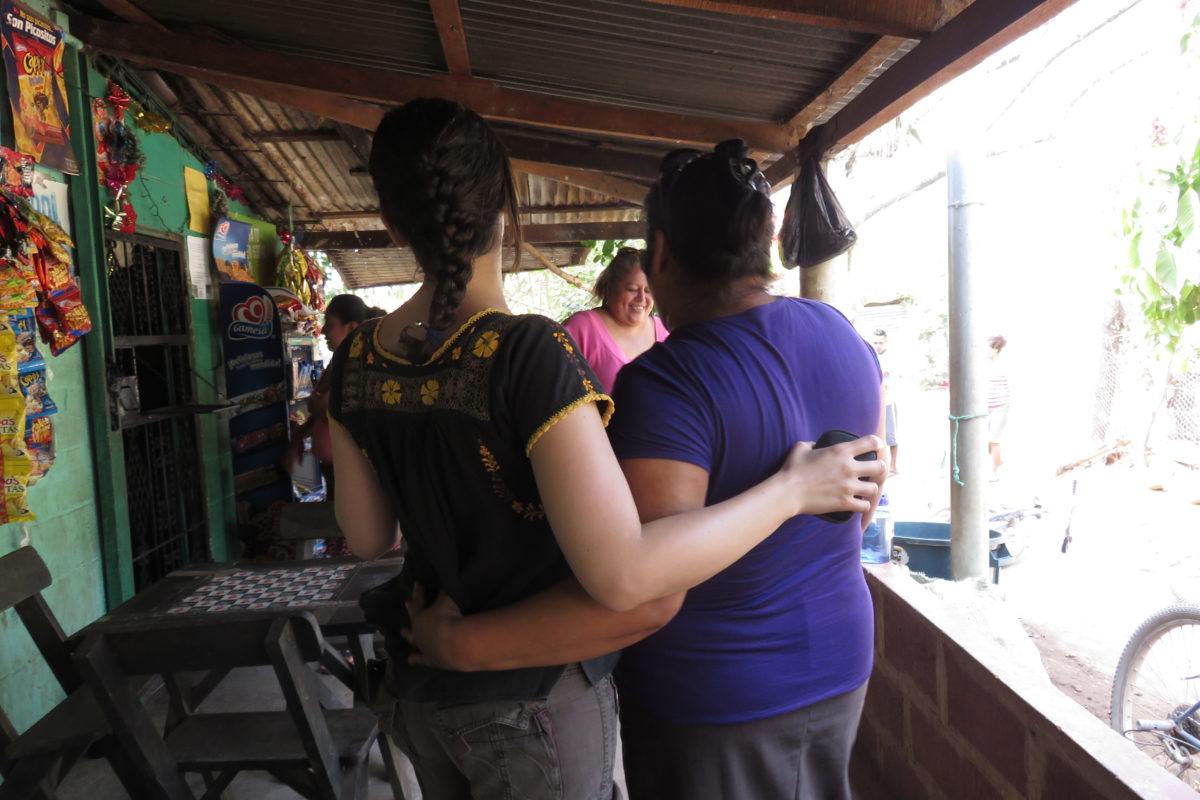 Gabriela Bandini de Unánue reflects on her first year working with women participating in the ESPERA community lending program as the ESPERA Business Facilitator.
Reflecting on the year since I joined the Mary's Pence team, I would like to share with you what has happened so far and what this experience has meant for me.
I'll begin by thanking every one of the people that is part of this great team for the confidence, comradery, constant support, positive energy, dedication and talent that has gone into all of our activities. From the beginning of my work in June of 2015 I have felt welcomed and supported in a process of continuous learning and growth, as much personal as professional. To know each one of the women and men that are part of this team – office staff, donors, ally organizations, volunteers, and the board – makes me more proud every day to be part of this work.
Each meeting with the women who are part of the ESPERA program in Guatemala, El Salvador and Mexico has confirmed for me the positive impact that the program has in the daily lives of every one of the women. The organizational process that entails managing the community-owned fund involves open spaces of sharing and moments to make decisions collectively. This ensures that each one of the women plays a role in the process, considers the needs of the rest. They all join in their capacity to support something with the others, which leads them to operate in full solidarity and empathy.
Access to loans and the flexibility of the payment system together with the delivery and allocation of funds that each one of the groups establishes favors autonomy. The ESPERA model gives each one of the women participants new opportunities to improve their quality of life. They mobilize financial resources that they normally do not have access to and create new sources of income that are better adapted to their hopes and needs. With the loan pool they not only look to cover the basic needs like nutrition, housing, healthcare and schooling for their children and contributing to the circles they want to influence, but also, as women, they develop their skills and the self-esteem to make their voices heard in their families and communities.
The ESPERA program is made up of women who are fighters, creators, workers, generous and resilient with a tenacious internal force that is reflected in their refusal to be defeated in spite of constantly confronting difficult situations that at every moment remind them that they are also vulnerable. They bet on life and wellbeing, to challenge poverty of mind and spirit to counteract the shortage of material possessions. They work for equity between men and women, they protest against violence, and believe firmly that if we all exercise our political, social, economic and cultural rights, our communities will develop in greater harmony.
Their economic initiatives represent their will to thrive, to come out ahead, to protect who they are as human beings. The initiatives are their way to use all their talents, to capitalize on the resources they have, and to generate life. The women who participate in the ESPERA program are ready to grow their businesses, to maintain them, and to put all of their energy into them. The women work from sunrise to sunset with the firm conviction that if they can make their businesses function in the best way, they will continue to be like open windows that allow them to take deep breathes of fresh air.
For me, it is a privilege not only to know each one of these women, but also to be able to work with them and join them in the dream for economic justice; to combine their abilities with mine to achieve their own goals and particular dreams. This work requires that I travel many miles to meetings, get on an airplane every three weeks, and sleep always under a different roof. But what makes all the hard work worth it is have the opportunity to work together to apply tools like planning, administration, accountability, marketing, human resources, quality control, selling and design of products and services within their businesses in order to make them into elements that protect a variety of ways of life and alternative economies.
Thank you for this first year and thank you for being Mary's Pence!
Gabriela Bandini De Unánue, ESPERA Business Facilitator