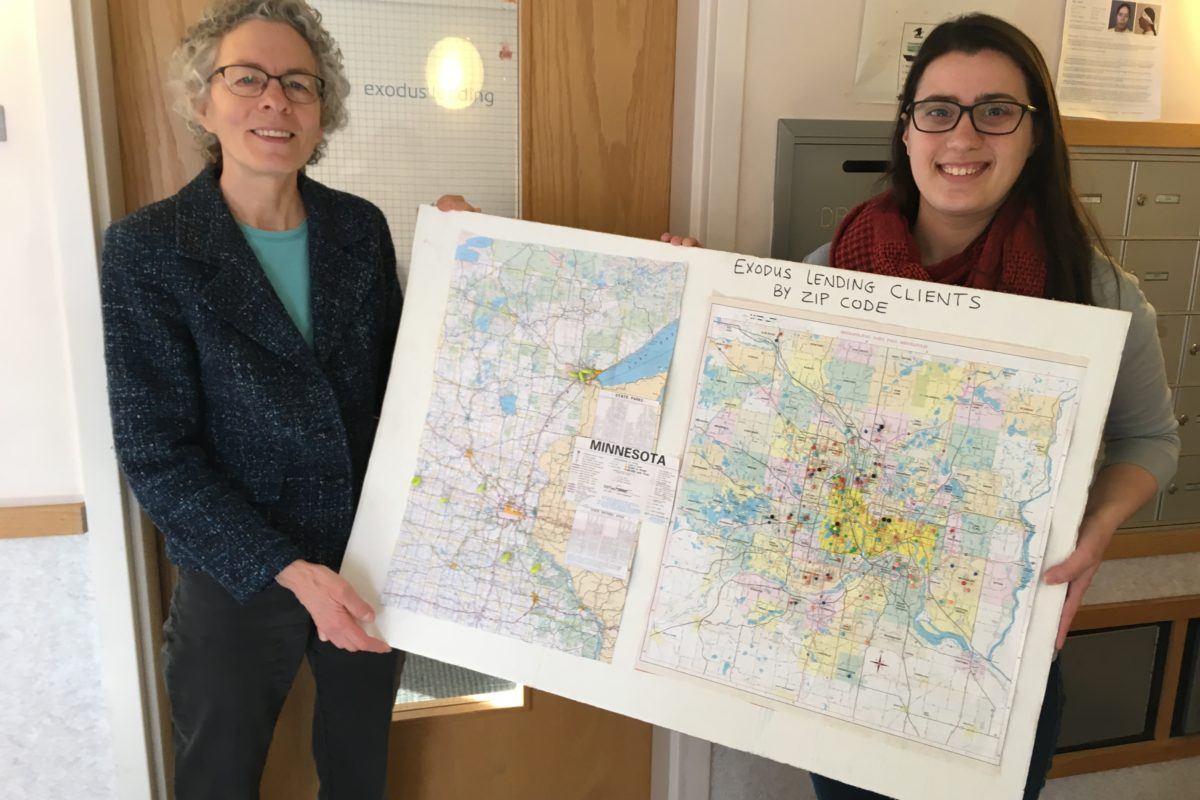 Exodus Lending is a Mary's Pence grantee in Minneapolis, Minnesota that helps Minnesotans stuck in payday debt traps. Payday lenders are a growing problem in Minnesota, trapping citizens in a seemingly un-ending cycle of debt. Exodus Lending helps lift people out of the cycle and supports them as they improve their financial health. They provide trapped payday borrowers a just pathway to financial stability.
Payday loans are small dollar loans that are usually between $200 and $1000, to be paid off when the next paycheck comes in. Unfortunately, most people need to use their paycheck for rent, groceries, and other basic necessities. So, they pay a fee and take out another loan. This becomes a cycle until they've paid more in fees than the loan is worth, but they still owe the loan. Consider the story of Deb, an Exodus Lending client, who ended up caught in a payday debt trap after suffering a recent medical emergency. She was paying about $500 a month in interest and fees. Deb describes the experience saying, "I was so, so deep in, I couldn't see out."
Community members watched as payday lenders moved into their neighborhood and saw what it did to their neighbors and friends like Deb.  In response, they came together to form Exodus Lending. Now, Exodus Lending pays off participants' loans, including any accrued fees or interest. They then set up a monthly repayment schedule to be carried out over the course of about a year, interest free. This allows participants to pay off their debts at a more manageable pace. That money then goes into supporting other people caught in payday debt traps. Not only are people paying their debts off, they're helping others stuck in the same situation. Approximately 75% of Exodus Lending's participants are women.
Minnesotans stuck in the payday debt trap typically find Exodus Lending either through online searches or through Lutheran Social Services. Once found, it's easy to get support. Exodus Lending is prepared to find creative solutions for whatever financial situations their participants might be facing. They offer an incentive of $50 back per each financial counseling visit, up to three. Exodus Lending also matches up to $400 for those interested in starting savings accounts.
When Deb decided to regain control of her financial life, Exodus Lending was there to help her get back on top. According to Sara Nelson-Pallmeyer, Executive Director, "After joining Exodus, Deb once again felt relief. Yet, this flicker of relief did not burn out. It sparked a flame and lit up a pathway out of payday loan debt."
Exodus Lending has a new goal of expanding out into other communities to help support a broader participant base. Specifically, they are looking to expand the services they offer in Clay County in Western Minnesota, where there are many payday lenders creating a drag on the community economy.
Mary's Pence is proud to support Exodus Lending, an organization that was driven by individuals responding to the needs they saw in their community. Exodus Lending provides more than just a concrete pathway to financial stability. They also provide hope. Just look at Deb. She had fallen into a payday debt trap, but with the support of Exodus lending she was able to regain control and build her savings. According to Deb, "It has helped my self-esteem. I'm taking responsibility. I'm taking the steps necessary to move forward. I didn't see a light at the end of the tunnel, and so now I do see that."
Learn more about Exodus Lending or the Mary's Pence Grants program.