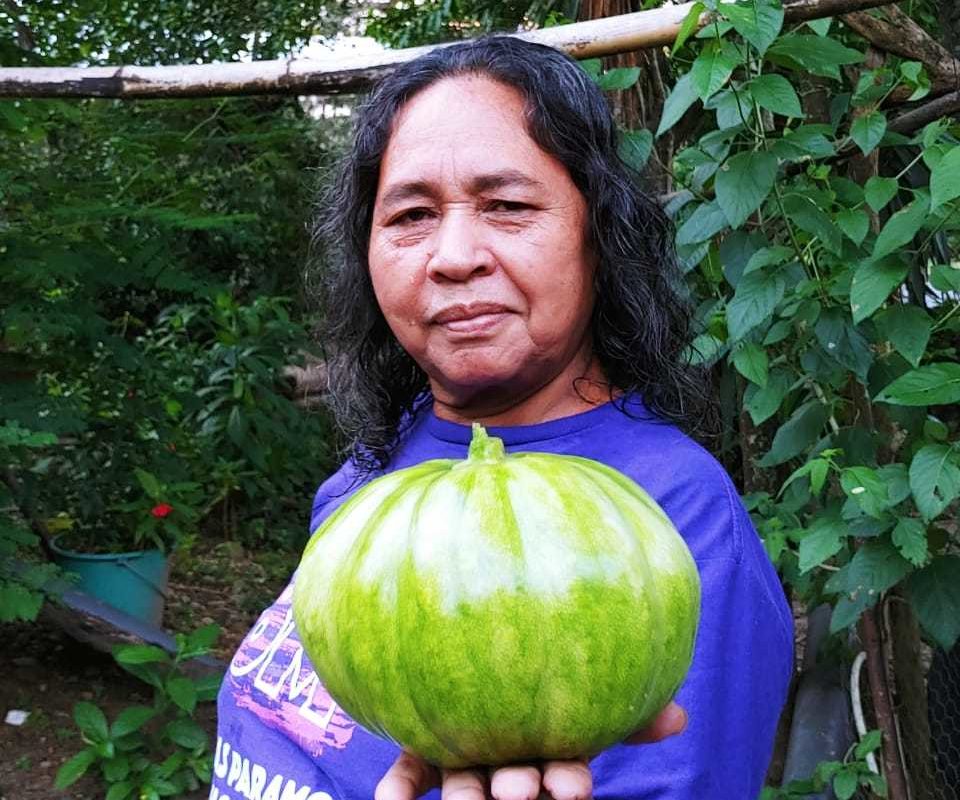 Public transport had been suspended. People in little towns in El Salvador could still get some groceries but they began to worry about accessing essential products in the future. Many aspects of daily life become uncertain in times of a pandemic, and it is unclear how one can react to carry on with life and ensure access to resources.
Ana María Menjívar, leader of la Concertación de Mujeres de Suchitoto, has lived through other severe crises in El Salvador. Because of those previous experiences she has learned to be persistent, resourceful and tenacious. la Concerta (short for the organization she leads) had launched a work area for family farming and had talked about food sustainability with Mary´s Pence in the past. It became evident that the farming area had to become one of the priority activities for women during the pandemic, given the imminent lack of supplies and the difficulty to move around the country to get those supplies.
Ana María, Gilda, Eva and Brenda facilitated several conversations on how to organize the farming area in la Concerta to support women and their families. At the time, many women in the organization were still trying to understand what this pandemic entailed for their livelihoods; like many people around the world, the women were scared, anxious and trying to come up with options to support their families on their own. la Concerta, Mary´s Pence and these strong-willed women decided to get seeds to plant green beans, radishes, coriander and cucumbers for 15 communities and 87 women under lockdown.
A lot of obstacles had to be considered in this enterprise. The government was offering little to no support; Tropical Storm Amanda had hit the region with severe floods and a chronic deficit in nutrition was getting worse. Still, the women decided to prepare plots and la Concerta offered technical training while Mary's Pence set up a fund for this emergency program. It was a difficult decision but the women ultimately succeeded and set up a second delivery of seeds. Green chilis, squash, tomatoes and chives were distributed, along with organic pesticides.
In the frequent conversations that Mary´s Pence and la Concerta continue to have with the ESPERA women they are addressing the challenges of family farming as they arose. Joint technical solutions have been put forward in creative discussions, but perhaps more importantly, a community of support has blossomed. Some seeds didn't offer any yield, in part because of excessive rain and occasional grazing by neighboring farm animals. However, the ESPERA women are determined to continue working the fields that are feeding their families and promoting local trade.
The little cucumbers and green leaves in these women´s backyards are a perfect metaphor for the future of what their hard work will bring to the 15 communities in the program: another pathway to economic autonomy, food security and the certainty that together they can build a better future for themselves and their families. Sometimes one only needs to plant a little seed.
Written by ESPERA staff Eva Martinez and Brenda Valladares with interpretive translations by Mariana Amescua, Treasurer of Mary's Pence Board of Directors.