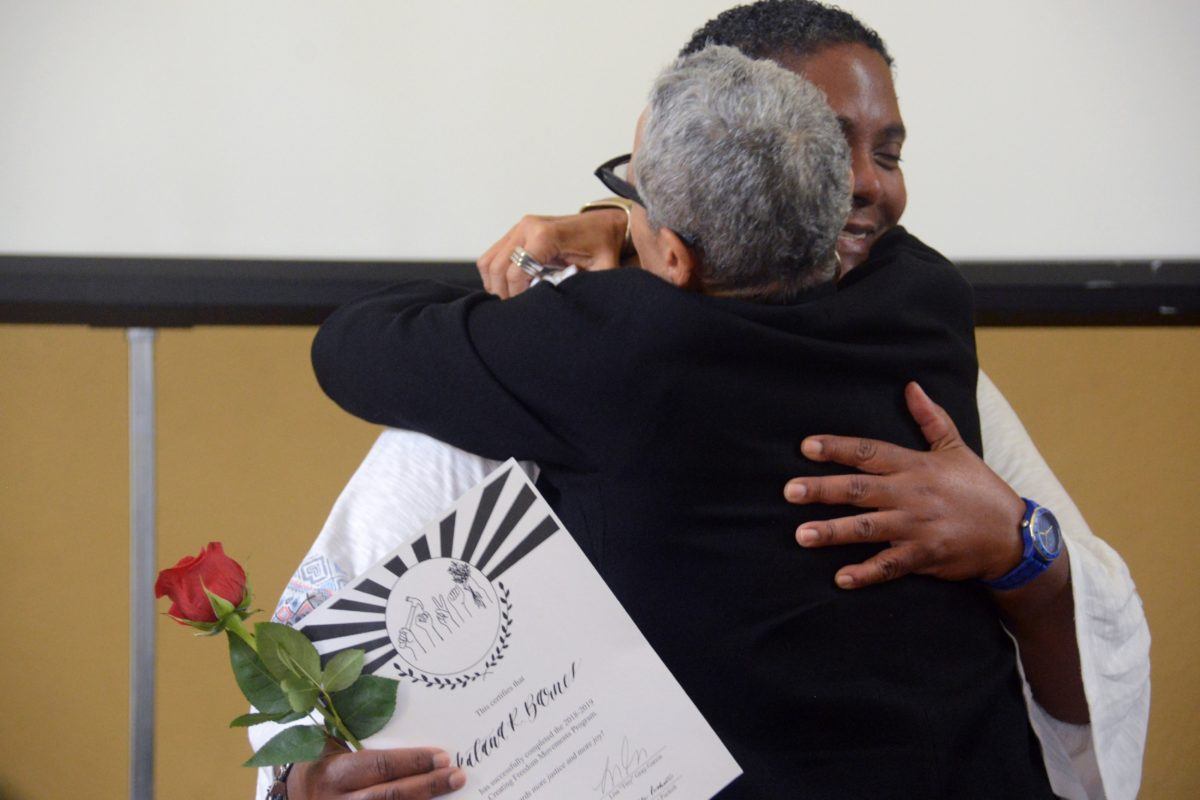 While teaching radical political theory at the University of Berkeley, Cecilia, one of the co-founders of Creating Freedom Movements, realized that her class should reach more people, not only those who can afford the time and cost of college. People living with oppression might not show up on campus, but it is really important for them to have the skills and networks to fight for justice on their own terms.
That's when, in 2017, Cecilia, one of the co-founders, decided to start Creating Freedom Movements. It is a training program that teaches its participants to build community, cross-issue solidarity, and infrastructures of justice and joy, by moving from cultures of separation and domination to cultures of connection and reciprocity. The program is designed using a cohort model, to foster deep relationships and wide networks.
Their Program
The program's goal is to help those who are being left behind or ignored by the current white-centered and capitalistic standards. Creating Freedom Movements has a strong focus on queer folks, disabled people, the poor, and trans people, amongst others who are often left out of conversations and struggle with isolation and loneliness.
For some participants, their annual cohort was a lifesaver as they experienced isolation during the pandemic, and for others who also found support in difficult times like sickness or surgical procedures. The cohort provided them with community and compassion when they needed it the most.
Unlike the rapid-response approach, which is a reactive response to an urgent and pressing issue – very necessary and wonderful for the community – they wanted to do slower and deeper work that considered the human person as a whole.
Their program takes into account the historical and technical knowledge and abilities so participants can advocate for themselves and others, but they also teach lessons about self-care, and the importance joy plays in keeping the fight going and staying in the movements for the long term.
Workshops cover four broad areas – Social Movement: ​History & Analysis, Healing Practices, The Arts, and Practical Skills (community organizing, growing their own food, how to fund justice work, and nonviolent direct action, amongst others).c
The Importance of Balance
Creating Freedom Movements wants to create a balance between Joy and Fight, since leaders usually go above and beyond trying to improve people's lives and working for justice, giving more than what is physically healthy. It is OK to rest and heal while working for social change.
In 5 years the program has had around 100 participants, many who later became leaders in their own communities and workplaces.
One Story that Reflects Many
One example of strong relationships and community-building is the story of a young homeless trans person who had surgery and found great support from other members of the cohort. Cohort members helped with food and other basic needs during recovery from the procedure. This person found a job through connections made during the cohort experience and was able to speak at an international conference at The Centre for Women and Trans People of the University of Toronto.
This is only one example of dozens of cohort members overcoming their isolation and becoming influential leaders and change-makers in their communities and beyond.
"The true impact of our program is that young people become much more confident and capable of using their power. CFM is a landing place where they can feel safe," says Nicole Valentino, Culture and Relationships Lead at Creating Freedom Movements.
What's Next
CFM is now about to launch its 4th cohort, this time with a longer program of 18 months. They learned that the original 10 months wasn't enough time for participants to assimilate the teachings and also build their own original projects before graduation.
In the next year, CFM wants to increase accessibility to their program for those with disabilities or language barriers and would like to raise more money to do so. They strongly believe that no one should be left behind simply because they can't hear, see or understand the English Language.
Visit their website and learn more about Creating Freedom Movements here.