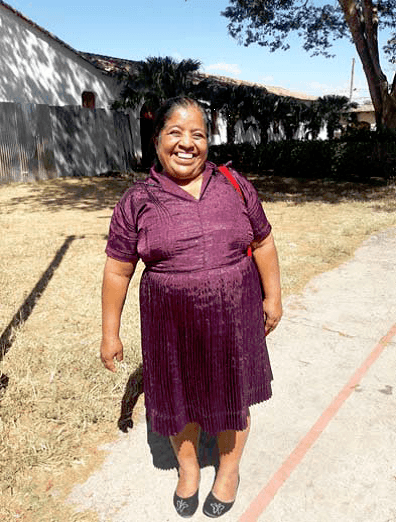 Isabel, a Guatemalan woman from Sololá, interviews five women who, like her, participated in the Encuentro that took place in La Palma from January 8-10 to celebrate the 10th anniversary of the ESPERA program. Her interviews reveal how ESPERA is funding women and changing lives!
Felipa, from Morelos, Mexico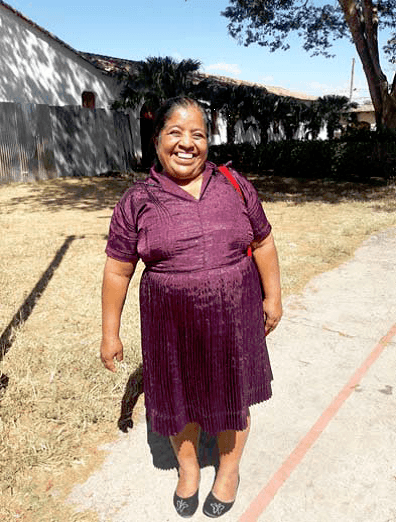 Felipa is a very brave woman from the state of Morelos in Mexico. She participates in a group called Sihuane Cuentepec. It has been operating for about 19 years and has been part of ESPERA for 10 years.
This group runs a store which sells items used daily. This has allowed Felipa and the other women to help their families. For her, it is very important that her family be involved. For example, that is why her daughter helps in the administration of the store.
How did Felipa get her husband to let her travel from Mexico to El Salvador for the Encuentro? She answered with a smile: "Thanks to the skills and income I have received from our ESPERA group, he has come to see the value of what I do in the store and how our family has benefited. So he was sad to see me leave," she says with a laugh, "but I am happy to get to know other places and meet other women."
Her final comment: "I want to thank our group leader, Maria Luisa, for the invitation to join this group and Mary's Pence for the accompaniment!
Katrina, from Sololá, Guatemala
Katrina has participated in ESPERA through ACOPEDIS, her local economic empowerment program, for the past four years. She is a young married women with three children, one of which is a daughter with a speech impediment. She joined ACOPEDIS for help in accepting and dealing with this disability.
She explains that she has received psychological accompaniment as well as technical assistance from ACOPEDIS that allowed her to generate income when her husband was imprisoned. Her savings group started with a variety of economic activities including weaving fabric on pedal looms for traditional skirts, selling food and embroidery. (Katrina brought embroidery work with her to the Encuentro and used any available time to work on her pieces.)
Eventually Katrina managed to buy three pedal looms so that her children could help in that work while also going to school. With her increased income, the family has managed to improve their home and her daughter is receiving speech therapy.
"I feel happy with the ACOPEDIS program," she says. 'It is a support for me and my family. I am very grateful to Mary's Pence for their unconditional accompaniment."
Vilma, from Suchitoto, El Salvador
Vilma is a Salvadoran woman who has participated in ESPERA through the ASHUR for over eight years. Before getting involved with ESPERA, Vilma said, "I did not recognize my ability to do things. I only stayed in the house and attended to my family."
But through ESPERA, she continues, "I learned about chicken and egg production and how to put my skills to work." As a result she started raising chickens and producing eggs for sale.
Vilma learned that when a woman has money, she has the power to decide. "This gave me the courage to leave my home, decide on how to spend my money, and to start a discussion with my partner. I was no longer silent," she says, "and he did not like that."  They eventually separated.
ESPERA changed Vilma's life in many ways. "With income generation," she explains, "I increased my self-esteem, found friendships that helped me move forward and helped my children finish high school." And she eventually found another partner who understands her new self-awareness and supports her achievements.
Irma, from Suchitoto, El Salvador
Irma is a very serious, committed and creative woman born to do this work. She has two children and is a member of a group of women artisans called Pájaro Flor who work with indigo. They have been an ESPERA-supported program for 10 years. Irma manages the store where the woman sell different garments they designed and dyed in indigo.
"Being with my coworkers fills me up," she says. "I feel happy, fulfilled. It is nice to be an investor in the work that I like to do."
As a very creative fabric designer, she has also taught courses to other groups that work in indigo. But she regrets that they often take over her designs. "Unfortunately I don't have any diploma or some document where I am accredited as a designer."
She also regrets that her work with Párajo Flor means that she must leave her children all day. But she says that the dual role she plays as mother and worker has been worth it to her. Her income allows her to contribute to her children's education and provide other opportunities in life, something Irma didn't have.
The 10 years she has been connected to ESPERA have allowed her to learn to value her skills in management and design, value herself as a woman, and, above all, feel secure in herself.
"I admire what I do, because when I start designing I do it with a lot of love, and passion," she says. "Sometimes I don't even understand how I manage to draw the figures and put it all together for a garment!"
Carolina, from Suchitoto, El Salvador
Carolina is a sturdy woman, strong in character—and fun! Behind this happy woman, however, is a woman who has suffered.
Before joining the Concertación, the 10-year-old ESPERA group in Suchitoto, her ex-husband would not allow her to leave the house or talk to other people. "He felt he owned me and all the things in the house," she says.
Upon entering the Concertación, her life began to change. She began to learn about her rights and the importance of valuing her life and having friendships. She gradually decided to confront her husband, and is now separated from him.
But she continues to move forward. She, like Irma, works with Pájaro Flor, which has been her source of income to support her five children. She has received several trainings around the handling of indigo and garment making, to which she is now dedicated.
"Mary's Pence's support of the Concertación has been fundamental to my life," Carolina emphasizes. "It has helped our group with capital to invest and to generate income. Mary's Pence has also trained us how to manage the administrative part of our indigo clothing business."
At interview's end Carolina says: "I feel fulfilled, free. I make my own decisions in the house and I am the one who controls the expenses. I feel calm and happy—and that is thanks to the support of the ESPERA program."