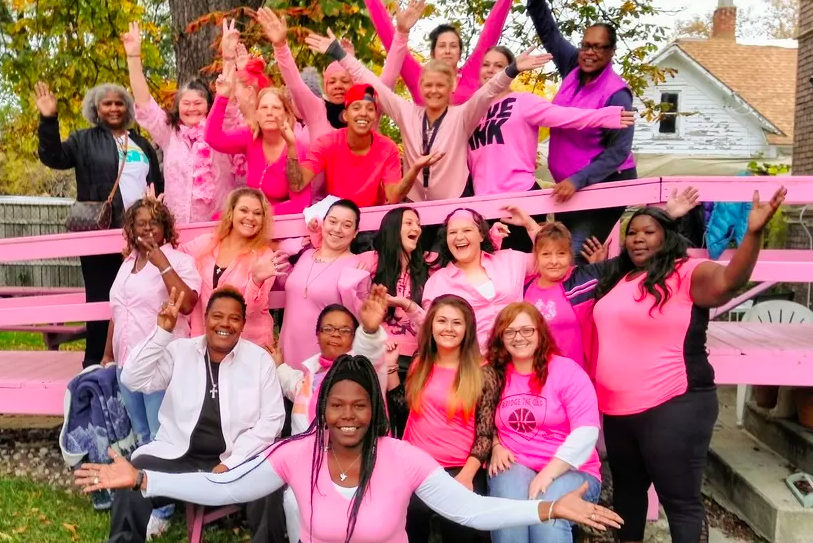 Mary's Pence isn't the only organization celebrating its 35th anniversary this year. Just as Mary's Pence has grown and evolved since its founding in 1987, so too have many of the women-led, community-centered organizations that have received grant funding throughout the years.
One of the first recipients of a Mary's Pence grant – Emmaus House in Saginaw, Michigan – is also celebrating its 35th anniversary. Founded by Sisters Marietta Fritz and Shirley Orand, Emmaus House is a transitional housing and life skills program for women who are leaving jail, prison, or substance abuse rehabilitation.
The original concept of Emmaus House is attributed to Sr. Marietta. As part of her ministry with incarcerated women, she saw that they often had no safe place to go once they were released. That reality, she noted, prompted a revolving door situation that inherently contributed to women returning to jail or prison or abusing substances again – a cycle Sr. Marietta wanted to stop.
Emmaus House was founded upon the core shared belief that all women are unique and precious creations. The mission of the organization is to accompany women on their journey as they reintegrate into society, walking alongside them on the road to healing and recovery.
Intentionally and respectfully referred to as "guests" because they don't pay to stay and are welcome to live there for as long as they need while they work toward their goals, women use their time at Emmaus House to focus on their spiritual, emotional, and physical healing. Part of the healing includes therapy sessions, substance abuse support groups, and Bible study. Guests are expected to contribute to the Emmaus House community by grocery shopping, cleaning and working at the second- hand store that Emmaus House operates in the community. The program provides classes that promote life skills, such as finding employment, registering for GED or college classes, and securing affordable housing.
Although the mission and vision of the Emmaus House has remained the same since it first received funding from Mary's Pence, its capacity to serve has expanded. What was originally 1 house and a few guests, is now a comprehensive and holistic program that boasts 6 homes, 6 vehicles, and the second-hand store. It has the capacity to host up to 30 women at any given time. On average, most women stay at Emmaus House for about 1 year. When they feel they are ready to move on they are welcome to make that choice.
Leadership has also evolved. As a former guest at Emmaus House, current executive director Donna Clarke openly shares how the program saved her life. "I was a school teacher and came from a good family. I found substance abuse later in life and got addicted."
At Emmaus House, Donna successfully worked her way through the program, later becoming a house manager, then assistant director and, in 2019, she was named executive director.
More than a job, it's a way of life that gives Donna great joy. "I found my purpose in helping women just like me who need someone to love them, support them, and inspire them."
Like Mary's Pence, Emmaus House is embracing the milestone of reaching its 35th anniversary year. While the work isn't easy, Donna says that the program is working. "Women are getting jobs and becoming productive members of society and they are happy!"
"It's beautiful to watch," said Donna. "Women come in like caterpillars and leave like butterflies. There is nothing like it in the world to see them build their confidence and go out into the world."