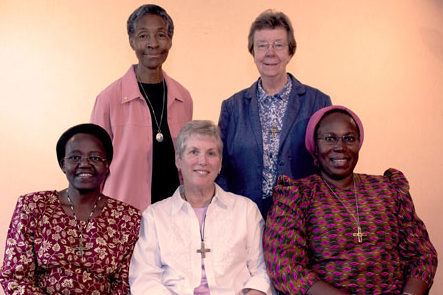 God-loved and graced, the miracle of my birth is dated: July 6, 1942.
God-loved and graced, my initial formation began in Columbus, Ohio, nurtured and supported by family and friends, teachers and ministers.
My life in my African American family of origin was shaped in the midst of a changing neighborhood from Italian to African American households.
The seeds of faith were nurtured in Shiloh Baptist Church and elementary education at St. Dominic Catholic School.  At age seven, I was baptized by total immersion in Shiloh Baptist Church. When I was twelve years old I transferred into full communion with the Catholic Church.
After completing high school at St. Joseph Academy in Columbus, Ohio, I entered the convent of the Sisters of Mary of the Presentation, in Spring Valley, Illinois. My first assignment was to St. Andrew School of Nursing, in Bottineau, North Dakota.
When Dr. King was assassinated in 1968, I began another conversion and an awakening of consciousness in my African American roots.  This awakening sparked a radical shift in my ministry.  In 1969 I moved from North Dakota, where I was ministering as a Professional Nurse, to Chicago, where I began parish  ministry in the Cabrini-Green Housing Projects.
In February, 1973, I completed the Canonical transfer into the Sisters of Notre Dame de Namur.  The transfer ritual was celebrated in San Marcello Mission Church in Cabrini-Green, in Chicago, Illinois.
The most recent transition in my journey (July 2008 -present) was the call
to the Ministry of Congregational Leadership in the Sisters of Notre Dame
de Namur.
To this new ministry I bring:
A background in Nursing (1963-1969, Diploma and B.S.)
Religious Studies in Theology (1970-1972, M.A.)
Parish Ministry and Pastoral Care (1969-2001), balanced with Retreat and
Spiritual Direction (1974-2001)
Animator of the Sisters of Notre Dame Spirituality Center (2001-2005)
Province Leadership – Cincinnati, Ohio (2005-2008)
God-loved and graced, I am nurtured by the fine arts of ballet and classical music; novels, poetry and song; Eastern and Western disciplines of prayer and  spirituality; and by the circle of friends whose shared faith and trust continue to be sheer gift!
God-loved and graced, I strive to answer the call to serve!