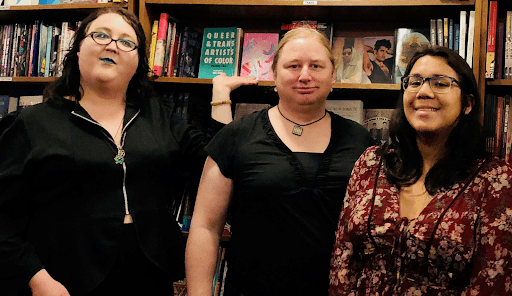 At Mary's Pence, we believe that all people deserve to live with dignity, free from violence and oppression, and with the opportunity to create the life they imagine for themselves and their communities. At the core of that belief is human dignity — meaning that every person has value and is worthy of having their story heard and respected.
Heartspark Press is an example of an organization that promotes human dignity. Located in the state of Washington, Heartspark Press is a volunteer-led, trans-led nonprofit dedicated to supporting, developing, and amplifying the creative voices of transgender girls, women, and (C)AMAB (coercively assigned-male-at-birth) non-binary people. As an organization managed entirely by trans women and (C)AMAB non-binary folks, many of whom also identify as disabled and poor, the organization creates inclusive, accessible programming for the transgender community.
Heartspark Press provides transgender people with a platform to share their personal experiences. By providing a space for storyelling, trans women and (C)AMAB non-binary people are able to forge a shared identity and make their voices heard.  Heartspark Press Executive Director Amy Heart said:
"There were no stories that really accurately represented the experience of being trans, and it didn't go further than gender. For me it's so important that trans children are given the knowledge that it's okay to be whoever they are, and our archive demonstrates so many layers on what it means to be one of us. It brings with it a connection and a link to both the past and future of what's possible."
Heartspark Press' digital archive, the (C)AMAB Trans Storytelling Project, showcases video and audio clips of performances by trans women and (C)AMAB non-binary artists. Heartspark also publishes eBooks and printed materials, such as "The Resilience Anthology," which is now the world's largest literary collection of emerging (C)AMAB trans writers across race, (dis)ability, class, and life experience.
Heartspark Press plans to use their first Mary's Pence grant to fund a bi-weekly community arts space in Thurston County, Washington. This space will foster a safe, consistent environment for trans and (C)AMAB non-binary people to share food and create art. It not only provides a refuge for the community to connect, but also to develop creative voices to produce more stories for the global transgender community. With bi-monthly programming scheduled for 2020, Heartspark Press hopes to double the number of songs, stories, and other publications currently available for streaming in their digital archive. By increasing the number and accessibility of these community focused stories, Heartspark seeks to raise awareness and compassion for trans women and (C)AMAB non-binary people everywhere.
In the spirit of promoting human dignity and recognizing that all people are worthy of having their story heard and respected, we encourage you to listen to the voices — such as this one — from Heartspark Press' digital archive. For more information, you can visit their website:  https://www.heartsparkpress.com/.