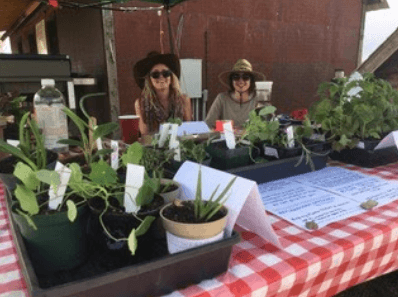 Located a mile and a half above sea level in a region that struggles deeply with poverty and a dwindling population, EarthArt Institute is a nonprofit organization that promotes sustainable community living in a remote, rural mountain valley in southern Colorado.  
Organized in 1998, EarthArt Institute provides educational programs in sustainable community principles and practices to help promote a sustainable community in multiple aspects. EarthArt Institute's projects are focused on online arts, conservation and regeneration of rural nature, and collaboration and community building. Early projects trained people how to develop and manage family and community gardens, natural buildings, and off-grid energy systems.
"Arts and culture opportunities are scarce in a region like this, even though it attracts artists because of the beauty and the solitude here," said Linda Joseph, co-founder of EarthArt Institute. As a result, the organization focuses on supporting regional arts and culture. To do this, they've partnered with community artists to organize an annual visual artists' studio tour. They also organize community music and dinner evenings 18 times throughout the year to make music and arts available to people who live in the area.
Last year EarthArt Institute piloted a new project called Women's EarthArt Village Enterprises (WEAVE) to determine site development and implementation of the whole program. "In an area like this where poverty is an issue, it's hard for both younger and older women to make a go of it, especially on their own," said Linda. "So we wanted to bring women together to collaborate and prepare ourselves to be able to pursue cooperative income-earning opportunities based on what we are able to do on our homesteads." With these sites, they established and expanded food production areas to grow more food for themselves, their families, and the broader community. Garden harvests were used to test the making of culinary and personal care items that could potentially be sold for income generation.
Linda reports that WEAVE was able to accomplish all of their objectives to some extent, with a lot of twists and turns as they learned what works and what doesn't work. "Being a pilot year to figure it out, we were moving in what we referred to as 'rapid prototype fashion,' so it wasn't like we had months to plan this out. It was more a matter of going right ahead and doing it and learning whatever you need to along the way so that it could be refined."
Throughout the year, WEAVE networked with new partners. Through the experience they identified sales venues for future products and met with other educational organizations and homesteading sites. Intergenerational 'WEAVE women' joined to mentor, apprentice and coordinate pilot activities. Together they learned where their strengths and weaknesses are when it comes to site development, production, and entrepreneurial business.
The pilot year for WEAVE highlighted the fact that support for small scale, grassroots initiatives that promote women's empowerment and economic development activities is shockingly scarce. Without resources like EarthArt Institute, talented and visionary women of all ages are locked into poverty. "The age-istic invisibility of poverty of elder women without avenues to be supportive when they are just full of knowledge, experience and talent — and of younger women lacking in supported opportunities to learn and contribute to the fabric of the community and stay or lift out of poverty — is what we're addressing. Sincere gratitude to Mary's Pence for being such a leader in this much-needed area for women."