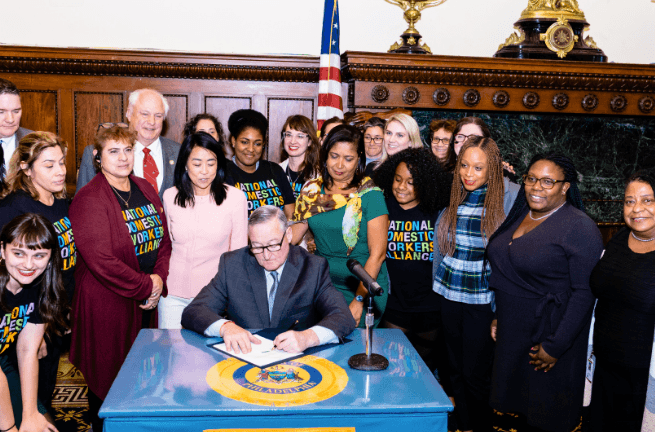 About the featured image:
Members of the Pennsylvania Domestic Workers Alliance watch Mayor Jim Kenney sign the Domestic Worker Bill of Rights into law.
The Pennsylvania Domestic Workers Alliance (PDWA), the only domestic worker organizing group in the state, fights for justice, dignity, and legal rights of house cleaners, nannies, and caregivers. It organizes and develops the leadership of women — primarily low-income women of color and immigrant women who most frequently are employed as domestic workers — to win workplace protections and make sure all work is dignified and safe.
Their efforts are paying off in big ways! In October, PDWA successfully campaigned for a Philadelphia Domestic Worker Bill of Rights. The bill of rights, which was signed into law by Philadelphia Mayor Jim Kenney on November 26, 2019, will provide the city's 16,000 nannies, cleaners, and caregivers with written contracts, rest and meal breaks, and protection from employer retaliation. 
"In just one year, we've won the best domestic worker bill of rights in the country," said PDWA's Executive Director Nicole Kilgerman. "The reason why it's considered one of the best is because it does several things." Nicole explained that the bill provides domestic workers legal protections that civil workers already had with regard to privacy and immigration status. It also ensures workers receive mandated written contracts that outline work duties, hours, pay schedules, sick days, etc.
The most innovative part of the legislation is that it's the first policy in the U.S. that gives portable benefits to domestic workers. Domestic workers often work for many clients, which means they never accrue benefits such as sick time or vacation days. The new bill of rights establishes a legal mandate to portable paid time off. Now, regardless of how many entities a person works for, workers will accrue paid time off at a combined rate of 1 hour per every 40 hours worked. And those accumulated benefits will be transferable when a person changes employers. 
"So everyone can have the benefits they deserve," Nicole said, adding that she hopes PDWA can prove this to be successful and then use it as a model to address health insurance and retirement benefits.
"I hope that domestic workers can really be leading the way for lots of different professions," Nicole said, noting that the labor situation for domestic workers is very similar to all freelance and "gig" workers. PDWA's work is part of a much bigger movement. Ideally, through coordinated efforts, Nicole hopes PDWA will collaborate with different communities nationwide to develop a federal domestic worker bill of rights to address systems that have oppressed low-income women of color and immigrant women for so long.