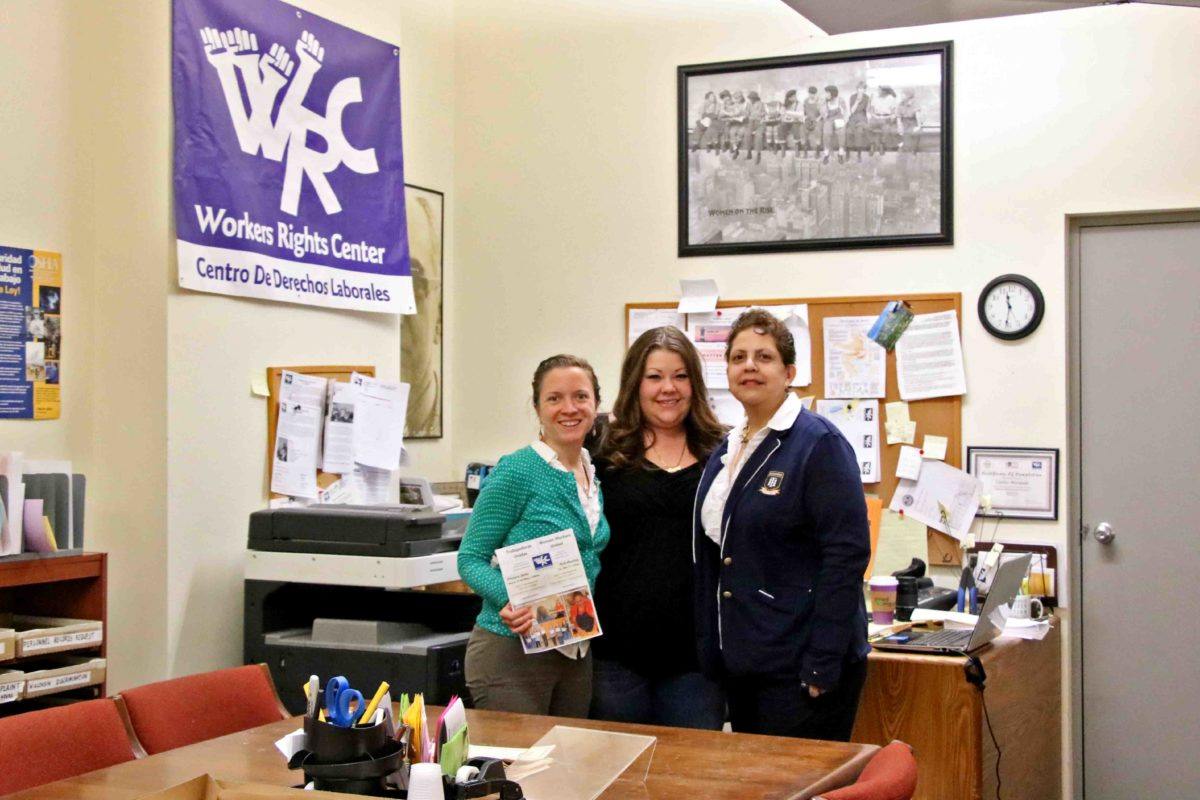 This spring, Mary's Pence granted to the Workers' Rights Center (WRC) of Madison, Wisconsin, for the first time. The community center meets with roughly 500 workers a year, most of whom work in food service and other low-wage jobs, in both Madison and surrounding areas within Dane County, Wisconsin. The Mary's Pence grant will help fund the WRC's new project called Women Workers United, an extension of WRC that works specifically on issues facing Latina workers.
The Workers' Rights Center uses what they refer to as "listening sessions." Instead of more formal meetings, they use an open dialogue in order to better engage with community members. In this way, the participation of all listeners is expected, encouraged, and cultivated by the structure of the meetings. The need for assistance in dealing with workplace harassment of female workers was brought up during a listening session with a group of Latina women in Madison this past year.
Kristen Taylor is a Workers Advocate for the WRC and has been heavily involved in starting Women Workers United. She explains that the support group meetings for these women are "designed with the goal of providing a safe place for working women to relieve stress, build a network, openly share struggles … and educate [themselves] on women-related workplace topics." In the preliminary listening session women mentioned both gender and pregnancy discrimination–as well as instances of sexual harassment–as issues they deal with in the workplace. These are some of the issues that will be discussed at the group's first official listening session in June.
"We've seen a lot–at least this year–[of] pregnancy discrimination." says Kristen. But the state of governance in the area makes it hard to address these legal problems and create workable solutions. "In Wisconsin right now, with the government we have constantly attacking workers' rights…it's really tough dealing with that." The WRC also battles issues such as paid family leave, child care, delayed worker promotions, and wage theft.
Kristen says that the organization tries to encourage the women to be the ultimate catalysts of change in resolving their workplace conflicts. The WRC provides the assistance, materials and resources necessary to help the women accomplish that change.
"We'd like to give them the push to have a voice in the community," says Kristen. "That's the goal–to give them what they need to do something about it."
As part of Kristen's work she meets one-on-one with workers to discuss any issues they are having at their workplace. She educates them on their rights, and also explain possible solutions that have worked well for other clients with similar issues. If necessary, Kristen also directs them to government agencies that might be able to help, if an employer is refusing to pay or there is an issue the WRC cannot deal with on its own.
Kristen has been helping to guide the first steps of Women Workers United. Even prior to the inception of the new project idea, she heard multiple testimonials from Latina workers on unfair treatment and hostile working conditions.
"We just have to be patient with it, especially since it's such a new project," explains Kristen. "We're just laying down all the groundwork for it this [year.] We want to be able to form that network in the community first."
Kristen expresses how difficult it is to deal with a system that doesn't give Latino workers fair compensation. But she also shares her hope for the future and knows what the signs of change will be.
"Once we start seeing women come together and actually start voicing more opinions," says Kristen, "that's going to be one major sign." Women Workers United will be the first step in creating a self-empowering group such as this.
Written by Katie Bowden, Spring Intern.