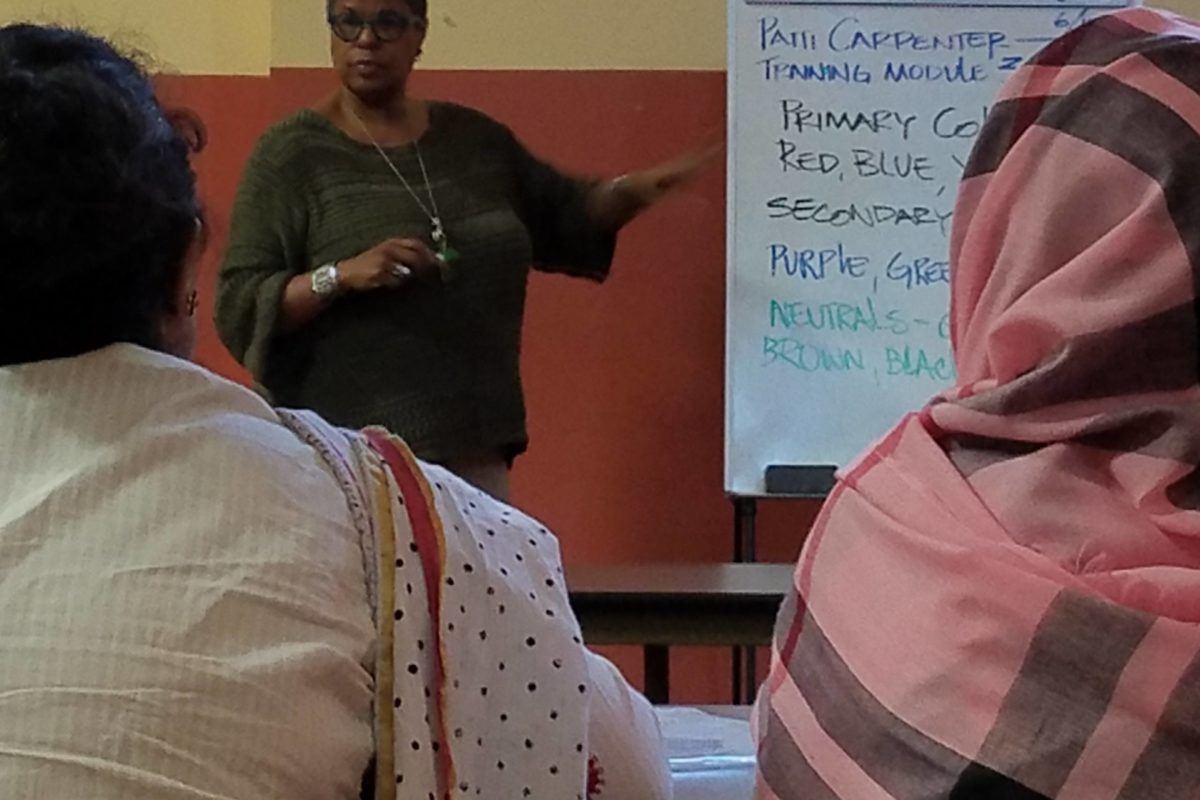 Mary's Pence recently received this note of gratitude from the women of Wishwas, a three-time Mary's Pence grantee in New York. Wishwas is at once a sewing cooperative, an educational initiative, a legal resource, and a community for Bangladeshi women. 
Dear Mary's Pence,
I am taking this time to thank you from the depth of our hearts for having supported us for three grant cycles.
We heard that organizations are only eligible for 3 grants, so this would be the end of our beautiful relationship with Mary's Pence. We just wanted to express our gratitude by letting Mary's Pence know how we used the funds and what we did with the grants.
Last year we received  $8,000 from Mary's Pence, and this enabled us to hire an expert Seamstress, Daniel Turtullin, to do training classes with our group. She taught them very well, but charged us $60 per hour. A member of our group showed interest and aptitude, so she trained under Daniel's close supervision. When Daniel left us after 3 months, we hired our well trained member to teach at the rate of $20. This proved that sewing is a skill that she could use to make a living, better than minimum wage at Dunkin Donuts!
Meanwhile, we have been negotiating jobs with Samuel Broom, a uniform company in Long Island City. Our newly trained expert accepted a position there for three days a week at the rate of $15 per hour, and she even received health benefits. She has successfully worked there over a year. During this period she also worked with us for two days a week continuing to teach the women. Today she has started a full time position at the factory, which helps her support her family of four children.
Another goal of our work is increased self esteem, one woman at a time! Part of this is identifying leadership roles in the group. For instance, one woman, Zubeida, stepped up and made breakfast for the group and bringing snacks, and for this she earned $50 per week. Many women bring their children to our sessions and this was much appreciated. Today Zubeida  is part of the The Jamaica Food Entrepreneurship and Services Training Seminar (FEASTS) , a connection made through Wishwas.
A major victory for Wishwas has been the creation of the Artisan Sewing Cooperative, registered last year. The cooperative now includes 15 members and takes on work from ALTRD. The company provides garment alterations. Samuel Broom also has proposed a uniform accessory project and we are currently negotiating the pricing for this work. Our business model for this order is that 15 percent goes back to Wishwas – we are working on making Wishwas a sustainable social enterprise. We are looking at another opportunity at the Laguardia Airport through Made in Queens. The Artisan Sewing Cooperative is working hard to brainstorming products and marketing strategies for niche local markets.
Wishwas has been able to supply three home sewing machines and one industrial Zuki machine to the new Artisan Sewing Cooperative. We also have available one Zuki sewing and knit machine for Wishwas training. These machines will up the game in training our women on industrial machines.
All this was partly possible through the Mary's Pence grants. Many of our Artisan Sewing Cooperative members now have enough work and are making money, and sometimes the experience also leads to full time jobs with fair wages.
The women of Wishwas have spectacular embroidery skills, and are now learning about design and local markets.  Dondrill Glover, a local expert, is working on these skills with the women so they can grow their market. There is a lot more that is possible through Wishwas. It takes time but we are all seeing our progress; we have smart business strategies and the we are realizing our potential as women entrepreneurs.
We are grateful to Mary's pence for all that was possible, we immensely enjoyed working with Mary's Pence, we hope that you visit us from time to time.
Thank you,
Warm wishes from Wishwas
Learn more about Wishwas and all of our Mary's Pence Grantees.