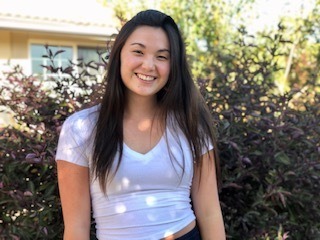 One glance at her room decor of "the future is female" and "empowered women empower women" posters and any common passerby would know Kiyomi Kishaba is a feminist. Take a peek at her corkboard and see two quotes pinned haphazardly with thumbtacks, excerpts reading: "I'm looking for a writer who…may not know how she got there, but she knows when she's arrived" and "What will your verse be?" (from the editor of The Sun and the film Dead Poets' Society, respectively).
Kiyomi's past 3 years of college at Pacific Lutheran University has been a series of not knowing where she's going, but ceremoniously arriving nonetheless. With a double major in English Writing and Communications and a minor in Hispanic Studies, Kiyomi is currently the Opinion Editor for the school newspaper, co-editor for the school's literary publication, a member of the women's swim team and athletic media department, and a tutor at the writing center. 
Rooted in the belief that a woman can do anything she puts her mind to, Kiyomi has made it her mission to do everything. Her "verse" has changed over the years, but Kiyomi hopes to use her skills and privilege as an educated writer to amplify and support the voices of others. During an internship for another nonprofit organization, she wrote a profile about Mary's Pence and was so impressed with the organization she immediately inquired about an internship and was offered the opportunity to share her skills as a writer for the months of July and August.
Kiyomi believes the Mary's Pence mission of creating positive change through supporting women-led organizations and women-owned businesses is an important and effective initiative — one that aligns with her own beliefs and values. Kiyomi is excited to work with the staff of Mary's Pence, Mary's Pence grantees, and ESPERA partners. She is honored to be a part of the organization.