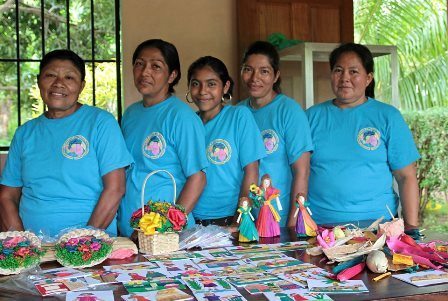 Mary's Pence Development Liaison, Anna Zaros, is currently visiting ESPERA programs in El Salvador and Mexico.
It was subzero temperatures when I left Minneapolis at 3am in the morning. But 12 hours later, I found myself in 90 degree El Salvador sharing a room with two local coordinators of Mary's Pence's ESPERA program, Auxiliadora and Dona Rosalía. As the Development Liaison at Mary's Pence I am visiting the groups of the ESPERA program to learn more about the work we do and gather stories of the women we partner with. On my day of arrival I may have been tired and hot, but I was beyond excited (and perhaps a little bit nervous) to meet the women I had heard so much about – it was time to converse, connect, and learn.
Auxiliadora, Dona Rosalía, and I dove right in and found ourselves in a conversation about women's rights and feminism. They shared with me how strong women are in their country, Nicaragua (they were visiting for an "intercambio" with the groups in El Salvador – an exchange). How much the women fight for equality and respect. I brought up the fact that, by the numbers, Nicaragua has more gender equality than mi país, the United States. Si, they said, we have many women in leadership positions – mayors, in state government, etc. And the women's movement is strong.
Recently in the United States a backlash has grown, especially among young women, against the label, "feminist." Some women see it as anti-male. At Mary's Pence that's not how we see it – we root our work in values of Catholic Social Teaching and feminism – in values of justice, collaboration, and mutuality. So I was curious and asked Dona Rosalía and Auxiliadora, is there a backlash against the term feminism in Nicaragua? How do women identify?
They shared that some women may not identify with the label, perhaps older women, but there is no backlash against the term itself. Not all women share the same views on certain "feminist" issues, like sexuality or reproductive health issues, but generally the women work together for women's rights, such as economic equality and an end to violence against women. There are still problems – machismo is rampant, but "poco a poco" the women are working to change the situation – to teach their sons to cook and clean as well as their daughters, to work on communication with their spouses, to grow equality from the family unit out to the larger community.
In the United States the feminist movement is splintered, and not just around the label. Even among those who adhere to the basic assumption that equality should never be dependent upon gender, there are rifts that keep us divided. For a while now I've followed the conversations about intersectionality of feminism with other justice issues, I've mourned the sad truths in the #SolidarityisforWhiteWomen Twitter campaign, and I've tried to stay current on blogs such as The Crunk Feminist Collective. I do this because I know as a woman I experience injustice, but as a white woman I have a certain level of privilege. And it is imperative that I step outside that privileged box and work to be in solidarity with women of color in the United States, and women around the world. Indeed, this is in part why I work at Mary's Pence.
So I had something else to learn from Auxiliadora and Dona Rosalía, how do women in Nicaragua remain so fiercely united? Porque de la lucha. Because of the struggle. So many women came to consciousness during the war. Women had no choice but to mobilize for peace and justice. Despite any difference of opinion, the war united women in their shared experience.
What is our shared experience as women in the United States? What unites us? So many divisions exist because of racism and classism. These divisions limit our work and movement forward. Perhaps these divisions are why a country with a united women's movement like Nicaragua has a higher level of gender equality than the United States. I told Auxiliadora and Dona Rosalía that I had much to learn from the experience of women in Nicaragua, to inform my work as a feminist in advancing the rights of women in my own country, and to work from a place of solidarity with women who experience racism and classism.
I took a step back – the women of ESPERA share their experiences with one another frequently, they have "intercambios" as a part of assemblies in order to enhance each other's work and support one another. This is solidarity in action. Here I was, just barely a few hours in country, benefiting from this informal "intercambio" learning from the experience of strong female leaders in their communities, experiencing this same solidarity. What a beginning to the next two weeks of "aprendizaje," of learning!