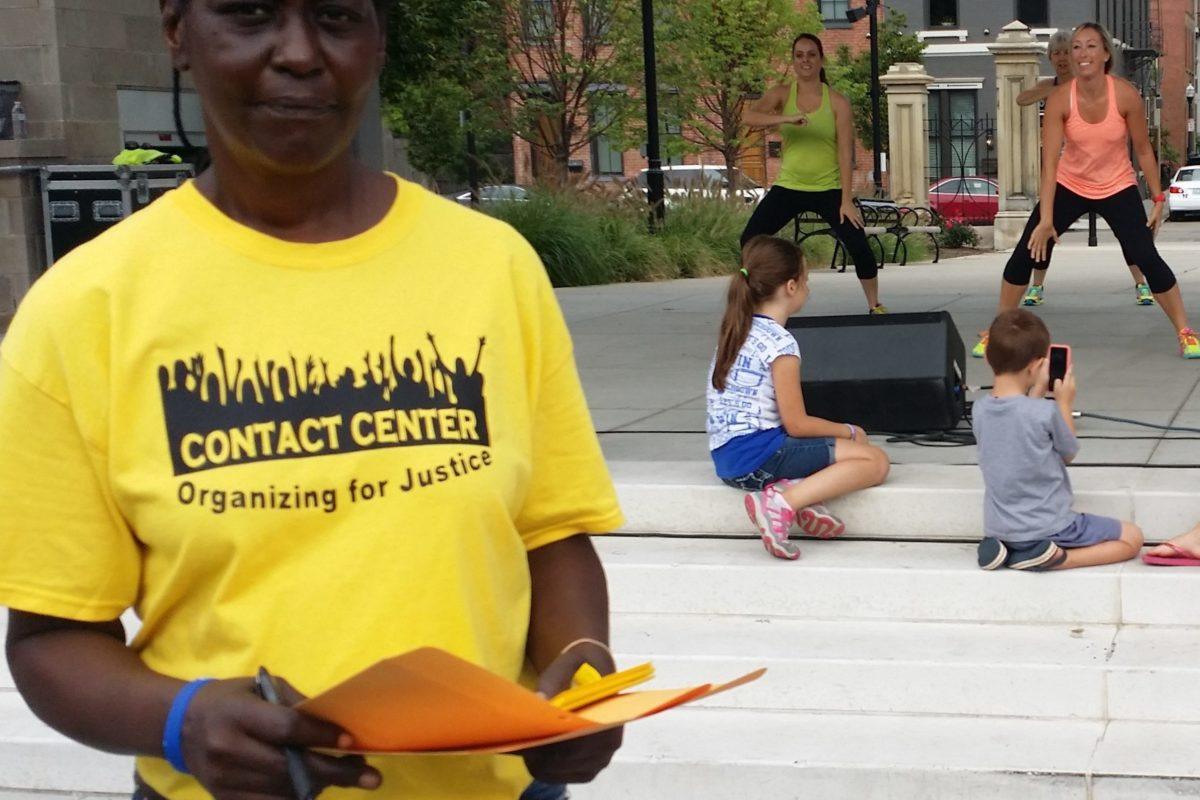 Helping local women advocate for fairness in kinship care
In March 2016 Mary's Pence awarded a grant to Cincinnati's Contact Center to support their advocacy efforts to change Ohio law so that kinship caregivers (relatives raising children) receive the same financial support from the state as foster care providers. Kinship caregivers, mostly grandmothers, currently receive only 50 percent of what a foster parent receives to care for the same age child. Mary's Pence Board member Karen Hurley lives in Cincinnati and visited the Contact Center to learn more about these efforts.
 The Contact Center is a community-based women-led membership organization that "works for a better life for all low- and moderate-income people through grassroots organizing, education and outreach." "We got involved with this kinship care issue," says lead organizer Lynn Williams, "because many of our members are taking care of relatives' children or are seeking to take care of children due to a crisis in their family."
Memory Ryan, the president of the Contact Center Board, is a kinship care provider for her 2-year-old granddaughter. Angela Whitehead, also a member of the Board, has been caring for her 10-year old granddaughter since she was a year old. Both women are committed to their grandchildren for the long haul. "My granddaughter is my life," says Angela, "but she is a handful." Memory quickly adds, "I didn't expect to be chasing a toddler at this stage of my life."
A key focus of the Contact Center's advocacy efforts is Ohio House Bill 458, which has sponsors from both political parties. It would provide the same level of support payments to kinship care providers as provided to foster care providers. This would be huge for Memory and Angela. It would mean their current monthly stipend of around $280 would double. Angela says she struggles to keep her growing 10-year old in shoes and school clothes, and routinely depends on supplements from St. Vincent de Paul and local food pantries.
Since receiving the grant from Mary's Pence, the Contact Center has held two events for local office holders and candidates to learn more about kinship care and other issues affecting women in poverty. A Mother's Day Speak Out (held May 6) and a Women's Equality Day Celebration  (held August 26) hosted a variety of local politicians and focused on the stories of women like Memory and Angela.
Both events were well attended. Democratic and republican candidates for Ohio house seats were in attendance along with candidates for Ohio's First Congressional District, Hamilton County's Juvenal Court and Hamilton County's Court of Appeals. Besides advocating for House Bill 458, both events also focused on the need to provide social security work credits for caregiving of all kinds. Many contact center members who have spent their lives as unpaid caregivers for siblings and parents end of with no social security to depend on at retirement.
Mary's Pence is proud to support the women at the Contact Center as they work to change this unjust system.