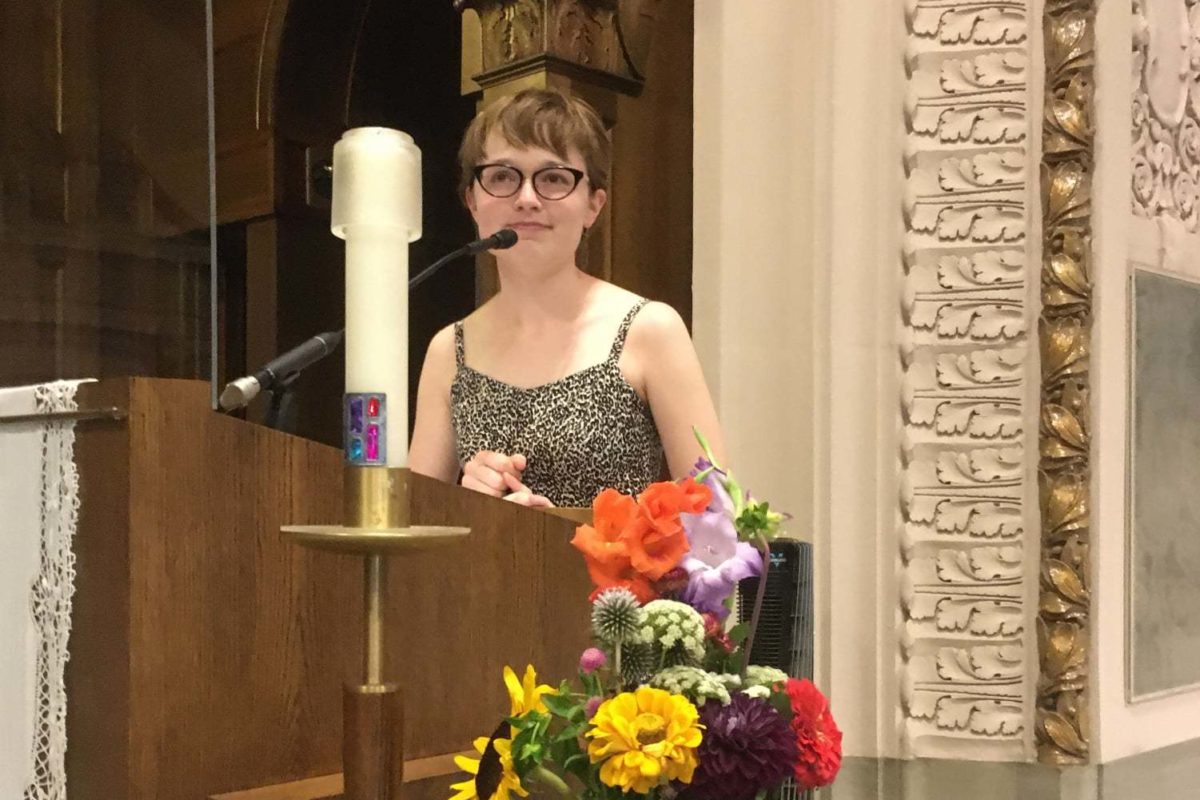 This fall I joined Mary's Pence as a volunteer with the St Joseph Worker (SJW) Program, a service year for women created by the Sisters of St. Joseph of Carondelet and Consociates (CSJs) St. Paul Province, after graduating from Macalester College with a degree in English Literature and minors in Spanish and American Studies. I knew that wherever I went after college, finding a justice-oriented community was my priority. 
Between studying in the English department and writing for the department newsletter, I've had conversations with alumni and faculty who more often than not experienced significant loneliness and isolation during their first few years after undergrad. Losing the connections built into campus life via student orgs, academics and roommate relationships was difficult for many regardless of when they received their diplomas. At the same time, I've internalized a lot of messaging that graduation would force me into hierarchical and materially motivated communities because my campus community was too idealistic in comparison with what is often called "the real world." 
My outlook on community and activism changed for the better during my junior year when I spent the spring 2019 semester in Tucson, Arizona, as a part of the Earlham College Border Studies Program (BSP). Along with a small group of students from across the country, I learned about the histories and current realities of borderlands life. Individually, we spent time working with and learning from community organizations in Tucson, and together we studied literature and academic texts while traveling and meeting with activist groups on both sides of the border. I got to hear from communities whose members have a wide range of experiences with formal education, are both immigrants and non-immigrants, and include youth, elders and everyone in between. 
The experience helped me better understand the limitations of most colleges and universities as institutions that were not built by or for marginalized groups. Activists who are directly impacted by border militarization introduced us to some of the daily realities facing immigrant communities and perspectives that are underrepresented in privileged spaces such as private colleges.
Not only did I leave the program with a new understanding of how I could find community and allies without the foundation of my alma mater, I better understood why inclusive, grassroots organizations are central to the dismantling of systems of oppression. 
I was excited to learn about the SJW Program and Mary's Pence as I entered my senior year at Macalester. I saw the SJW Program's emphasis on community and direct service as an opportunity to ground the next chapter of my life in the collective project of responding to the communities around me, and the isolation and heightened inequality surrounding COVID-19 made the importance of connection and direct service even clearer. At the same time, I was drawn to Mary's Pence because of the organization's commitment to equity for women in the US, Canada, Mexico, and Central America. 
Before our first day at our placement sites, the other SJWs and I read Hooked by the Spirit by Sr. Rita Steinhagen. Sr. Rita was a CSJ who committed her life to activism with a focus on Central America. Through her memoir, I discovered that she served at Annunciation House, the El Paso migrant shelter I visited over a decade later during my semester away with the BSP. She also worked with School of the Americas (SOA) Watch, an organization committed to ending American military violence in Latin America, where one of my fellow BSP participants worked during our time in Arizona. Sr. Rita is one of many women involved in grassroots activism who didn't live to see the completion of the causes she worked for. 
Through my involvement with the SJW Program and my work with Mary's Pence, I can see connections between the Sr. Rita's years of activism, the community activists I met in the US Southwest and the network of women grassroots organizers and entrepreneurs Mary's Pence supports today. I'm grateful for the community of passionate women I'm living with as an SJW and the privilege of working with the powerful women leaders at Mary's Pence. Despite the uncertainty of our current moment, I'm exactly where I need to be.