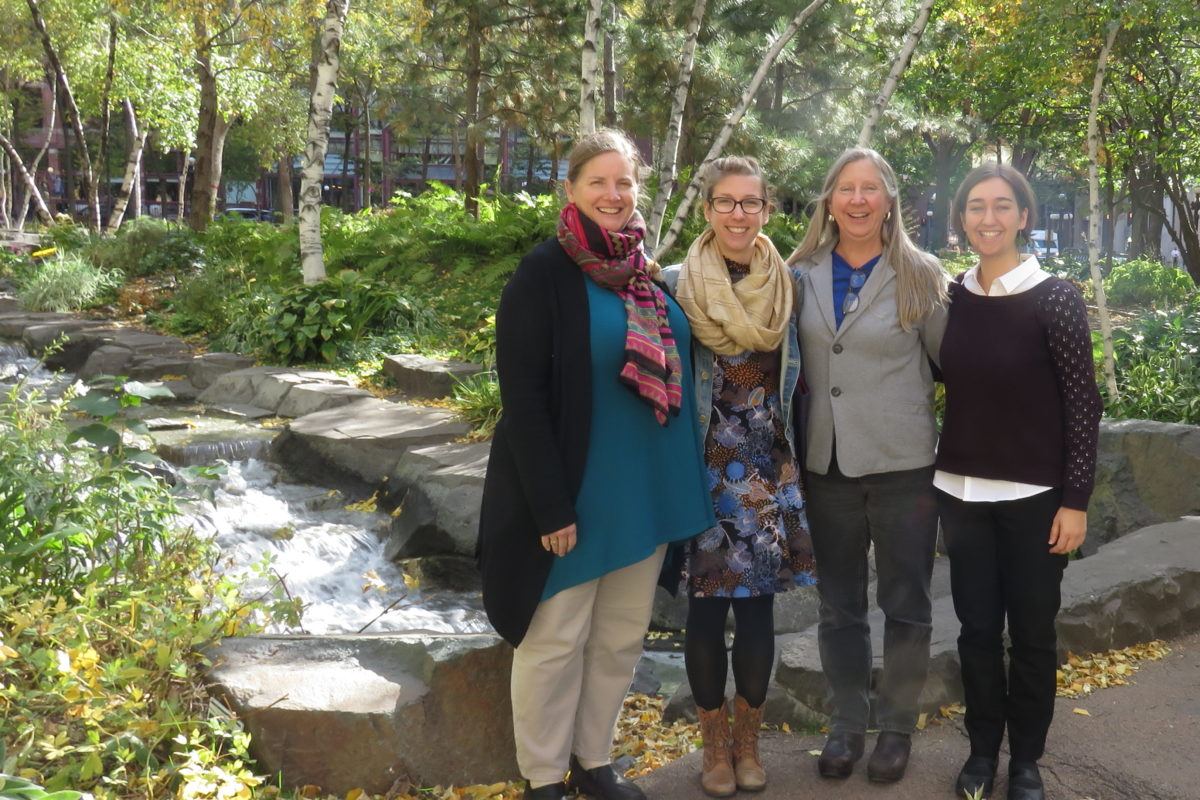 We are excited to start a new series of blog posts in which we will be introducing you to the Staff and board of Mary's Pence. These are people who are integral to the work that Mary's Pence does. We hope these blogs will give insight into to dedicated, passionate, highly skilled, and mulch-faceted individuals that make up the Mary's Pence community!
Meet Nadine!
Nadine Sehnert, Mary's Pence's Bookkeeper, is an altruistic woman who enjoys working in non-profit organizations because "the people you serve are the main focus."
Nadine is an artist who studied theater at the University of Minnesota. For 13 years she worked for General Mills in Finance and Information Systems. She went on to pursue her passion for serving people and love of the arts as the Program Director and then Executive Director at Young Audiences of Minnesota, a non-profit that brings different artists into schools for art education. "Young Audiences, was a wonderful organization. I really enjoyed working with artists and kids" she stated eagerly. Nadine ultimately left to explore other non–profit work, going on to work for other organizations like Community Celebration of Place, an organization that collaborates with communities to use music, performance, art and oral history to unite elders and children.
Throughout her life, Nadine never believed she was limited because she was a woman, and it was with this attitude that she came to Mary's Pence in 2011. She was especially attracted by our organization's roots in Catholic Social Teaching and feminism – a combination you don't see very often! She brings lots of energy, creativity, and passion to the Mary's Pence team.
Outside of her work life, Nadine loves to travel. She has been to India, Europe and Australia, and even lived in Amsterdam for about six months. "It's amazing to learn about other people and their cultures," she said, showing her enthusiasm for learning about other cultures and communities. She continues this passion for learning about others by being a Couchsurfing host.
Nadine is also deeply involved in her community in Minneapolis, Minnesota. She is currently a member and the chair of the Programs committee for The Women's Club of Minneapolis, a frequent volunteer at her local parish, St. Albert the Great, and is also a career mentor for Project Diva, an organization that mentors young girls in North Minneapolis. On top of that, she and her husband manage the Twin Cities Board Games Meetup group which advocates for building community through playing board games. Nadine is also currently fulfilling her love of art by writing two books loosely based on her life experiences.
We feel deeply grateful and honored to be in community with Nadine through Mary's Pence!