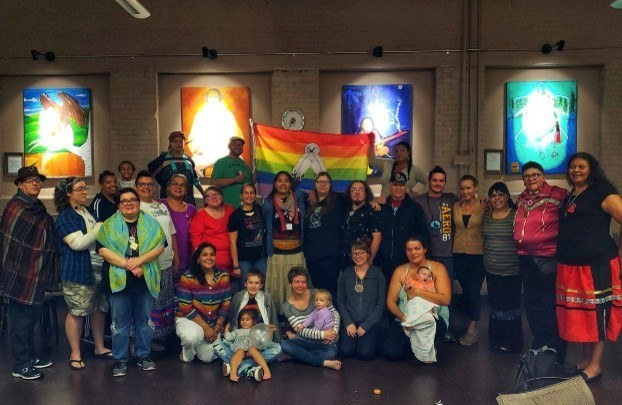 Cecelia Rose LaPointe, Executive Director of the Native Justice Coalition, believes in the importance of fostering community.  They are Ojibway/Métis, Mashkiziibi (Bad River Band of Lake Superior Ojibway or LaPointe Band of Ojibway) and Kchiwiikwedong (Keweenaw Bay Indian Community).  Cecelia is enrolled in Mashkiziibi and maintains a strong community affiliation to Kchiwiikwedong. They identify as Two-Spirit based in their Ojibway culture. Through collaboration with tribal governments and Native American-led organizations, the Native Justice Coalition provides a platform for Native individual and community growth.
The Native Justice Coalition works in four areas: healing, racial, restorative, and gender justice. Each aspect of justice addresses an element of the Native American identity and is brought to communities through multiple programs and resources. The Native Justice Coalition facilitates Anishinaabe Racial Justice Coalitions and Anishinaabe Racial Justice Conferences to create dialogue within their communities.  The Harm Reduction Project, grounded in Anishinaabe culture and teachings, is one of the initiatives to reduce stigma around addiction and recovery while supporting individual strength. 
"Community is my higher power," Cecelia said. Before COVID-19, they and the Native Justice Coalition had planned many events to help foster community collaboration and discussion. Now, they are faced with doing as much as possible virtually and attempting to hold outdoor events within state guidelines. 
One of the topics the coalition educates on is the significance of identity.  One example is referring to Indigenous people as BIPOC; the acronym some people use to blanketly refer to "Black, Indigenous and People of Color," is erasure of the Indigenous identity. This terminology of the colonial left, Cecelia explains, undermines the experience specific to Native people in relation to sovereignty, treaty rights, and Nation-to-Nation relationship building.  We are Nations and have unique political status compared to other racialized and marginalized groups.  This needs to be honored and not erased.

Another important program of the Native Justice Coalition is the Two-Spirit Program which aims to decolonize gender and identity. As explained on their website, Two-Spirit is, "an umbrella pan-Native American term [which] describes gender identity, gender expression, and/or sexual orientation."  The Two-Spirit identity, overlooked by colonial LGBTQ+ communities, is welcomed by the Native Justice Coalition as it creates a space for Native people to explore these identities. 
Native Americans and Indigenous peoples are the smallest population in the world.  Because of this, Cecelia recognizes it is critical for this work to be Native-led. The Native Justice Coalition partners with other Native-led organizations across Anishinaabe Aki, Great Lakes Native American, and First Nations to share their resources and uplift voices of Native people. In the future, Cecelia hopes to partner with organizations across Michigan, Wisconsin, Ontario, Minnesota, and Manitoba to broaden the reach of the coalition.
In the future, Cecelia hopes to create a program focusing on amplifying the voices of youth.
"The youth are passionate," Cecelia said. "They're so passionate about this work and they just need to know they have a voice and they can use it."
Above all, Cecelia hopes to give Native American people the tools needed to heal from historical and racial trauma, and to be proud of their identities. Native people have been silenced for too long, but the coalition is determined to help their community be loud and be heard.