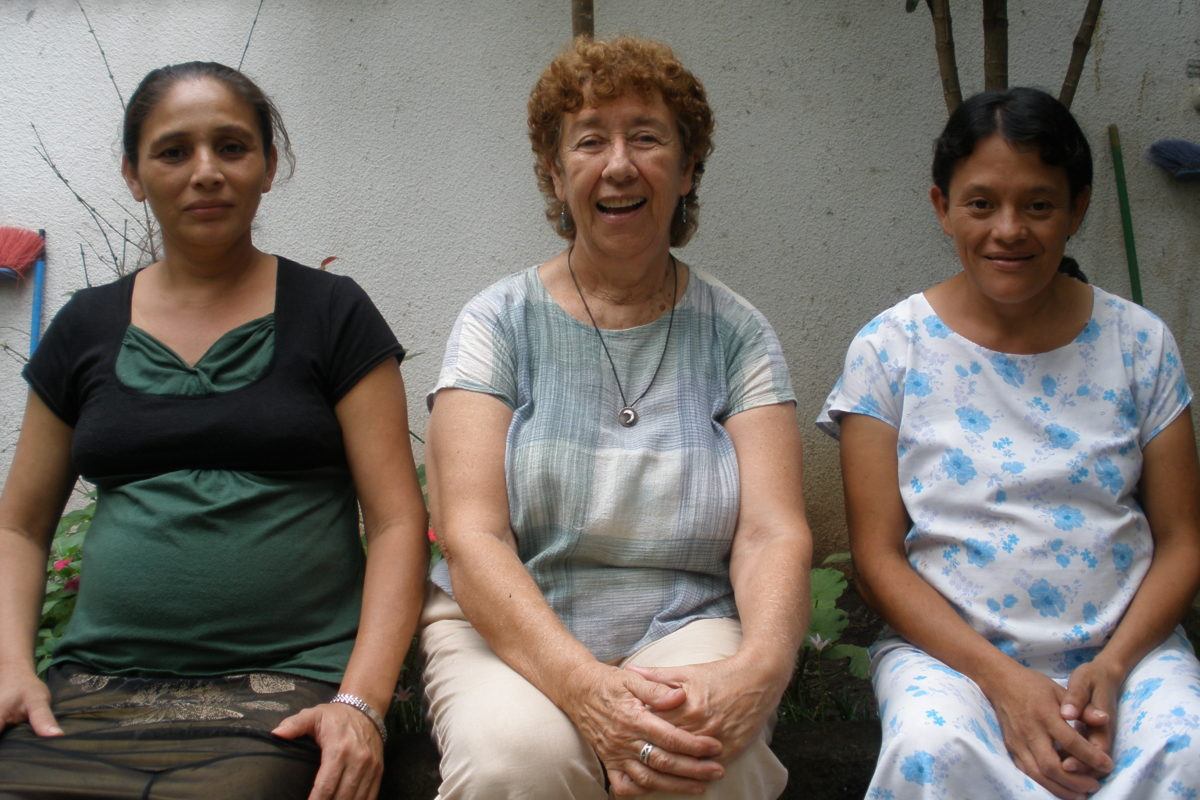 The following post is from former Mary's Pence board member, Kitty Madden, of Casa Materna – Mary Ann Jackman in Nicaragua:
It was my friend Cindy Starr who first introduced me to the wonderful work of Mary's Pence in 2001. I had been an unpaid – in money – volunteer in Nicaragua since 1986, including ten years with the Casa Materna – Mary Ann Jackman, whose mission focused on reducing maternal and infant death in the northern highland region of Matagalpa.
While part of my work was helping to raise money for the Nicaraguan staff's salaries, I always hesitated about having a salary. Initially I thought to spend a few years in Nicaragua, but, quickly realized, my life was taking another path.
My savings account was approaching zero when Cindy suggested that, possibly, Mary's Pence could provide a small stipend to help support my work as fundraiser and accompanier of the staff and mothers. Cindy and Anna, another friend, had come to know Mary's Pence through Edwina Gateley, who is one of the founding mothers of Mary's Pence and spoke about the organization at the 1997 Call To Action meeting in Detroit.
When the Mary's Pence application form arrived, I was grateful for its simplicity and clarity, but was also touched by the letters of recommendation sent by several friends. When my request was approved, I felt a huge weight lifted from my shoulders. Not only did I receive a stipend, but through the coordinating staff, Karen Flotte and Sheila Daly, I also received priceless technical assistance for my work as a fundraiser.
Sheila connected me with graphic designer, Patricia Lynch, in Wisconsin and, with her assistance, the first printed brochure for Friends of the Casa Materna came to life! What's more, Patricia also helped to design a calendar of monthly envelopes the following year.
As I approached the time for evaluation of my grant year, I was delighted with the thoughtfulness of the questions raised and the ways in which they helped me to analyze and appreciate various aspects of my work. It was an opportunity to reflect on how the grant had made a difference for the Casa.
Reading the Mary's Pence newsletter in 2002, I realized there were several groups receiving small grants in Nicaragua and thought it would be great to bring together representatives from each group to share our various works, but also to look at ways to support each other.
Another small grant in 2003 helped us do just that. At the Casa Materna, we gathered women who were potters, jewelry makers, seamstresses, community organizers and promoters of natural medicines together with ourselves as caregivers for mothers with high-risk pregnancies – what energy filled the house during our two days together.
The group, which would eventually become the Network Nicarahualt (to read the story about the naming click here), convened for yearly gatherings in various work settings across northern Nicaragua in order to deepen our learning and to provide places for marketing the various products and works of art crafted by the women, including baby slings from the Casa Materna.
Over the years, Nicarahualt became the foundation for the ESPERA fund program in Nicaragua that now benefits an even greater number of women with the able assistance of Gilda Larios, ESPERA fund facilitator.
After two years as a grantee, I put my name in the hat to be a board member of Mary's Pence, in an effort to "pay it forward." Once again, what an incredible gift it was to work with such amazing women, many of whom continue to be good friends today. I continued as a board member for two terms.
Both at home in Nicaragua and on my travels, Mary's Pence is not far from me, as I use the shawl of many colors, which I was gifted with at my final board meeting in 2008. It was lovingly crafted by the women in Mexico at Centro Santa Catalina who are still accompanied by one of the founding mothers of Mary's Pence, Maureen Gallagher, OP.