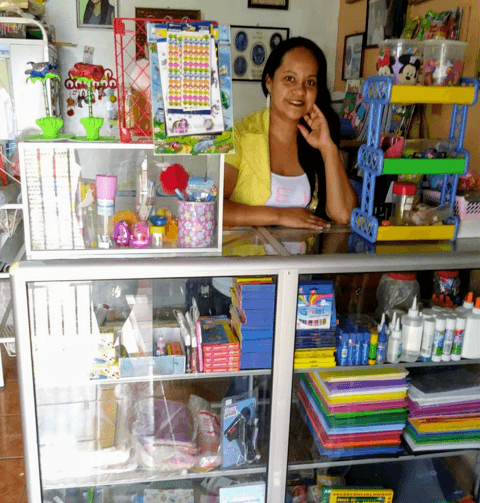 When Sara Rosales left her position at the National Police of Honduras in 2017, she struggled to find work. As a woman who had dedicated 14 years at an institution commonly known to be corrupt, Sara felt rejected by society. However, she was able to start her own business through the Mary's Pence ESPERA program, which creates locally owned lending pools for communities in Central America and now provides for her teenage daughter and services for the community.
Even since her days of working at the police department, Sara has always fought for gender equality. She promoted social impact projects, and suggested the creation of the first symposium about gender equality inside the National Police. Sara now serves as a Delegate of the Word of God through the Divina Catholic Misericordia Church. Through the church, she was connected with ESPERA which gave her the boost she needed to jump-start her business, which took the form of a community shop. 
Sara lives in the Comayagüela Municipality of the Central District in Honduras with her daughter and parents. In her town, many families don't have access to the internet, so her shop provides internet access at affordable hourly rates for people in the community. In addition, Sara sells school supplies and educational materials, event decorations, and photocopying and printing. The shop supports both Sara and the community through its services.
Sara is grateful for the role ESPERA played in her ability to be a business owner. "My experience as part of the ESPERA program has recharged my life," Sara said. 
Sara described ESPERA as a, "channel of blessings," and an actively inclusive program promoting equal growth in marginalized communities. She now recognizes both her own and the community's potential to develop by creating spaces for education and training. The 15 families in the ESPERA Epifania group — of which Sara is a member — have benefited from the program, especially the focus on strengthening women's economic solidarity.
"ESPERA permitted us as women to have this liberty to make beneficial decisions to improve our quality of life and taught us how to achieve concrete goals," Sara said.
During her time with ESPERA, Sara applied for and received a scholarship to study Feminist Leadership through a program created by the JASS Organization, Center for Women's Rights, and the National Autonomous University of Honduras. The course continued online during COVID-19, but Sara had the opportunity to represent the group on a podcast called Tercas COVID-19. The podcast features women from globally recognized organizations, and women like Sara from smaller organizations, aiming to publicize the smaller organizations and send out their message of hope. 
As Sara looks towards the future, she is excited to develop her leadership and small business owner skills with women like herself. 
"My plans for the future are to grow my business, have a bigger store full of products to better support my community, continue obtaining knowledge and training that helps me improve the quality of life of my family and community, and generate opportunities for all."