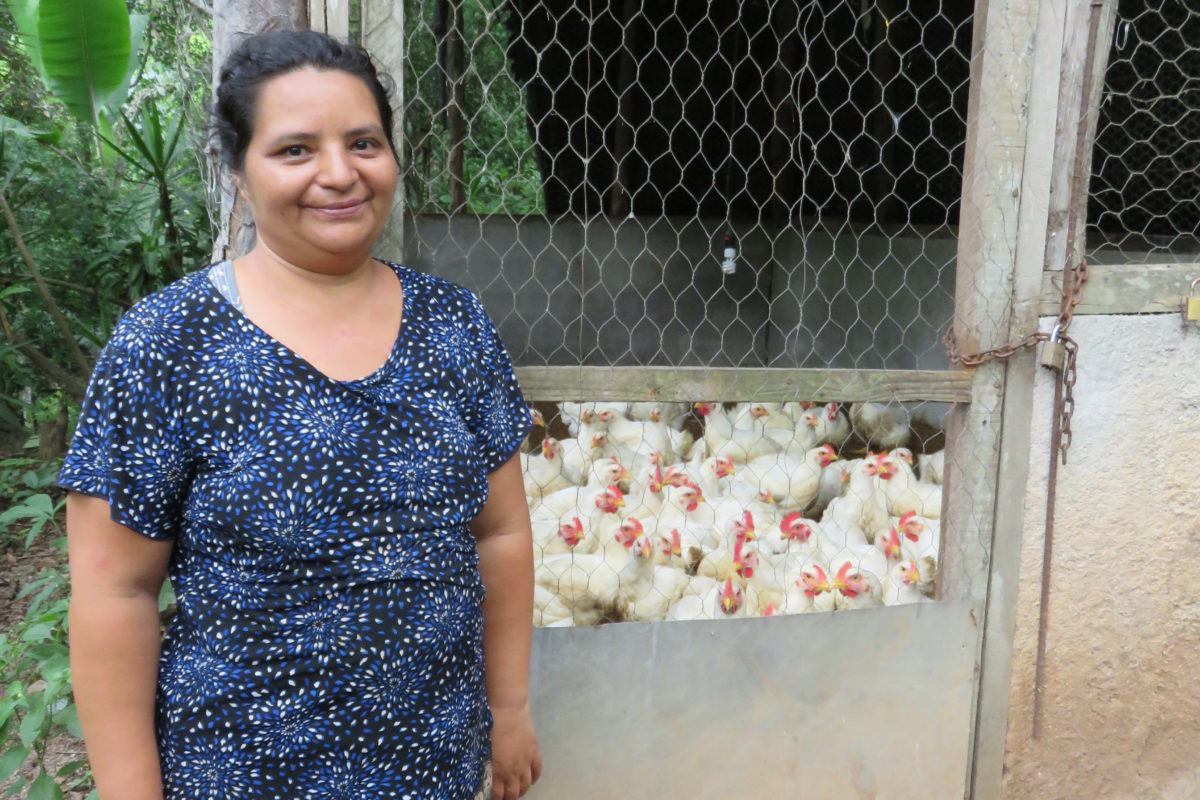 Gilda Larios, ESPERA Team Lead, who helped start the ESPERA program nine years ago reflects on the changes she sees in our first ESPERA partner, the Concertación de Mujeres de Suchitoto in El Salvador.
The first organization that Mary's Pence partnered with, the Concertación de Mujeres de Suchitoto, is celebrating its 25th anniversary this year. In rural communities in Central America municipalities are usually organized in a ring of smaller communities around a town center. The Concerta has been working in the 35 communities of the municipality of Suchitoto on the issues of reproductive rights, violence against women, and economic solidarity.
At first, the women were nervous to take out loans.
Because they had not had previous experience with lending, the women were worried that they would not be able to pay the loans back. When the Concerta first received the fund – a total of $20,000 – it was a bit daunting to distribute the funds. But now there are 100 women from 23 communities involved in the ESPERA program. Their lending pool has grown to $43,740 and they have no trouble keeping it in circulation!
Women are investing in and growing their businesses.
Fourteen women from four communities surrounding Suchitoto were the first to receive loans from Concerta's community lending pool. Each woman received between $200 and $300 for a total of $4000. Of the initial women involved, six are still active members. Over time their loans have cumulatively totaled $25,500. They got over their fear of taking out a loan!
Of the six original participants who are still involved, five are continuing to invest in the same economic initiative they used their first loan to start or grow. These are just a few representatives of the hard-working women from the Concerta who have increased their support for their families through participation in ESPERA community lending pools.  Income earned from their economic initiatives is most often used for food, clothing, and education for their children.
Aida began with a tienda, a small shop, and continues to sell household goods.
Maria Argelia continues to sell fruit and comida tipica, or typical Salvadoran food like pupusas – tortillas stuffed with beans, meat, cheese and/or vegetables.
Isabel and Ofelia began with one incubator for hatching chicks. They grew their business and now have two incubators.
Maria invested her first loan in a heifer for breeding and she continues to raise cattle. but also now has a grinder and grinds corn, a staple in El Salvador, for her friends and neighbors.
ESPERA women experience increased economic autonomy.
In addition to the economic impact the women talked about, they feel empowered by earning money. They say they like being able to make decisions about how to spend the money they earn… or when to save it! Women who have spouses also speak about how they now share in the financial decision-making for the household.
Savings is a cultural shift for the women of the Concerta.
It just isn't part of the culture in El Salvador. It took a while, but after being introduced to the concept they took the plunge. Beginning in 2013 the women decided that all participants in the loans must also participate in savings. Since then, 88 women from 18 communities have saved $8,323 dollars.
With the support of the ESPERA program, the Concerta is growing its capacity.
When we began working with the Concerta they did not have legal status, but they went through the process to become recognized as a legal entity. With Mary's Pence financial and logistical support from Mary's Pence, Concerta also hired an administrator. This role provides data for improving their operation including, for the first time last year, a complete organization budget. Also this past year, they participated in a group process to create a strategic plan.
Most often when we talk about ESPERA we talk about the lending pool funds. In fact, when ESPERA began in 2008 we called the program the "ESPERA Fund." In our hearts we knew our intent wasn't just helping individual women create businesses. We know women's voice is stronger when they unite and organize. So, all along Mary's Pence's goal has been to strengthen local women's organizations. While the community lending pool is an important aspect, an equally strong component of the work is being in solidarity with local women's groups. When Concerta is strong, their ability to amplify the voices of women in their communities grows.
We all share accountability for fostering women's empowerment and economic autonomy.
The ESPERA women, the Concerta and Mary's Pence are clear that we each have a role in this work. The women are responsible for paying back their loans, so others may use the funds. They are also responsible for supporting each other's businesses and for active participation in the Concerta's work.
Critically, the work of Concerta and Mary's Pence is done together, as equals, with true participation of all. Women's empowerment and economic autonomy is best achieved at the community level.
And then there is this: gratitude for all of us in a dynamic way – the women, the Concerta and the community of Mary's Pence.
The women talk about their gratitude to the Concerta, and to Mary's Pence, as we work hand in hand. The women know that the support they receive comes from individuals and organizations giving what they can to support women working toward empowerment and economic autonomy. So, their gratitude extends to all. And we invite all to share in this attitude of gratitude.
Learn more about the ESPERA Community Lending program.